Adobe Illustrator Mastery
Daniel Walter Scott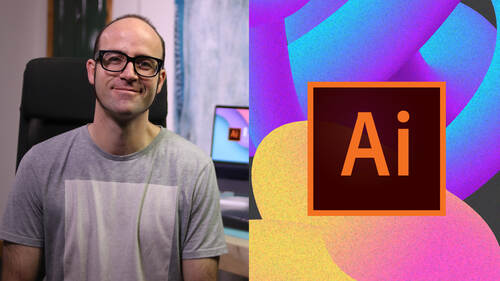 Adobe Illustrator Mastery
Daniel Walter Scott
Class Description
AFTER THIS CLASS YOU'LL BE ABLE TO:
Master depth and perspective and set permanent default fonts and colors.
Speed up your personal workflow and the Adobe Illustrator program.
Master color and make quick color adjustments, gradient measures and blend like a pro.
Perfect lines and strokes as well as vectorize and color hand-drawn sketches.
Connect Spreadsheets to make beautiful graphs and charts.
Perfect your drawing skills in Illustrator.
Use advanced keyboard shortcuts like an industry professional.
Master advanced repeating pattern swatches and typography with advanced font tricks.
Use Illustrator for Web and UI design.
ABOUT DANIEL'S CLASS:
Take a more advanced look at Illustrator CC and learn how to enhance your productivity and workflow with this in-depth project-based training.
This class will show you how to create instantly engaging designs using advanced tools and expert tips. Filled with downloads and stock images to practice on and hone your skills, this class covers everything from mastering color, drawing in Illustrator, working with advanced patterns, typography, depth, perspective, 3D, charts, graphics and so much more!
If you're ready to step up your Illustrator game, take this class to unlock and master pro techniques with a world-renowned expert.
WHAT YOU WILL LEARN:
How to turn the dreaded hyphenation feature off once and for all
How to transform, distort and blend like a pro
Advanced anchor point and pen tool tricks, two-tones, repeating patterns and advanced typography
How to use live shape effects, draw flowing curves, master corners and use the curvature and pen tools effectively
Advanced artboards, pages and color tricks and how to use the Illustrator color guide
How to make gradients bend, create long shadows, put text type into the shape of a letter and use the Touch Type tool
Shortcuts for aligning and distributing using Actions
How to make semi-flat 3D icons and animated GIF
WHO THIS CLASS IS FOR:
People who already understand the fundamentals of Adobe Illustrator
People who took Daniel's Adobe Illustrator Fundamentals class
Illustrators who want to enhance their existing skill set
Professional artists who want to move their art to a digital platform
Designers with an Illustrator background who want to master the program
Freelancers already working with Illustrator and wanting to learn advanced skills
Advanced level
SOFTWARE USED:
Adobe Illustrator CC 2018
ABOUT YOUR INSTRUCTOR:
An influential media designer, Advanced Adobe Certified Instructor and dedicated teacher to thousands of students for over 15 years. Daniel is a speaker and multi-award winner at the prestigious annual Adobe Max conference.
Ratings and Reviews
Student Work