Backside: ISO Controls & White Balance
John Greengo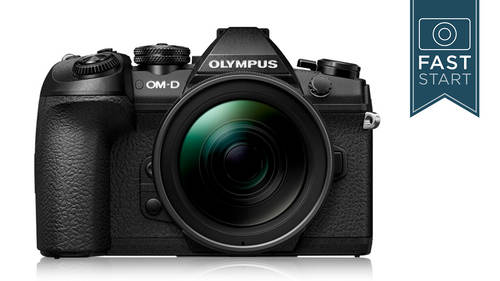 Backside: ISO Controls & White Balance
John Greengo
Lesson Info
11. Backside: ISO Controls & White Balance
Moving to the back of the camera, learn how to quickly switch the control wheels to adjust ISO using the lever. John shares the best ISO settings to stay away from. Find the camera's white balance shortcuts to ensure accurate colors.
Lesson Info
Backside: ISO Controls & White Balance
Next up is the lever or the lever. This has been kind of a unique Olympus feature that was on couple of their cameras and has been a very handy way for you to be able to quickly change a number of different features on the camera. They have added more ways to customize this than you would believe. It can be used for a lot of different things. The normal position is at number one in which case the front dial and the back dial will act accordingly to the way that we've described so far in this class. It's gonna control shutter speeds, apertures, and exposure information in general. When you flip it to number two it changes and the front dial becomes the ISO and I do not understand why, but when the camera is in manual you use the back dial. I don't know why it changes. It's just kind of an odd quirk. I would call it a bug. That's just the way it works. Let's talk about ISO for a moment. ISO is the sensitivity of the sensor and it's gonna have a lot to do with the image quality that you g...
et. The native sensitivity of the sensor is 200. If you want the best quality, 200 is gonna be the place that you wanna get it for cleanest information off the sensor. You can go down to a low of 64 if you do need a lower ISO, for instance if you need a longer shutter speed you could do that. As you move up to 2500 you will get more noise. In my opinion everything usually the top two levels on any ISO setting are usually not real hot. In this case I would probably try to stick to 6400 and lower but if you don't see the screen very clearly on your computer ISO 800 and 1600 are amazingly clean on this camera and very, very usable information there. That is our ISO setting. Just flip the dial down to two. Turn that front dial, unless you're in manual then you use the back dial. Don't ask me why, it just is. If you turn the back dial it will change white balance. Obviously that's not available in manual because that's how you're changing ISO. Why the camera does this, do not ask me. I do not know. All I know is it does it. If you do know why, I would love to know. Please seek me out and let me know. So, white balance. This is controlling the color that we are working under. Light can come in many different colors. The camera doesn't know instinctively what color you are trying to photograph under. If you are under a particular situation it is better for you to set that white balance appropriately so that you will get proper colors out of your camera. There's a lot of very common settings. There's even an underwater setting. And then we have an auto setting where the camera will choose. The camera does a very good job, I'll have to say, of choosing the correct white balance. That's where I by default leave my camera until I see colors that I'm not satisfied with. We then have a way that you can use a custom and you can set the specific Kelvin temperature yourself. If you knew exactly the number 5500, you could just set it to 5500, and then there is a way to calibrate using a white surface. This is where you would photograph a white sheet of paper or a gray card or something like that and then you would lock that into the camera. We'll do a demo on that a little bit later on in the class because you need to work with the menu system a little bit. We have every option that you could imagine as far as setting the white balance. In general I go with auto white balance. Let the camera choose. If I am not getting the results I like then I start changing it to a specific setting for that situation. All right, so that's with the lever in position number two. But that's not the only thing that the lever can do. You can go into the custom menu under Button/Dial/Lever and go into the function lever settings and go in and tweak the different things that this does. One of the options is that this can become your new On/Off switch or the power switch. Some people like it because the On/Off switch on the camera is on the top side and it's a little hard to get to with the right hand if you're holding the camera one handed. If you were using the camera one handed you wanna be able to quickly turn the camera on and off you could change this so that you are simply flipping it back and forth to turn it on.
Class Materials
Olympus EM1II Recommended Settings
Ratings and Reviews
This is exactly what I was looking for - I really feel like I'm not able to control my camera, rather than the camera controlling me! :) I really learned a great deal - some of it was a great review, some of it was crucial information that will (hopefully) make me a better photographer. Thanks for a great class, John!!
Great and very informative class.... John has done a fabulous job explaining all the simple and intricate details of the very sophisticated EM1 II. Thank you !!!
This is a great course on learning about the OM-D E-M1 Mark II. I have watched it many times to get to were I know it by memory the best I can. I like to go over it as much as possible because there is a lot to learn. I do wish that John would do an updated version since now it is up to Firmware 3.1. It is like a whole new camera with the new settings.
Student Work