FAST CLASS: Start a Profitable Online Business
Lewis Howes, James Wedmore, Derek Halpern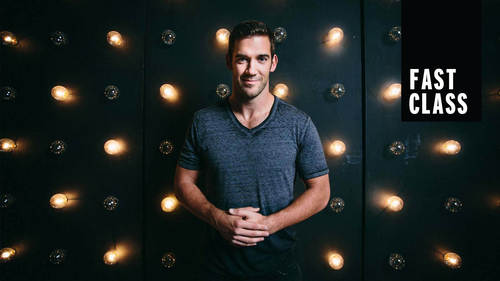 FAST CLASS: Start a Profitable Online Business
Lewis Howes, James Wedmore, Derek Halpern
Class Description
FAST CLASS:
Try a Fast Class – now available to all CreativeLive subscribers! Fast Classes are shortened "highlight" versions of our most popular classes that let you consume 10+ hours in about 60 minutes. We've edited straight to the most popular moments, actionable techniques, and profound insights into bite-sized chunks– so you can easily find and focus on what matters most to you. (And of course, you can always go back to the full class for a deep dive into your favorite parts.)
Full-length class: Start a Profitable Online Business
SUBSCRIBE TO CREATIVELIVE and cue up this class and other FAST CLASS classes anytime.
A strong online business strategy is vital for every business to grow its revenue and reach. Learn the step-by-step process of launching a profitable online business in this class.

Podcast host and business entrepreneur Lewis Howes along with James Wedmore and Derek Halpern will show you how to turn your passion project into a successful online brand.

You'll learn about:


How to develop a product that sells
Strategies for developing lead magnets
Tools for online marketing 
Methods for growing your email lists
Lewis along with his guest instructors will also share his experience and proven strategies for building authority, gaining online media, attracting industry influencers, and leveraging social media communities to increase brand awareness and generate more sales.

This class is your comprehensive guide to jump-starting your next great business idea and getting your online business off the ground. 
Class Materials
Derek Halpern Infographic on Building Community.pdf
James Wedmore Essential Tools.pdf
James Wedmore Webinar Marketing.pdf
Lewis Howes 10 Steps to Building Authority.pdf
Lewis Howes 6 Steps to Creating First Product.pdf
Alicia Dunams Bootcamp.pdf
Create Your Own Bootcamp Worksheet.pdf
James Wedmore YouTube Marketing and Optimization.pdf
eBook LinkedIn Master Strategies by Lewis Howes.pdf
eBook The Ultimate Webinar Marketing Guide by Lewis Howes.pdf
Derek Halpern Anatomy of a Website.pdf
Derek Halpern Building a Community and Lead Generation.pdf
James Wedmore 3 Step Video Traffic Formula.pdf
James Wedmore 7 Step Webinar Selling Sequence Graphic.pdf
James Wedmore Anatomy of Your Blog Graphic.pdf
James Wedmore Anatomy of a Squeeze Page Graphic.pdf
James Wedmore Outsourcing Process Map.pdf
James Wedmore Video List Building Graphic.pdf
Keynote Lewis Howes Course.pdf
Traffic Leads Sales Workflow.pdf
Lewis Howes Course Resource Pages.pdf
Ratings and Reviews
Student Work