FAST CLASS: Personal Branding for Creative Professionals
Dorie Clark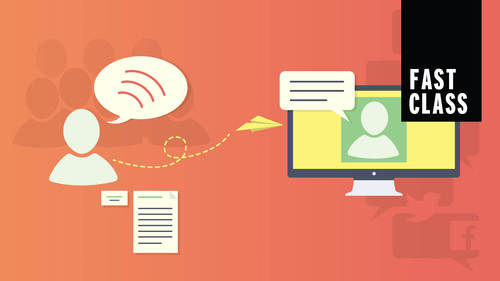 FAST CLASS: Personal Branding for Creative Professionals
Dorie Clark
Class Description
FAST CLASS:
Try a Fast Class – now available to all CreativeLive subscribers! Fast Classes are shortened "highlight" versions of our most popular classes that let you consume 10+ hours in about 60 minutes. We've edited straight to the most popular moments, actionable techniques, and profound insights into bite-sized chunks– so you can easily find and focus on what matters most to you. (And of course, you can always go back to the full class for a deep dive into your favorite parts.)
Full-length class: Personal Branding for Creative Professionals
SUBSCRIBE TO CREATIVELIVE and cue up this class and other FAST CLASS classes anytime.
Positioning is a fundamental business practice that individuals looking to advance their own careers can apply to themselves and their small business. Learn how to position yourself in this introductory course to the must-have personal branding skills for all creative professionals.
This course will teach you the skills you need to build an online and offline brand, presence, and portfolio. You'll learn exactly how to make a rock solid first impression and how to craft and convey the message you want others to hear about your style and your work. Dorie Clark will teach you how to make the most of interviews, introductions, webinars, and more. You'll create strategies for connecting with the right people at the right time and learn how to use those connections to nurture and grow your brand.
The success of your creative endeavors depends on how well the world understands your professional vision and what you do best. With these core branding skills you'll level up your prospects and your business.
Ratings and Reviews
I never thought I would watch a class on personal branding and end up wishing that I had watched the longer one instead. Wow! I watched this instead of a different one I looked at on another platform that struck me as the antithesis of this class. It gave me that yucky, using-people feeling that Dorie teaches you NOT to do. If you're like me and confused about how to create a personal brand (part of my new career as a UX designer) and you're put off by what you've seen elsewhere, take this class instead. I am so glad to have taken this class and only wish I had watched the longer one instead. Five stars; highly recommended!
Student Work