Panasonic GX7 Fast Start
John Greengo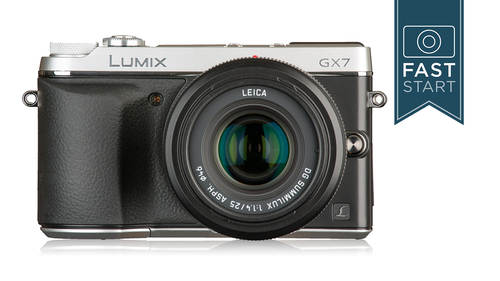 Panasonic GX7 Fast Start
John Greengo
Class Description
Knowing your camera is essential when you're exploring photography.
Photography enthusiasts and beginners will get an in-depth introduction to the Panasonic® GX7 in this course. John Greengo will cover everything you need to know about the features, buttons, and menus on your camera. You'll learn about taking full advantage of your camera's versatility so you can get the shot you want, when you want it. You'll also explore working with the GX7's tilting LCD screen and viewfinder.
Make the most of your camera purchase by getting this comprehensive orientation to it's features and functions.
Ratings and Reviews
I bought a Panasonic G9 camera and couldn't find a good visual user guide anywhere. I've hunted through YouTube and online, only to waste hours scrubbing through off topic babble just to find bits of useful information, but there is nothing complete out there. I found John's Panasonic G7 presentation, and it's been immensely helpful. Though the camera button locations and handling are different from the G9, the menu system, and camera functions are mostly similar. I try reading user manuals, but it's easy to get lost and sometimes hard to relate to. John presents everything so clearly, logically, and in terms easy to relate to and follow. He puts in so much time to make everything look professional and make sense. I really appreciate all his hard work, and his love and passion to share his knowledge. I'm so thankful he creates videos like this, as modern cameras have so many features now, that they can get overwhelming to learn how to use. Watching him demo cameras is also really helpful. I've also taken his Fundamentals of Photography class, and it's phenomenal and foundational. It's helped me learn a lot. Thanks so much for these great quality classes.
Simply wow! Worth every penny. The whole course is totally professional and delivered in a classroom-like setting. The visual presentation and live demos are flawless and so helpful if you have your camera on and play along. I would never buy another expensive camera without taking a course like this! I've looked everywhere else online for camera-specific information like this in one place (I have no time to browse the poor manual that came with the camera). John also gives great information on basic photography. Highly recommend the class to all newbies to this camera. I will be much more comfortable using this little beast after finishing this course. Thank you!!
I have had the GX7 for some time, and never fully understood how to use all the settings. This course was brilliant, clear and precise and easy to follow and interesting. Brilliant!
Student Work