One Hour Photo Featuring Rocco Ancora
John Greengo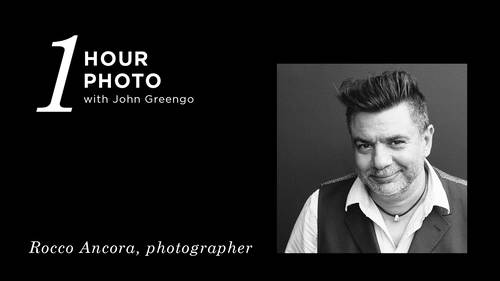 One Hour Photo Featuring Rocco Ancora
John Greengo
Class Description
Every month, John gives you an hour of expert guidance and immediate feedback with ten questions and ten critiques in this exciting new series we're calling One Hour Photo. John will also sit down with one guest photographer to offer insights, advice, and industry knowledge, and this month's guest is Rocco Ancora.
In this hour, John responds to questions about how to compress a close object and a distant background, how to know when to clean your sensor, best practices for TTL, setting up your camera for a night sky photo, UV filters, and more.
Named as one of the Top Ten Photographers in the world by the iconic photography magazine American Photo, Rocco Ancora's poetic imagery continues to evolve with his mastery of light and the ability to capture the human connection. Rocco's distinctive style is classical and romantic; his imagery is exquisitely imbued with evocative lighting and composition it's a look and feeling that Rocco strives for. Check out his CreativeLive classes here.
Ratings and Reviews
Student Work