Foundations in Metalsmithing: Statement Earrings
Megan Auman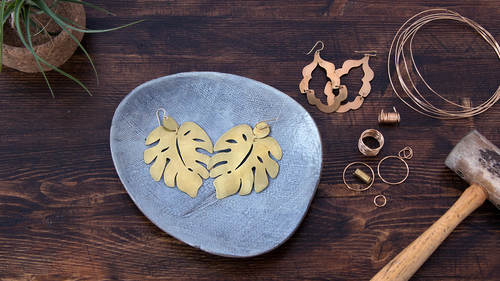 Foundations in Metalsmithing: Statement Earrings
Megan Auman
Class Description
Learn the basics of metalsmithing to make stunning statement earrings (and more!) - no torch required!
Getting started in metalsmithing doesn't have to be scary. In Foundations in Metalsmithing: Statement Earrings, you'll learn the basic skills you need to start making metal jewelry, as well as the design principles to create your own unique pair of statement earrings, all with less than $100 in tools! (And, you'll be able to apply those tools and new-found skills to expand your ideas into a full line of jewelry!)
In this class, jewelry designer and metalsmith Megan Auman will show anyone how to get started making one of a kind metal jewelry.
You will learn how to:
Choose the right tools and materials for your metal jewelry projects.
Design incredible (and comfortable to wear) statement earrings with balance and movement.
Saw and pierce to create any shape from sheet metal.
File and finish your metal pieces so they look professional.
Create your own ear wires to finish off your unique design.
Whether you're looking to grow your existing jewelry making knowledge or for a new creative outlet that you can proudly wear (and show off!), you'll leave this class with your own pair of stunning statement earrings - and the skills and design chops to expand your ideas into a complete line of jewelry!  

Class Materials
Statement Earrings Product Line Expansion
Ratings and Reviews
One of the most special things about Megan, is that though she is a creative, she is extremely good at business. Her organized way of thinking and presenting material, and her genuine joy when empowering her students with the tools needed to be successful, is charming and so much fun. Somehow there is such seamlessness and flow to her class structure and explanations, that I can absorb what she says and easily retain it. I really can start a jewelry line just with this class. She is amazing and LOVE her style!!!
I really enjoyed this class! Megan provides a great foundation for using metal sheets to design/make jewelry and using wire to make unique findings. This was a great class for learning the fundamentals and sparking inspiration for new projects
I LOVED this class! Megan is such a detailed teacher. She leaves no stone unturned. So much fun! Can't wait for my next class!
Student Work