FAST CLASS: Color for Designers: Exploration, Theory, and Application
Richard Mehl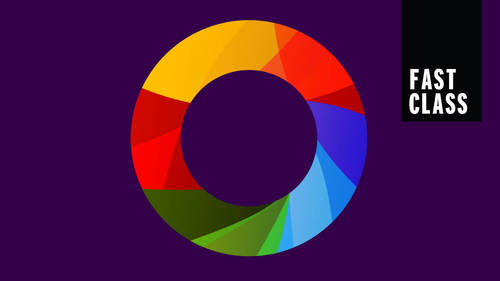 FAST CLASS: Color for Designers: Exploration, Theory, and Application
Richard Mehl
Class Description
FAST CLASS:
Try a Fast Class – now available to all CreativeLive subscribers! Fast Classes are shortened "highlight" versions of our most popular classes that let you consume 10+ hours in about 60 minutes. We've edited straight to the most popular moments, actionable techniques, and profound insights into bite-sized chunks– so you can easily find and focus on what matters most to you. (And of course, you can always go back to the full class for a deep dive into your favorite parts.)
Full-length class: Color for Designers: Exploration, Theory, and Application with Richard Mehl
SUBSCRIBE TO CREATIVELIVE and cue up this class and other FAST CLASS classes anytime.
AFTER THIS CLASS YOU'LL BE ABLE TO:
Effectively select and apply color to enhance your design projects
Utilize color theory language to justify your design decisions
Expand beyond preconceptions and your comfort zone in working with color
ABOUT RICHARD'S CLASS:
Our response to color comes from the place in our brain where trust, loyalty, behavior, and decision occur – every successful project relies on a designer making smart choices about color.
In Color for Designers: Exploration, Theory, & Application, Richard Mehl will give you a foundational understanding of color theory principles and demonstrate how to apply them. Richard has studied alongside design legends Paul Rand, Bradbury Thompson and Herbert Matter; in this class he'll share insights gleaned from 12 years of teaching and writing about color in design.
Richard takes an accessible approach to the serious study of color theory for designers. You'll be exposed to a relevant series of ideas and skills by exploring a range of analog and digital projects.
Color terminology and meaning
How to view color in context
Contrast grids and color illusion
Tips for creating a harmonious color palette
In Color for Designers: Exploration, Theory, & Application you'll develop a new awareness and sensitivity to color that will bolster your confidence in your personal and professional design work.
WHO THIS CLASS IS FOR:
This class is for designers and color aficionados of all levels working across various media, ranging from floral design to user experience design. It is also an appropriate refresher in color theory for experienced designers.
Class Materials
Playing With Color Color Design Glossary.pdf
Playing With Color Color Wheels.pdf
Playing With Color Leaf Collage.pdf
Playing With Color Patterns.pdf
Playing With Color Wallpaper 1280x800 Infographic
Playing With Color Wallpaper 1200x900
Playing With Color Wallpaper iPad
Playing With Color - Wallpaper iPhone
Ratings and Reviews
Student Work