Canon Rebel T4i / 650D/T5i Addendum Fast Start
John Greengo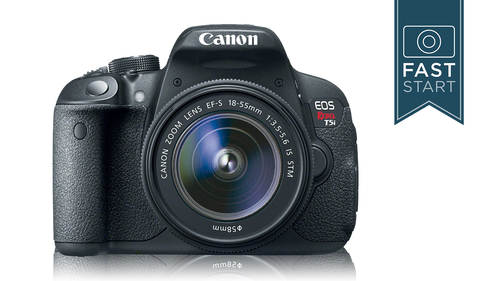 Canon Rebel T4i / 650D/T5i Addendum Fast Start
John Greengo
Class Description
Take this 
Canon®
 Rebel T4i tutorial with John Greengo, and you'll learn everything you need to know about the camera! In this photography tutorial, he provides a hands-on introduction to your Rebel T4i camera's operations, detailed instructions on how all the menus work, and how to shoot great photos with this specific 
Canon
 camera model.
Ratings and Reviews
I always loved photography and even did a 12 year stint as a correspondent for a local newspaper, back in the 35 mm/film days. In 2005 I bought my first Canon, a Rebel XT. I had fun with it but never really knew what I was doing. I would get a good photo about 1 ever 100 shots, just from sheer luck. I bought a Canon Rebel T4i in Nov. of 2012 and having never taken a photography class, have been fumbling along with it ever since. When saw John's Photography Starter Kit, I immediately signed on and loved it. I was so thrilled when I saw he had specific classes for specific cameras and dove into this class, head first! It's like a dream come true! I love John's teaching style. He's concise, gets right to the point and doesn't waste time on needless fluff. I just bought this course yesterday and have already finished it and am ready to do it all over again, until I get it all right. I even learned something with the first glimpse of his slides and the photos of the T4i...I didn't know you could open the back screen, turn it around and re-seat it and have your display right there on the back of the camera without it sticking out and in the way! This course is going to be a huge help in getting the very most out of my camera. Thanks, John!
I am a huge fan of John Greengo. John is pretty much my Elvis. I learned everything, and I mean everything about this camera,though I kind of felt john could have been a little more enthusiastic about the T4i. I shoot mostly video with 4k super 35 cameras in raw. I understand top of the live vs. consumer grade. My point is, I think this camera deserved a little more enthusiasm than I felt it got. Throw a high quality lens on this machine and it is magnificent. The T4i is only entry level in price point. The photos I've taken with L-series lenses are stellar. Video is very acceptable as well, even with the H.264 codec. I would't have gotten that feeling after watching the video. From a leaning stand point this series of videos is worth the price and then some. I would just hate for people to walk away feeling they bought a toy. They most certainly did not.
Excellent course and superb tutor. I thought the pace of the tutorials was perfect. I was particularly impressed with the coverage of the course, which was extensive and thorough. I liked the tutorial so much that I have now purchased 3 more of John Greengo's courses.
Student Work