Boudoir Photography Bootcamp
Jen Rozenbaum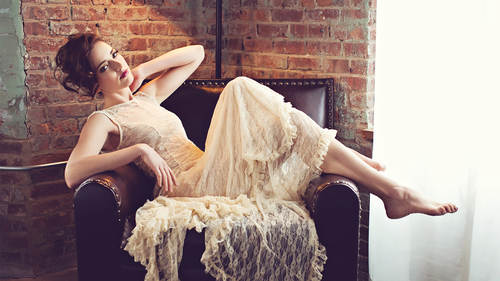 Boudoir Photography Bootcamp
Jen Rozenbaum
Class Description
A beautiful collection of boudoir photographs has the power to transform a woman's sense of self. Suddenly she realizes she can be beautiful, glamorous, and sexy – no apologies needed. Jen Rozenbaum shows you how to make that magic happen in
Boudoir Bootcamp
.
Jen has built a career celebrating femininity through photography. Her passion and commitment to making women feel beautiful permeates everything she does. In Boudoir Bootcamp she'll open the door to every aspect of her business so you know exactly what it takes to make a living while making all of your female clients look and feel amazing – every time.
Jen will cover every aspect of owning and operating a boudoir photography business. You'll learn how to:
Set up a shooting space, either in-home or in studio

Pose, light, and flatter any client

Price your products for profit
In Boudoir Bootcamp you'll learn exactly what it takes to add boudoir services to your client offerings or establish a boudoir-only business. No matter what services you offer or how small your space, Jen's insights and ideas will help you make every woman feel more comfortable and confident in front of the camera.
Make your boudoir photography business a thriving one. Join Jen Rozenbaum for Boudoir Bootcamp and learn what it takes to make women look and feel strong and beautiful.
Class Materials
Boudoir Bootcamp Workbook
Boudoir Bootcamp Gearlist
Life of New York City Boudoir Photographer
Shooting Demo: Male vs Female Photographer
Shooting Boudoir: Finding the Hidden Gems
Shooting Boudoir: Fly on the Wall
Ratings and Reviews
I think this course is great, my question was about a Facebook comment made that if a man has a bunch of likes that are female pages..., I agree and disagree in marketing they thought me to like your interest and hopefully future clients. How do I make it safe for clients and future clients? I am a Talent Agent and use to model and learning Boudior is my way of helping my models and business ,I want to also produce a magazine from my agency ,I was going to buy both franchises years ago but I want to do it myself in one company so I'm learning boudior photography to help me a beginning photographer pose women something I do not know I still pose women like family photos. The courses in green screen and other photo classes are just about lighting and position not what position, as a Videographer same thing no posing skill, business video production doesn't teach it all my courses are pro-stuff and tech nothing about what poses my models do. This will help my Video Production Business and Photography Business and my Model Agency...., thanks! I need this course so my models are comfortable and my clients feel comfortable I'm a shy person and I don't want me being uncomfortable make everyone feel weird!
Thank you Jen great Bootcamp! I'm starting my boudoir photography business and you have given me so many tools to succeed. I would have like to see more of the why in the posing as opposed to I don't like this let's change it as posing is the biggest challenge for me. I was particularly happy to see how you use your TD6 to create window light. That's what I use since my studio windows are too high when the client is laying on the bed. I really enjoyed your hidden gem video as well as the male versus female. You are an amazing teacher, thank you for your generosity!
Student Work