Secret 7: Be a Shadow, Not a Ghost
Jon Youshaei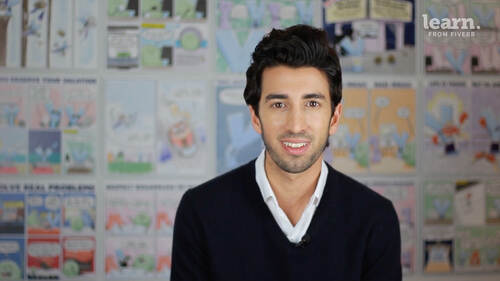 Secret 7: Be a Shadow, Not a Ghost
Jon Youshaei
Lesson Info
12. Secret 7: Be a Shadow, Not a Ghost
Lesson Info
Secret 7: Be a Shadow, Not a Ghost
the seventh secret of viral marketing is to be a shadow, not a ghost. So imagine it's monday morning, you're running late for work. So you grab your car keys, skip breakfast and just hit the road after driving for a while you decide to turn on the radio. And that's when you hear an ad for burger king. And as you're listening to the ad, you look out the window and you see a billboard right on the side of the road and it's a billboard for you guessed it burger king. And at that point your stomach starts growling and you see a bus go by right in front of you. And as you look closely down that bus, you see it has a banner ad for burger King. So you tell yourself, screw it, I'm getting a damn burger. So you take a detour, find the burger king and chow down on a nice big whopper in the real world, this type of everywhere marketing, it's pretty impossible unless you have a ton of resources like burger king does. But on the internet, it's not only possible but necessary. You see most brands ma...
ke the mistake of being ghosts, they disappear after one interaction with the user, someone visits their website and poof, that brand is never seen again, but one interaction isn't enough, especially because studies show that 96% of people who visit your website leave before purchasing or converting. So instead you need to shadow your users. You need to go where they go. You need to re engage them after the first interaction, you need to show ads to bring them back so you can bring them throughout the sales funnel from awareness to consideration to conversion and then ultimately advocacy. So how exactly do you do that? Well, you do it through a strategy called re marketing. Some people also call it retargeting or downright stocking. I prefer to call it shadowing because shadow not only follows you, but each shadow is unique to you and where you're at at any given moment. Shadowing means sending someone a unique message or add based on where they're at in your sales phone. All of this is possible with today's technology of cookies, pixels and user I. D. S through self service platforms like google or facebook or third party services like Admiral or perfect audience that gives you a single account to target multiple ad networks at once. And unlike our burger king story, it's actually cheaper and more targeted than billboards and busses and banners. To put this to practice, let's take a quick quiz. So here's the situation, let's say you want to retarget users who left your site after placing an item in your shopping cart, what type of ad creative would you show them? Is it a facebook ad with a five star review the product they left in their shopping cart. Is it be an email with a free how to guide related to your product? Or is it c a google display ad up selling them to buy a complementary product. The correct answer is a a facebook ad with a review would be far more effective way to retarget a customer who left that product in their cart because they would entice them to come back and buy to illustrate this. I'll share an example from a nutritional product called lean greens and deep dive on how to retarget using facebook ads to start log onto your facebook ads manager account and select tools in the dropdown menu from there. Select audiences, then select create audience and then select custom audience on the next screen. You could choose the different types of re marketing list. To use the most popular options being customer lists, website traffic or app activity. To import a customer list. You can upload a file that contains email addresses, phone numbers and or facebook user I. D. S. Retargeting by website traffic or app activity is actually where it gets more fun. This is where you can select who sees an ad based on certain actions they take. Like how long they spend on your site, how far they get in your app, how much time they watch your videos and so forth. To track your users activity. You'll have to first create and install what facebook calls a pixel. Simply put you go back to the tools. Drop down menu at the top of the page, select pixels. Select create a pixel. Then you name and create that pixel. If you're not technical don't worry you can just have your web master place that pixel between the tags on every page of your website and you'll be good to go from there. You can return to create a custom audience screen and then select website traffic. We can get so nuanced with our parameters here that we can target people who have visited your website in the past 30 days and visited a specific blog post and read 80% of that post. It's crazy how granular you could get lean green didn't have a huge email list. So they retargeted users based on time spent on their website and if they left items in their shopping cart, if both were true then users saw five star review of the same product they were considering purchasing but left in their shopping cart. This provided strong social proof for the user to proceed with their order. And as a result, lean greens dramatically increased their sales. Their results are actually consistent with studies that show that retargeted ads perform three times better than non retargeted ads. So it really pays to follow your users like a shadow and that perhaps up the seventh of our seven secrets. You've done an amazing job so far and have one final surprise for you in the next video. So I'm excited to see you there
Ratings and Reviews
Amazing! I learned a lot. You made complex topics more exciting and easy to follow through real-world case studies.
well, superb! I learned a lot of new marketing strategies. That is very well explained.
Student Work