Secret 6: Bulid an Audience By Borrowing
Jon Youshaei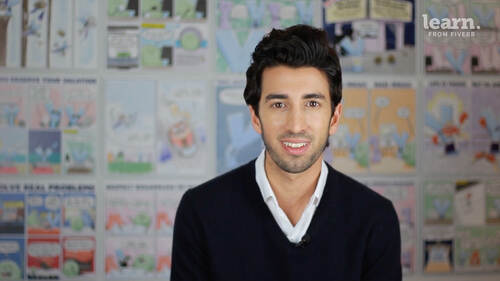 Secret 6: Bulid an Audience By Borrowing
Jon Youshaei
Lesson Info
10. Secret 6: Bulid an Audience By Borrowing
Lesson Info
Secret 6: Bulid an Audience By Borrowing
the six secret of viral marketing is not just to build an audience but to borrow it in this video, we're gonna talk about how to piggyback off pop culture to go viral. Here's one of the most important things to remember. Vier Al Itty is a mirror of culture. What goes viral reflects what people talk about, what people care about when it comes to movies, tv sports, politics meanings and music and more. And you know, whenever I say that people tend to respond with the following, they say not everything can go viral john you know, some industries, some businesses are not as sexy as others, they're just plain boring. And to those people, I always say bring it on anything and anyone can go viral with the right strategy. Take medicine for example. Now I have nothing against doctors, but most of them are more known for curing viruses than going viral on the internet. But what if I told you that one of the biggest social media stars in the world was a doctor and that he had five million followe...
rs and appearances on NBC, Good Morning America and People magazine. I'm talking about dr Mike Now. Did he make it big by talking about topics like biology and medicine? Actually he did, but not in the way you think you see Dr. Mike built his brand by living at the intersection of culture and his industry? Take a look at his most successful videos, 12 million views, 10 million views and three million views each. And all of those videos are commentaries on popular Tv shows like scrubs house and Grey's anatomy where he breaks down what is medically accurate versus not in those shows. In other words, he borrowed from the audiences who are already interested in these shows to start building his own audience. He used to build an interest of Grey's anatomy scrubs and house as a way to trojan horse messages about medicine to the public. Now, do you see how much more interesting that is? And just talking about medicine alone again, going viral means you have to use culture as your messenger. That's what I like to call the viral. It even diagram you see one circle represents topics related to industry and the other circle represents topics related to popular movies, music shows and more. The sweet spot is in the overlap and that's exactly where dr mike lives. But you see, unfortunately, so many brands only want to talk about their industry and there's such a low ceiling to that. Here's, here's proof, here's living proof for that. Alright, so there's another youtube channel by the name of legal Eagle and it started off by uploading videos related to what else? Law school. Again, not the sexiest topic and you could see some pretty low views on their videos, you know, 15,000 views for how to choose the perfect backpack for law school, 13,000 views for how to pick the best undergrad, major, you know those numbers there. Alright, but certainly not viral now if you had to put legal Eagle on the virology event diagram at this time, he'd be much more within the industry circle than on the cultural circle. So now, what would happen if legal Eagle took a page out of DR Mike's book? What if legal Eagle used culture as a more interesting way to talk about law? Well, that's exactly what happened. All right, take a look at these videos from Legal Eagle only a few months later, 1.4 million views on a video where he breaks down the legal practicality of a hit tv show called suits, 1.1 million views on a video where he compares Hollywood lawyers to real lawyers and 613,000 views on a video where he breaks down another hit show called Better Call Saul and so on and so forth. He moved within the overlap of that viral It even diagram we were talking about as opposed to just staying in the industry circle. It's also important to note that you don't want to veer too far away from your industry, such that you're only in the cultural circle after all, you want people to recognize your brand or you as an authority in your industry, You don't wanna be that dude who's just randomly commenting on movies for the hell of it. I mean, you can if you're just doing it for enjoyment, but if you're not tying it back to your industry, then you don't really expect as much r oi or conversion dr mike and legal Eel, on the other hand, created fan bases who care both about their industry and their culture. So there's a lot of relevancy there. Alright, so now let's go a level deeper. What if I told you there was a way to not only comment on culture, but predict it like some crystal ball you could look into to help prepare your content before any of your competitors knew what's up. Well, I'm excited to tell you that it exists and I'm shocked more people haven't discovered it, and I think it's because the key to all this is is a very bizarre and unexpected thing and so I want to talk to you a little bit about talk show videos, yep, I'm talking about videos or hosts like jimmy Fallon, jimmy Kimmel, Ellen degeneres and Conan O'brien in interviews, celebrities on their show. We all know these videos tend to get millions of views across facebook and Youtube and more. So what happens when these millions of viewers finish watching those talk show videos on these platforms? Well, these platforms generally recommend more content about the guests from the show because it's related content. So, for example, let's say you're watching an interview where jimmy Kimmel interviews will smith, you're either going to be recommended more videos to watch about will smith after you're done watching that video or you're just gonna be motivated to search for more will smith videos by yourself. Either way, there's a spillover effect and you know, there's millions of people who watch this talk show clips and then afterwards they go off and watch all the related videos, they get hundreds of thousands of views as well. So that's a spillover effect. Now you may be asking, okay, john, what the heck does all this have to do with this lesson and predicting virology? Well, imagine this, imagine you could create content about the celebrity before they appeared on the talk show and then put it up right as it went up. And that's the amazing thing that most people don't realize these talk shows actually publish their schedules of which celebrities will be on their shows before they appear. So you could use that to prepare. So for example, let's go on Stephen Colbert's website together and see his upcoming guest list for the late show next week by looking at it, we see that lady gaga and Eva Longoria or some of his upcoming guests this week. And there's a good chance that when those interviews go up, they'll get millions of views each. So knowing that you could prepare content about lady gaga, for example and publish it right after that talk show clip goes live and boom. Suddenly you'll benefit from the spillover effect, you'll have a good chance of getting a segment of those users who will be watching that's Stephen Colbert clip and just getting a piece, no matter how small can be game changing Because there's so many viewers. So even if you get a few 1000 or 10,000, of those millions who are watching that video, that's an amazing and game changing um factor for your content. Right? And so another thing, let's go even deeper. Um there's another site that a lot of people don't know about. It's called Inter bridge dot com and what this site does is not only one talk show, it's not only to its all the major talk show that shows you their schedules together, so it's looking at a collective crystal ball, so to speak. And it's telling you basically what's gonna be popular in the near future, so you can prepare your content accordingly. It's a really amazing thing. So let's go on this website together. Alright, so if you take a look, we see all the upcoming guests for the major talk shows and here's another Insider Secret, pay close attention to people who are going to be appearing on multiple shows in the same week. For example, lady gaga again, she's appearing on Stephen Colbert's show, but also also she's on Ellen Degeneres show and that's cool, That is gold. That means lady gaga is getting even more viewership that week. So definitely keep an eye out for that, definitely keep an eye out for repeat guests on different shows. And interestingly enough, this comes full circle, a popular youtube show, our Youtube channel rather by the name of film theory has gotten over six million subscribers by researching relevancy to engineer vier Aleke. So what do they do? They study what's going to be popular in terms of movies and celebrities, make videos about it ahead of time and then release it at the perfect time. And what does film theory talk about in their videos? Well, films of course, but also math and science. So like dr mike did with medicine illegal eagle did with law. Film theory uses culture as a way to spread an educational message of their own. So it all goes to show that even the not so sexy topics like medicine, law and math can still go viral with the right marketing strategy. Now, all those things considered. I imagine something you may still be thinking, all right, john you know, I'm not that good at making videos and I'm not here to be a social media star either. So, you know, I get what you're saying about thinking like a magazine from the lesson before and I get what you're saying with this lesson. But if you have any other tips on how you can apply everything, you're talking about two, a business to my business and the answer, I want to go even deeper again, you can sense a theme here is yes. And I want to show you by putting into the test with a quick quiz. So here's the situation, let's say you're a personal trainer and we're gonna brainstorm what you should call your next fitness program. Tell me this. Which of the following do you think would generate the most buzz and attention option A The peak platinum fitness package, Option B. The batman bodyweight workout or option C. Bodybuilding made easy. The correct answer is B. In fact, as an example, this is exactly how nerd fitness became a popular fitness brand and got featured in the new york times Washington post and Wall Street Journal. We all know fitness is a really saturated market, but here's the thing nerd fitness made their site stand out by associating themselves with marvel and Dc comic book characters. So they wrote guides like the batman bodyweight workout and themed it around how Bruce Wayne would work out if he was a real person. So in other words, they borrowed from the audience and popularity of batman to build their own audience and popularity, and also to their credit, they put this program out around the same time that the famous Dark Knight movies hit theaters. So interest in the public was even higher. So with that I want to say you now know what it takes to borrow from another audience to start building your own, whether you're putting out videos, products or programs. You can see it all comes down to finding your own way of commenting on culture, your own way of adding to the conversation with that. I want to say congrats on finishing this lesson and learning how to engineer Vier Alito through relevancy. I'm excited to see you in the next video. We're going to talk about how to turn viewers into customers. I'll see you there.
Ratings and Reviews
Amazing! I learned a lot. You made complex topics more exciting and easy to follow through real-world case studies.
well, superb! I learned a lot of new marketing strategies. That is very well explained.
Student Work