Mixing Drums: High Hat
Kris Crummett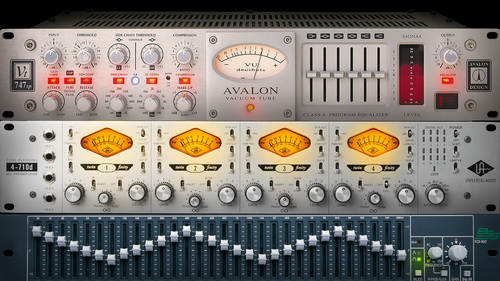 Mixing Drums: High Hat
Kris Crummett
Lesson Info
6. Mixing Drums: High Hat
Lesson Info
Mixing Drums: High Hat
I'm just going to keep going with the drum set and we've already covered the kick in the snare um and kind of what I do with those things and I talked a little bit about how on this session I didn't use any outboard gear in the tom's because they sounded great from the get go and I just didn't find it necessary so we're going kind of skipped through that um because they're just set up the way they are and I'll kind of get on this symbols because symbols are a really important thing and I feel that um using outboard gear with symbols really helps make them sound close and aggressive but it it really the outboard gear I use personally has a way of kind of saturating the top end so they sound really just is up front as the kick in the snare but they don't get harsh and that's really important and obviously some of that comes from the mike and the queuing but there's there's something that happens when I run him out that really but by running it out I mean running it out of the computer yo...
u'll probably hear me say that a lot probably already heard it from staying in and out I mean in the computer out of the computer into the real world, eh? So I feel like running symbols out into the outboard compression outboard accuse really warms them up and gives him the aggression at the same time that I can't achieve any other way, so we're not exactly that way. So the first thing I'll touch on justcause, I'm kind of going track by track, you can see my session here, but the kick with snares got tom's and we got the high hat and now I should look at what I've done on the high hat on this, but most of the time on this track, there's a lot of high hat, so I have the high hat running the whole time, it's not super loud, and I don't really feel the need to run it out because I'm just doing a little bit of q it's not really a major player unless there's a lot of closed high hat and even then it's an instrument that kind of speaks for itself and doesn't need to really be molded into a different sound now with different genres that's totally different, but for a song like this, it just wasn't super important. So again, I have used I really like for a plug, and q I really like the u eighty eighty eight r s it works really well and has a compressor on it, so if I need a little bit of compression, it does that now, in certain sessions, will have muted out the high hat where it's not playing but again because josh is such a good player there's not a lot of random stuff happening it's okay to have that in there and I'm really just using the high hat track itself to supplement the overheads and focus the overheads a little bit to the high hat when the hyattes playing so really even though I have a high at track most the high hat still coming through the overheads which are the mikes over the symbols of the drones so really the mike that's on the high hat is just being brought up slightly to focus it more and I'll bring it up louder and certain sessions are certain sections to really acts on the high hat but it's not all the high hats not just coming from the hyatt mike so that being said I don't feel it's that important to run it out again if I had a huge console or if I had you know three thousand stressors or at least one hundred I would maybe put on high hat plug in is totally find for me on that um the china on this song which is automated in parts is another one of those things that's really just there to supplement the china that's coming through the overheads josh it's the side china super hard we use the bulge in eighteen j custom china which is pretty loud in full so really cuts through the overheads really nicely um and I didn't really feel the need to run it out really change the sound of it there's just a little bit of the q on it again same eighty eight r s e q and compressor but it's not really doing that much what's really doing most of the work on the symbols of the overhead track on all solo that alone so you can hear and that's where all the close and will sound is coming from there's really two ways to get the symbols to pop and o r two two sets of tracks for the symbols that really president and that's the overheads and the room mike's obviously there's a lot of symbol in the room likes because they're capturing the entire kit at a distance and with that there's a little bit of delay so when you hear the overheads by themselves you're going to hear kind of a dry sound they're very close on by overheads I mean overhead microphones the overhead microphones are pretty close to the symbols close to the kid the room I was in wasn't extremely alive so you're really getting a pretty close sound when the rooms are kind of the depth of the symbols and that's what that's what gives you make it sound a little more real unless just in a tiny box and so I kind of balanced the overheads and rooms pretty equal volume in the mix to create a full symbol sound because the room's alone don't have enough attack they don't sound close they don't you can't really hear the rhythm in the rooms because the rhythm is delayed so that's so the overheads have the close rhythmic feel and then the rooms make create the death but if I had the overheads alone they're real boring sounding but I am unemployed the overheads alone right now just tio make my point and show you how it affected them then I'll show you how I mixed them in with the rooms and the other drums so these are the printed overheads that I've done and this is through ah these air actually through I put him through the a p q but in this demonstration going to use thes moggi queues have gotten them since I mix this and and I really like them on overheads a lot and I can represent a similar curve with a little bit different cool sound so this is what I printed and uh this's what I started with right here I'll play what I printed again, you know, the printed symbols have a lot of compression that really makes him sound more aggressive, more rocking there's a little harder attack on him and they definitely have more sustained when there's like full not hits or or half note hits or, you know, just bring out I'll play one more time these air the dry symbols and here's the affected symbols the symbols that were run through an outboard q and a visa, a compressor there's not a lot more life and a lot more aggression. So now I'm going to show you how I actually did that step by step, so I'm going to just mute the printed track, the track that was already pre recorded through the analog gear in like september october of two thousand thirteen when I was mixing this and I'm going to recreate that and first thing I'm going to do again is choosing io and I have input five and six open like prisons, so I'm gonna run that and I'm still running the kick and snare live I didn't change anything during the break, so all that stuff is still running in real time and again, I'm just gonna drag this over. This is the time investor plugging by holding option and that's going to duplicate the plug in turn in no stereo plug in since the stereo track and this is an easy way to get all my settings over it's got the samples and they're already I don't have to go into the plug ins menu just a little shortcut I used all the time, so the first thing I'm gonna plug in now that I have an insert that's going out into the real world out of the computer is I'm gonna plug in the mog q it's an e q for it's for the five hundred siri's format it's it's kind of a unique in the way it works most of the frequencies or fixed point except for a band that they call air band, which is actually just a really long, steep shelf instead of a normal shelf it's actually a shelf that constantly rises with a really wide q on the end so and you can read more about that online air band is kind of a semi common term that sunny accuse have but I think it actually originates from the night pro accused that were that were the same is the ma g q same designer, same person, just a different company. So this is really cool in overhead because it has a really interesting curve on the high end. Um, and I'm gonna plug these in and show you how cool they sound and show you what how I like to eat you overheads. So I'm going out of five on the patch bay, which is the fifth output on my first prison. See into the mom first channel out of the mob into the vertical vsc too, which is the compressor that I like to use on overheads, it's a v c a compressor, which means that use the voltage control amplifier tio control the compression and it's really just got the vcr compressors having unique sound it's kind of along the lines of that ssl sound there they're the ones that really made the vc them and dbs kind of made the vc anything famous. So when people talk about like that ssl bus compressor which anyone who's in bed, an engineer longer than a week has heard that term we're seeing that plug in because it's a super famous style of compression and what this is is kind of a take on that idea same a lot of the same controls, but it's actually completely different electronics inside, so if you're familiar with the necessary compressor or the plug in, we're resuming upon this, you're going to see that it really has all the same controls plus a couple added and a really cool side chain section and I'll go deeper into this in a minute, but keep in mind that it's actually a lot different than an ssl compressor itjust they kind of took the same idea of the front panel and made their own crazy hi fi really cool version of it, but and it's and it's also the cia controlled, which is the same as that ssl compressors, I believe the compressors in the channels and the mix bus on s s l four thousand series and six thousand siri's air all visa, so but I don't have one so I'm using this but it's a it's a great box so anyways I'm going from the into that compressor then I'm going out of that compressor which is the vertical via c two back in the channel five on the prison and now overheads are stereo in my case I never never do mon overheads I mean you can and I understand why people do but I never do personally and if I do it's just for an effect sometimes in a verse it's cool to have a mano overhead to make a course super wide and cool when it kicks in with the stereo overheads, but in general my overheads are always stereo so plugged in the left channel because these air each mono and that's stereo but I've only plugged in one channel non plugging in the right so output six goes right into mog two's input log to output goes into the virgos input and as you can see like I was talking about earlier patch based so easy because I'm just sitting here plugging in all this stuff that's I would normally have to be in the back and I could just sit in one spot see everything I want really clearly and just plug it right in lohan talking and not have to run around and waste time and now I'm plugging the output of the second channel on the vertigo into the input on channel six of my prison a eight x r scooting back over here I'm just going to make sure I'm gonna put this and bypass the compressor I'm gonna disengage the cue and just make sure we have signal going through weii do so we're good there double check one thing because I haven't used these inputs recently with the eighty eight eight x are you could actually calibrate your inputs and outputs through the front panel digitally even though you're calibrating the analog side of it and that's incredible because a lot of eighty converters can slip a little bit and nicer ones always have ah you can calibrate him on the back which means control the game to make sure each channel is exactly the same which is pretty important because if you're recalling something even like point one point two d b can make a big difference in your mix especially if you're super analytical like I am like that kind of stuff will drive me nuts so I want to make sure these air calibrated the same and with these converters unlike a lot where you have to go in the back with a tiny screwdriver someone has to sit up front and look at the meter it's like it's really frustrating with ease it's all right here digital tells you exactly what's going on so I'm just going to double check this I'm going in the input one and this is my input volume for channel seven, but I want to see five plus twenty two that's a plus seventeen. I was thinking that something was weird sounding, so I'm glad I double check that let's just put these both kind of like plus twenty because it's a little more gained eighteen is what a lot of converters and normally calibrated to plus eighteen d b I like that I can bring up the head room on these because I could drive the outboard gear a little harder on their outputs and not clipped the converters or clip in the computer. So sometimes I'll even go all the way up to plus twenty four. But with this, I don't really feel it's necessary, actually for fun. Let's do plus twenty two see where that gets us and that's just if you have something like that or any converter, you have it's always good to double check every once in a while that everything is the same and real quick. I'm just going to check my outputs, which is called path to on here, and I want it it's like output. Ports on my level was nineteen on seven twenty on five twenty on six, so I don't really care that seven is different than five and six in this particular case. And I'll actually explain why this one has said it plus nineteen later because these two channels are always my mixed bus channels on I'll get into that a little bit later, but the reason that it matters that five and six of the same is because that's my stereo pair and I want left and right to match five has left six is right, so five and six need to match each other otherwise I'm going to get confused when I'm trying to match gain with the outputs and puts on the various gear. So now that I know that's calibrated, come back here and I'll just select a loop so I don't have to keep hitting play, lose your cursor on pro tools just hit the right or left arrow and it brings you right back to where you were and if you have a section selected, the writer left arrow on the keyboard will take you to left will take you to the beginning of the selection right will take you to the other side. Sometimes that happens when you resumed in super far we find a nice spot on this. I was going to label this loops start in case I accidentally select something else I'll get right back to what I was listening to before I always like to have a set loop for when I'm working on working with the outboard here because I'm keeping that way I keep hearing the same thing each time and then I'll listen to a longer section but it's nice to keep hearing the same thing because then you're not trying to compensate for different parts of different symbols it you could just kind of pick something that has both symbols in it so let's see if this has both let's make a little bit longer loop go three bars noxious for some people but what I do and if you're ever wondering why your sections not looping goto options and luke playback which is also shift command l and that'll make sure sometimes that gets de selected sometimes you don't want it to loop but if you wanted to loop and it's not that's what you need to check and pro tools so let's loop this and turn the yuan the ma g q four you can hear them just turning it on changes the sound it's a little bit in a cool way and uh and obviously you're dealing with it makes it even better but something that you can do if you feel like it's kind of weird that you're trying to control the left and the right on something if there's two mano channels and two separate units that you're not doing stereo at least with this controller and or you can do in pro tools I'm just going to turn off the left channel actually I'll do it in pro tools so you guys can, uh, here what I'm hearing, in fact, I'll do it on the patch, but someone's gonna unplug left channel for a minute because there's a lot of symbol on the right, and I want to dial in the q one channel at a time, even though they're going to match. I don't want to have to elect turn both knobs that each time, because then it changed a little bit. It gets weird, so here's, the right channel this's one of those situations because this q doesn't have makeup in it's easy, easy to be fooled by when it's bypassed, even though it's a little louder because I'm doing a lot of cutting to me. Uh, engaged actually sounds a lot better than what I've done here is I've added about two and a half d b of a ten k. Now this is the only the top frequency. The air band is the on ly frequency on the sikh you that you can actually select, and I'll actually just zero these out real quick uh, actually believe him in because it's easier to hear what's going on on up there, one of cleaned up down here, so let me switch to through these bands you can hear the different starting points for the air band that's ten k it's dropping down a five well, you get a little more of that high mid frequency of the symbol which is kind of nice sometimes we could drop it down to two point five ok, which is a starting point turn it up just a little bit so you can really hear so this is this is ten again with forty of you gain on the ten ten k air band now we're gonna listen to twenty here's twenty on the air band and here's forty and let me show you forty and you're probably thinking no one can hear forty k that's totally nuts and you're right, but I'll explain why it's cool and I'm gonna drop the volume on the band for a second and bring it back and you'll hear the difference and it's a pretty neat sound very shimmery and really one of the things that makes us seek you shine the reason that forty k is actually audible on this is because what I was talking about earlier where the air band has a really, really slow slope on it, so you're not actually hearing forty k you're hearing a frequency point that starts at forty k and gradually comes down in a certain curve all the way down pretty well I'm not actually sure exactly where it stops, but to me it sounds like it stops around like eight to twelve k or something and that's cool because even though I'm turning it the forty and it's like you can't hear forty creating the effect that way has its own unique sound on creating the curve that way is a very unique sound as you just heard, but that's actually not what I'm gonna do on these overheads because I I want a little more high needs it's going to go back to a five k because I kind of like that let's hear that one more time to tbe boosted at five case shelf so it's boosting everything above it and now the cq has two shelves it has the air band, which is its own unique form of shelf and the normal shelf that starts a two point five k, which is really good for presidents boosting and cutting so I'm actually cutting because I don't really like the sound of two k in symbols and I'm I want to take out a little bit of that two k and even though it's a shelf, I get to boost it back up at five so essentially by boosting more than I'm cutting, boosting maura five on this shelf, then I'm cutting at two k on this shelf I'm creating another interesting curve that kind of dips down pretty fast stays flat and then gradually comes up and kind of centered of five k and then keeps going up so I'm actually creating with two controls I'm creating one cut that has a really unique curve, and I think it sounds awesome on cem. So let me show you how this works, getting that I'm actually getting rid of that some of this kind of nasal lee obnoxious frequencies, and if I was only cutting it, I'd be accenting a lot of the obnoxious low mid frequencies by getting rid of all the highest since this is also a shelf. So, like I said, I've got this cut here, and then I will turn up the boost that's a little bit higher. Another thing I've done is I've cut the fixed frequency of six fifty because it's kind of ah, honky sounding, oh type of sound that I don't really like. I can turn it up, show you what it sounds like, zero it and then I'll turn it up that's another good thing, especially when you're in queuing and you can hear something you don't like that you can't tell what frequency it is, especially excuse me, younger engineers or just people who haven't work in the studio as much. You might know what you hear, but you don't really know how to get there and that's part of being an engineer in general, and I feel like I'm still always going down that path of like I hear that and I know what that is I know what I want to do but I got to figure out how to get there and I know I know a lot of routes these days but there's still a lot of untraveled territories so um one thing that you could do to figure out where you're going is uh it is a little different but it's not a sweet will eat you but I can go through each band and I hear this obnoxious frequency and I don't know where it's at so I'll start with the two k show up listen to it that's not the right frequency uh is a one hundred sixty wasted up second really here one hundred sixty sounds like no that's not the right frequency that I'm hearing so my last logical choices probably six fifty and let's boost that up to see what I'm here totally that that's that flat paper is sound that I don't want my symbols and that's something that most overheads kind of having it is just a part of it's part of the game but um now that I boosted it and I know that six fifty is the one I don't want to cut it out that's a debate and a half cut and I like how that sounds and as you can see down here I've just gotten rid of forty hertz and the sub frequency there's control over the sub frequency on the sikh you there's no reason to have sub frequency and your overheads or any kind of forty hurts. Really? Um, anything below eighty is pretty unnecessary and overhead, because all you're going to do is get frequencies that are going to phase out with kick drum because the kick drum mike is almost always pointed at the kick drum, and you're getting a weird ninety degree face thing going on by having on overhead, mike pointed straight down at the kick drum and getting rid of those low frequencies frees up room for the actual kick drum mike to be punchy, kick drum and not have to fight through the phasing this of the overheads. So just by default, I've turned forty and the sub frequency all the way down here, which some on the sikh is actually ten hertz, which we don't really hear but again, it's a really wide band, so it gets rid of frequencies that are affecting things that you can't hear, and it kind of slopes slowly from about forty I believe down a ten so it's just a cool curve it's an interesting way to control things, and I really enjoyed on overheads.
Class Materials
Kris Crummet - Tracking and Mixing Gear Guide.pdf
Ratings and Reviews
OK I bought this course to watch at my leisure. Lots of Respect for Kris - if you go to his personal website, his experience and track record (no pun!) is impressive. Clearly he knows his stuff and has developed a very efficient way of working. I am a singer songwriter in the UK with many years of experience playing live. I have my own project studio (Pro Tools 11, lots of vintage hardware, UAD, Avalon, Tube Tech etc) and all the software plug ins, virtual instruments. Also a comprehensive guitar collection, acoustics, electrics, keyboards, DW drums etc. My problem is this. here again is a well organised Creative Live presentation with a competent presenter, but the content is inappropriate for the majority of viewers. Like many people watching this stuff, I find the material used to demonstrate the techniques is awful. Grahame Cochrane is the same - over produced American soft rock which has absolutely no musical or creative merit. This 'music' isn't going to stand the test of time and will be gone within a year. I understand that the material isn't Kris's personal stuff, but he says he likes it and I'm sure he does. But what your listeners want to hear is how to produce recordings which have space and clarity. Listen to Jackson Browne, Mary Chapin Carpenter, Mark Knopfler, Ry Cooder, Dylan, Van Morrison - these artist's recordings are the ones to emulate! So please, can we kick out the over compressed X Factor style stuff and get back to basics? Show us how to get quality sounds and how to create space in a mix. Its the natural sounding music which will be with us in 50 year's time - just like the Motown stuff is now. No doubt there is a whole generation out there who think this sort of material has credibility, but I have to tell you it has almost no musical or creative merit, and I for one don't need to know how its produced.
This was the single most helpful source of information for improving my mixing that I have ever come across. I loved it and i know everybody else here will too. Buy it so this man can come back again
Awesome course, super relevant as Issues is my favourite band and as a producer/engineer I aspire to their tone, the drum mixing was especially great, just a shame that there was no mention of electric guitar mixing
Student Work