Paper Finishes & Textures
Stephen Vanasco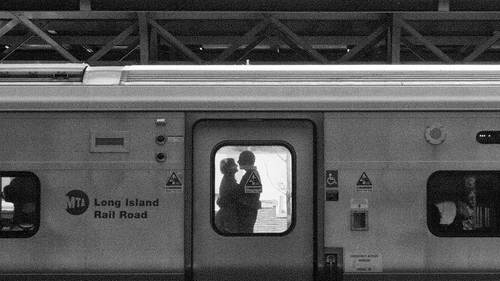 Paper Finishes & Textures
Stephen Vanasco
Lesson Info
3. Paper Finishes & Textures
Lesson Info
Paper Finishes & Textures
So right now, I just want to demonstrate, really quick, before we go forward, so, I guess, that I'll go through print and try to understand the different papers and the effect that they had. So, I brought two images with me for here. Color, black and white, printed on a variety of Moab papers. So, I just want to demonstrate the... This is a GTI light box, by the way. We're going to get into some of the tools later on, but this light box, per se, is to really demonstrate the true colors of the prints that you make. If you're printing at home, chances are you have off color balance, tungsten lights overhead, and you hold the paper, and you say, "Why does it look orange? Why does it look a certain way?" It's because the lighting overhead is doing that, and you can hold it next to a window and you can go over that. And it's not true, so this is a more overall, true setting to how you're going to see your prints and how they are going to reflect. So, let's move forward, and let's get into s...
ome of this. I'm going to show, right now, this is Moab's metallic, silver Slickrock 300. You can kinda see... The balance it has, the colors are very vibrant. Black and white is, you know, they'll think it's more silver metallic kind of thing. This was Los Angeles post-rainy day, kid jumping around and playing in puddles. This is one of the iconic lowrider meetups at Elysian Park. All of the cars that usually show up there pretty vibrant, like candy-colored. So, you know, that's what I wanted to print this one out, just so you can see. Much like a preset, say if you're processing a digital image, or much like a film stock, if you're shooting film. You want to take into consideration the after-effects and textures of the paper as it kind of becomes like your signature. If you find something that you like, can you keep printing with it and you keep making it people will be able to understand, "Oh, that's that person's type of print, they would like that paper, they like the way that effect gives for the color, gives for the black and white." So, I'm going to do some side-by-sides real quick of the color, right now. So, I'll leave this one up here just so you guys can see. This is Dual Semigloss. So you kind of see, you know, especially different papers, the metallic to the more white. You know, the blues and greens render a little more vibrant, this is more neutral You guys got this shot? All right, cool. Let's go on to another one. This is more of a matte paper, Entrada Rag Natural. Again, you can see how the finish on it. Some people prefer a gloss, that's the most common, I believe. Some people prefer a matte finish. Again it comes down to how you want your image to be perceived and absorbed in the end. This is Entrada Rag Bright. So, again, it's anothernkind of matte paper. So, there's two... There's some differences between this and the natural. The natural is more of a just pure, that's with the texture, the paper is natural. The bright absorbs the light and produces a more kind of vibrant matte photograph. So, that's another thing to consider. A lot of papers tend to have, if they have the advertisement bright white in it, that usually means they have some chemical additions that use the UV light to make the picture pop more. So, it's another thing to think about. You get a print from somebody, you print your own stuff that has it. You take it to get framed. Usually, the framing shop wants to upsell you, or you need special glass, you need UV protector glass. If you have any kind of optimized bright, white paper, and you put the UV protector glass over your print, it's not going to reflect because, now, you're blocking the light source that makes that paper pop. So, you have to be careful about that because you can do a print like this, put that kind of glass over it, and when you hang it one the wall, you'll say, "It doesn't look the same as it did when I saw it without the glass, when I printed it out." So, there's a lot of technical factors to consider: the paper, the glass, and the light, and what you're going to want to preserve it in. This is Exhibition Luster paper. Kind of the middle of the road between a matte and something like that. Colors are a bit more vibrant. Then the matte finish stuff, a well all-around, solid paper type, for sure. And then this one is one of my favorites, this is the Entrada Rag Textured. It's a matte finish, as well, but if you were to hold the paper, or you were to feel it, you could definitely sense the weight in it. You'll feel the texture of it. (speaks to person off-camera) And I don't know if you guys are able to zoom in, but, you can kind of see the texture it adds to the layering of the image. So, what we'll do is swap out the color and go over some black and white demonstrations of the papers. So, Slickrock Metallic Pearl, Dual Semigloss. Yeah, you can see that. This might, to some people, might look almost more like a truer, traditional black and white image. You got the shot for this one? Cool. Entrada Rag Natural Again, the matte finish just kind of give it a different feeling versus something like this. Rag Bright, a little similar, Entrada Rag Bright is a little similar, but it comes out in the paper weight and sensing it. Okay. Let's see which ones are over here now. Last, we'll leave the Exhibition Luster up. Yeah, we'll leave that one up there for you guys to check out. So, there's more varieties of Moab paper, for sure. Here are some on the table. They have these cool color-coded system of their paper types. So, if you go into any kind of store that sales their paper, printing paper, look for this, and you'll find different types, and you can discuss with whoever is working there to help you find a paper type you want to experiment with. They make sample boxes. They contain two of each type of paper that they make. So, that's another good way for you to explore what works for you. I got swatchbooks. They got all of these fun things for you to see how it feels.
Class Materials
Free eBook from Moab by Legion Paper
Ratings and Reviews
Great intro into printing and understanding paper choices. Loved it.
I also watch many Creative Live courses and found this one to be quite helpful particularly for those artists who may not have a tremendous amount of printing experience. Stephen's style of presentation is very clear and low key and many of the principles/processes which he discussed are integral to producing professional results.
Awesome. That was so on time. Thanks
Student Work