Drum Micing - Mid-Side Overhead Technique
Sylvia Massy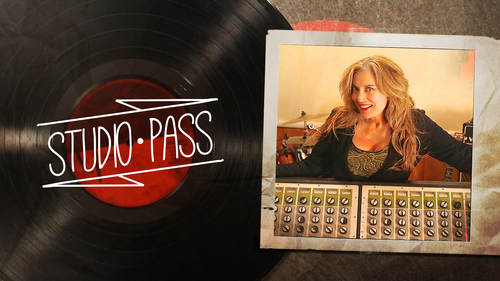 Drum Micing - Mid-Side Overhead Technique
Sylvia Massy
Lesson Info
7. Drum Micing - Mid-Side Overhead Technique
Lesson Info
Drum Micing - Mid-Side Overhead Technique
Now the overheads are a little weird, so I'd like to work on the placement of the overheads. And I think what we're gonna need to do, and this is gonna be a pain in the ass, Scott, but I think we need to move this stuff. I think we need to move this baffle over out of the way and so that we can have the mic stand directly behind her, and then we're going to have this mic stand directly in front, or even just between these two sets of cymbals, as much in the middle of the cymbals, 'cause what I'm trying to do is get a picture of the cymbals moreso than a balanced look at the drums so I want, when you're on this cymbal I want it equal volume to when you hit the cymbals on this side or when you're playing the hat. I want there to be balance between the cymbals more than I want the snare to be balanced right in the center. So we're going to adjust these microphones so that they're kind of dead between the cymbals. So let's move some things around here. Is that gonna be, that's about righ...
t, right? That'll be good. Awesome. And we'll just slide that one. So the thing about these two microphones up here, they're U 87 Neumann microphones. I've chosen them because they're large-diaphragm mics and the pattern can be changed. I'm using an MS configuration so for this mic, it's in Figure-8 and what I'm looking for is for it to capture a Figure-8 pattern with that side and that side. This one is in a cardioid pattern, and it's just going to get this area down here. Is that close enough, or can we go a little closer? If you just firm it up, I think we're good. So MS, MS stands for mid-side, right? Mid-side. Okay. So this microphone is your mid. This microphone will be the sides. The sides are the Figure-8 coming off of here and off that side, and the mid will be capturing this part. Now the way that we have it set up is that we take the signal from this microphone which is Figure- and we're going to split it into two signals, and then we're gonna flip one of those signals out of phase. Then we're going to have this one on the board. We're gonna have all three of those signals on the board, then. We've got the mult of the sides with one side out of phase, and then the third channel is going to be this mid, and when you listen to only the sides it's very wide because it's the same signal flipped out of phase so it's really super-wide. Now when you add the mid into it, it just kind of makes this beautiful, wide picture, and that's what I'm looking for for the cymbals. I used this technique while recording the Tool records like Undertow. All the drums, the overheads were done with this mid-sides technique on the overheads, and it was a really sweet, beautiful, wide picture with the cymbals, so we're gonna try that here too.
Ratings and Reviews
This Studio Pass episode with Sylvia Massey covers a lot of ground. From fundamentals like correct mic placement and phase to experimentation with amps, cell phone delay and a few extra parts, Sylvia makes it fun! I have been lucky enough in my career to work with a number of great engineers and producers. I haven't had the opportunity to work with her, but Sylvia is certainly in that category, and anyone who gets a chance to work with her would be a lucky person. This broadcast is the next best thing. Great job there at Avast Studio and fantastic camera work! And as for Thunderpussy; you guys rock!
Wow, that was such a blast. Thanks so much Sylvia and everyone else for making this such a fun experience. I picked up so many new ideas that I can't wait to try out! Sylvia is such a creative producer, it was so much fun to be a fly on the wall watching everything. Loved it!!
Awesome! A great opportunity to pick into the creative mind of one of the greatest and get that kind of knowledge that you can't acquire otherwise. Highly recommended!
Student Work