Studio Pass with Joey Sturgis
Joey Sturgis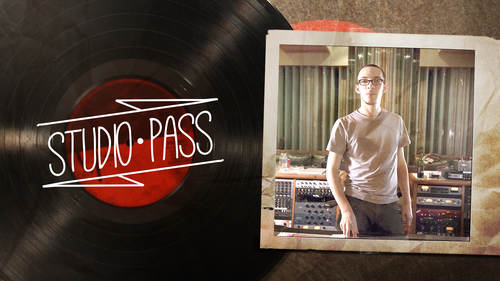 Studio Pass with Joey Sturgis
Joey Sturgis
Class Description

Joey Sturgis is the producer behind some of the biggest names in metalcore, including Asking Alexandria, Of Mice & Men, and I See Stars. His style is one of the most sought after sounds of the last decade and in Studio Pass he'll show you how he produces it.
There is no magic bullet to Joey's sound. It's simply the combination of a million little decisions that add up to something incredible. In this class – for the first time ever – Joey will demonstrate his entire process: pre-pro, engineering, mixing and mastering, from A-Z. 
You'll learn:

Writing and arrangement tips that take a song from good to great
Recording, editing, and mixing tips for guitars, vocals, bass, drums, and synths
How to get stuff to sound loud, super clean, and tight
Joey is a hands-on engineer – he'll talk about how he works with bands to develop their writing and ideas so they are working with the best possible raw material. He'll show you the specific signal chain he uses for mixing guitars, vocals, bass, drums, and synths. And he'll give extra focus to vocal tracking, editing, tuning, compression, and effects.
If you want to transform your recording and engineering process, don't miss your opportunity to learn from chart-topping metalcore producer, Joey Sturgis.
Class Materials
Autotune Pitch Correction Modes and Tools
Understanding Pitch Graphing
Separating Lead & Background in Mixing
Mixing Harmonies & Adv Production Technique
Ratings and Reviews
I have been following Joey's work since the early Prada days... This is one of the best discussions any producer has ever contributed to digital audio. I love the amount of transparency. He simply reveals everything and guides you on a very wise path on how to become a in-the-box producer like him! Turns out, the answer is -- a ton of hard work! Plus, this has to be the best use-case on his own awesome and super-affordable plugins. I have watched almost every popular producer/engineer workshops and have also sat-in on Eddie Kramer, Alan Parsons and Quincy Jones producer workshops and believe it or not... This is the best one yet.
I'll be honest, I'm not a fan of the bands Joey records. The only reason I bought this class was because I enjoyed the Periphery one so much. Joey takes modern production techniques to the absolutely extreme. He takes punch-ins and editing to a level where it's not even funny any more. If you're looking for tips on recording and mixing in general, this class is not for you. If you're looking for editing tips to see how far you can possibly push the strive for perfection, this is pretty spot on. If you're a beginner, don't take this class to heart - Joey's workflow is borderline psychopathic - go and get the Periphery session instead. If you've been recording for a while and you're looking to see how far editing can take you, it's worth a look.
Easily one of the best investments I've made. There is so much information here that you'll have to watch it multiple times to really catch everything. Looked up to Joey Sturgis for a long time and this is literally a dream come true to get a behind the scenes look into his talent. He delivered the material in a very understandable fashion and was extremely clear with all his examples. I love creative live =)
Student Work