Stay Creative, Focused and True to Yourself
Austin Kleon, Chase Jarvis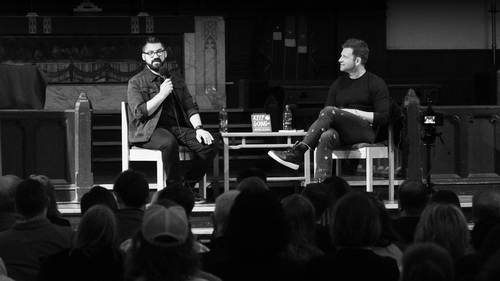 Stay Creative, Focused and True to Yourself
Austin Kleon, Chase Jarvis
Lessons
Class Description
There's a common misconception that artists have a monopoly on creativity...But the very act of making waves - no matter the career - is a creative one. The Chase Jarvis Live Show is an exploration of creativity, self-discovery, entrepreneurship, hard-earned lessons, and so much more. Chase sits down with the world's top creators, entrepreneurs, and thought leaders and unpacks actionable, valuable insights to help you live your dreams in career, hobby, and life.
ABOUT THIS EPISODE:
He is one of the most insightful voices on one of my favorite topics: building and maintaining a creativity habit. Today on the show please welcome my long-time friend and creative inspirator...Austin Kleon.
If you're not familiar with this work, Austin is a lifelong artist and the bestselling author of three earlier books (Newspaper Blackout, Steal Like an Artist and Show Your Work)…but today we're all about his new book titled Keep Going: 10 Ways to Stay Creative in Good Times and Bad.
And BONUS – this episode is an extra special treat because Austin came out to Seattle and we chatted in front of a live audience! Some great questions, a few good laughs, and it all takes place in a huge church! Want to avoid burn-out and stay creative in good times and bad? This'll be a great listen.
We also cover...
Maintaining creative momentum
Austin's personal daily practice
Kids and creativity
Getting unstuck
The value of time as a great editor for your work
And...the value of 'going away so you can come back.'
ABOUT AUSTIN:
Austin Kleon is the New York Times bestselling author of three illustrated books: Steal Like An Artist, Newspaper Blackout, and Show Your Work! His latest release is The Steal Like An Artist Journal: A Notebook For Creative Kleptomaniacs. His work has been translated into over twenty languages and featured on NPR's Morning Edition, PBS Newshour, and in The New York Times and The Wall Street Journal. He speaks about creativity in the digital age for organizations such as Pixar, Google, SXSW, TEDx, and The Economist. He grew up in the cornfields of Ohio, but now he lives in Austin, Texas, with his wife and sons. Visit him online at www.austinkleon.com.
Ratings and Reviews
Student Work