Recording Rock Guitars
Andrew Wade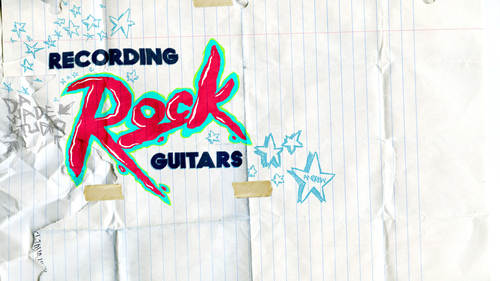 Recording Rock Guitars
Andrew Wade
Class Description
A great guitar sound is the centerpiece of modern rock, metal, pop-punk, and metalcore. Join producer Andrew Wade (A Day to Remember, The Ghost Inside, The Word Alive, etc) for an intensive look into the rock guitar techniques every producer and engineer needs to know. In this two-day course, Andrew will teach you everything you need to know about creating huge, thick guitar tones. You'll learn how to prep and setup, and develop best practices for tracking guitars. He'll cover both real amp and amp sims, mixing in your DAW, and more. Whether you're recording tracks at home or in a professional studio, this course will give you concrete, easy-to-apply techniques for taking your guitar sounds to the next level.
Ratings and Reviews
Berklee College of Music Graduate here '03. I came across a snippet of this course on youtube and the tip about HP the DI to get low end was enough for me to decide to buy the course. One of the things I found so great about this course is how well creativeLive has put this together. From the high def multi-camera shoot, to the screen capture, to the included downloadable slides and Wade's Mesa cabinet IR, the production is very well put together. Kudos to creativeLive, you are doing the right thing. I was very impressed how articulate Andrew Wade was, not to mention that he was willing to share his production techniques. He really thought this through and takes you from very basic steps for preparation prior to tracking, to editing, all the way through to mixing. Additionally, Wade does this all without ego. What a like-able guy! I'd recommend this course to any aspiring engineer/DIY band member, especially if you are going after super tight, highly-polished guitar tracks we see in today's modern productions. The course is a look inside the mind of a talented and caring audio engineer and his philosophy/full-disclosure-techniques for recording guitar. Awesome. Think of it this way...if you have $99 play money and you're thinking of buying a plug-in over this course, please reconsider. The techniques you learn in this course will last you a lifetime and will improve your sound dramatically. Looking forward to more audio production related content in the future!
This class was extremely helpful! I learned soooo much. Andrew is a pro and it is absolutely worth the money. Specifically the tuning section of the class. Did not think to put this much effort into tuning, but it makes perfect sense! You can have the tightest band, with the best musicians, the most expensive gear, with amazing tones, but if they are even slightly out of tune its literally a bottleneck for the whole sound of the song. Thanks Andrew!
Awesome, I am a big fan of A Day to Remember and aways wanted to know how their songs were made. Now I know some nice techniques by their own producer. I thing this workshop is not only for producers but for every person who play on a band. Now CreativeLive should call Rick Rubin to do the same.
Student Work