One Hour Photo Featuring Mike Hagen
John Greengo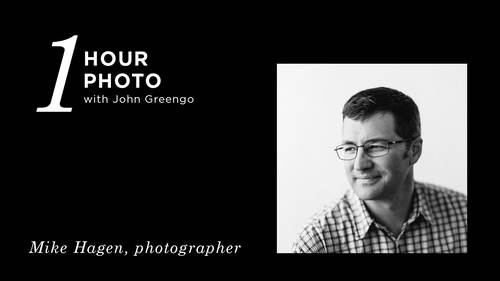 One Hour Photo Featuring Mike Hagen
John Greengo
Class Description
Every month, John gives you an hour of expert guidance and immediate feedback with ten questions and ten critiques in this exciting new series we're calling One Hour Photo. John will also sit down with one guest photographer to offer insights, advice, and industry knowledge, and this month's guest is Mike Hagen.
In this hour, John responds to questions about the best focus area to use for group shots, and the best type of autofocus, advantages and disadvantages for using older manual prime lenses vs. modern prime lenses, and tips on creating the same exposure to every photo.
Mike Hagen is a professional photographer, author, and workshop leader. He's taught hundreds of workshops and thousands of students over the years on just about all photo topics including camera gear, studio lighting, Photoshop®, Lightroom®, landscape, travel, and digital workflow. One of his favorite things to do is take people on photo safaris to far-off places like Africa, Galapagos Islands, and Iceland. Mike is a prolific writer, having published many books on photography, software, and digital workflow. Check out his CreativeLive classes here.
Ratings and Reviews
I just watched this One Hour Photo class and thought it was well done. As a beginning photographer, I found the image critiques (both Mike's travel images and images submitted by others) to be helpful. I like the One Hour Photo class concept - just enough time for getting tidbits to improve your photography. Regarding other classes - I have watched several of John's and Mike's Creative Live classes. They are well organized, easy to follow and provide ideas to improve your photography. As an aside: I have traveled to Tanzania, Galapagos, and Iceland with Mike Hagen and can say this about the trips: Sign up now! All three trips were fantastic. Mike is a great teacher and leader who is focused on participants becoming better photographers.
Student Work