One Hour Photo Featuring Art Wolfe
John Greengo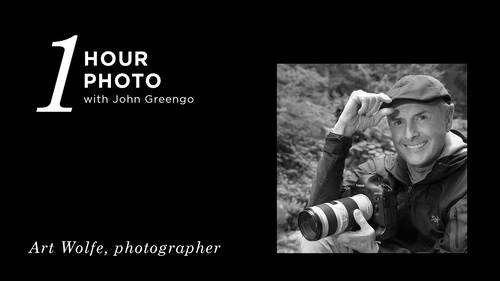 One Hour Photo Featuring Art Wolfe
John Greengo
Class Description
Every month, John gives you an hour of expert guidance and immediate feedback with ten questions and ten critiques in this exciting new series we're calling One Hour Photo. John will also sit down with one guest photographer to offer insights, advice, and industry knowledge, and this month's guest is Art Wolfe.
In this hour, John responds to questions about the pros and cons of using different brand lenses from your camera brand, tips for culling images, pros and cons of different wide angle lens types, and the pros and cons of crop sensor vs full frame cameras, just to list a few.
The son of commercial artists, Art Wolfe was born in Seattle, and though he travels nine months out of the year still is glad to call the city home. He graduated from the University of Washington with Bachelor's degrees in fine arts and art education, and these fields continue to inform his work every day. To see his photos, unique in their mastery of color, composition and perspective, is to experience first-hand the power of photography. One of his lifelong goals is to win support for conservation issues by "focusing on what's beautiful on the Earth." Wolfe's breathtaking images of the world's fast-disappearing wildlife, landscapes and native cultures do just that. Check out Art's CreativeLive classes here.
Ratings and Reviews
Wonderful class and very helpful for us beginners.
An epic hour! Love the critiques!
Student Work