Custom Menu I: Movie Mode
John Greengo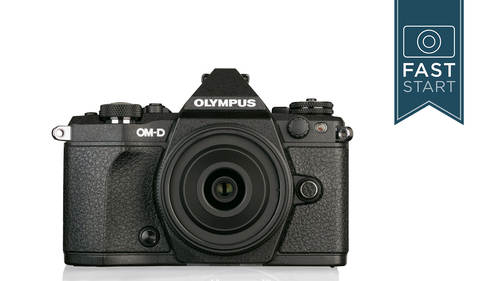 Custom Menu I: Movie Mode
John Greengo
Lesson Info
29. Custom Menu I: Movie Mode
Lesson Info
Custom Menu I: Movie Mode
let her, I subject is movie, All right, So things dealing with the movie mode when you put it in the movie mode, would you prefer it to be in manual, which are more serious photographers are gonna want to do? Are you gonna want to put it in program? We're just take simple movies with basic settings for shutter speeds and apertures, and so this depends on how involved in the movie world you are. Next up from here is the sound You can turn the sound off if you know you don't want to record sound. Most people are gonna leave it turned on. You can go in and adjust the volume of the sound in here. And so there's some different settings for the built in microphone or even an external microphone if you have one plugged in or having a mike a Zeiss, a mic plugged in controlling the volume up and down. According to the volume levels, there is a volume limiter which will kind of cap loud noises. It try to keep sit within the range that it can hand in the handle in the sound dynamic range. And so ...
leaving this on in case, there's a loud clunk or bang or something like that. It will try not to top out too much, which can sound really bad in the audio channel. We also have a wind noise reduction, which can help muffle really allowed wind. And this is a great reason for hooking up in external microphone, which has that little soft fuzzy coat on it, which does a much better job in the wind than the little tiny portholes that they have drilled in the top of the camera here. And so wind or excuse me, uh, sound as I had mentioned before, is very important when shooting video. And so I'd probably leave this on standard. For the most part, there are different types of Mike's that you can put in on this camera, and some of them are powered and some of them are not powered. And so for those that are powered, you want to turn off the power going into those mikes. And so the serious videographer would turn this off because they have ah, Mike, that has has its own power supply. For those of us using kind of your standard basic 102 $100 microphones that's gonna have plug in power and you need power going from the camera controlling that microphone. The PCM recording length is something that I have never used. But there are external recorders that you could hook up with this device. Olympus. In case you didn't know Israel big into making well, they used to call a microcassette recorders. But they're little digital recorders and you can hook them up in here and use that as an external recorder and link the two of them together. Continuing on in the movie mode, you can control the headphone volume so that once you plug in headphones, how loud is it for you timecode settings for our serious city fans out there who wanna have control over their drop frame? You can control that in here. We're not going to get into the whole city thing here, But normally on the count up, I would leave it on record run. This shows you how much time that you've recorded. You could have it on a free run where you have two cameras and sink them up so that you know that you're getting footage from both cameras and you're able to sync up those in the editing phase. And so it depends on if you're hooking up with other photographers that you might want to play around with that free run option. But for most of us recording run, just tell me how long I've been recording is good enough for most people and then movie info settings. So what sort of things do you want to be in the viewfinder when you are shooting videos? I would. In some ways, it's kind of like I would just uncheck all the boxes and then carefully go down. Do I want this one? Do I want this one? Because less clutter in the viewfinder means more room for composing. But some of these air really valuable tools, and you're going to need them. So there's gonna be a balance that each of each user draws on this particular setting. Next up for movie specifications settings. This is the quality and size and well, the movie mode that you are setting essentially the size of the file, that you're going to get out of this, and so you can increase or decrease the file sizes on this and really customized the exact settings that you're getting movie effect. And so if you are gonna be shooting with some of the art effects, you can do that in the movie mode as well. And this is going to various to whether you're going to see those on screen in your viewfinder, and they could be a little distracting it hard to work with. And so some people have it like it turned off, which is why I have that recommendation in there now. Now this is primarily a still camera for taking still photographs that happens to shoot video. So when you are shooting video, you can press the shutter release to take a photo. The question is, is how important is that photo? And is the video more important than the photo during that little incident that you do in Mode one? What happens is the shutter shoots a photo while it's in the video mode, and it basically pulls a frame from the video. And that's your still image. And it's not the greatest image in the world because it's point from the frame, essentially in the second mode. What happens is the camera stop shooting video shoots a riel honest to goodness still picture and then goes back and starts the video back up. So it's an interrupted video with a still image, and that would be really good for someone who really wants the best quality. Still images. So it depends on if you're more of a video buff, you would set it in one. If you're more of a still photographer, you would set it in Mode two, and the shutter function controls what happens with shutter release in Mode one. It sets. Let me check my notes. So in Mode, one is where still photographer would want this, because during movie shooting, you could take still photos. But in mode to this activates the start and stop of the video recording. And so, if you know, the main thing you're doing with this camera is shooting videos. I would set it to mode, too, because I think this is an easier to feel button press than the smaller record button, which is off to the side. And so, for primary video shooters to for still photographers, I would leave this one in one. Yes, it's getting John before we move forward from movies or is this still on movies. The That's the last one in movies. Okay. All right, great. So, first of all, I did have a tip from Metamorphosis in the chat room that apparently when you are and this is regarding deleting multiple images, apparently you can do it. Okay. And, uh, when you are in playback mode and you hit Okay, sorry. You're in playback mode and you hit. Okay, You mark the images and playback mode, and then you can get a menu that says a race selected. Okay, so let me do that on camera, then. So marking them. So we have, uh okay, we got live image, So let's go back to play back. So we're playing back. Let's find out. I took a bunch of terrible photos here. There we go. OK, that's not terrible. It's only blurry about that. Okay, So what we can do is we can market by hitting the little check mark button, which is the video record button, and then I'll take this one, and then I will take this one and then let me see if I could go back. Um, Well, that's okay, Playback. Let's select that one. I'll hit. Okay, Erase. OK, There we go. Erase. Selected the race. Yes, I dio already. Soldier, I wanted to. So there we go. It does do it. Not the easiest thing I never said I knew everything. I love it, John. Gringo does in fact learn something in every class, which is fantastic. So thank you for that. One more question. Ah, this user says when I shoot video, sometimes the camera goes in and out of focus as objects move, making the result jerky and blurry. How to best avoid that is that because he or she might be in auto focus. So it sounds like they're shooting movies and the subject moves and professional photographers, professionals, serious folks manually focus. It is unacceptable for images to go in and out of focus in a video system. And so all the professionals just use manual because nothing in auto is perfect, But in manual and a set up shot, then it can be perfect. And so, for a news, the in a haphazard situation, you're gonna end up with some out of focus, stop. And so in that sort of situation, I would recommend really trying to work with manual focus because there is no camera out there that I can just recommend that says, Oh, this was perfect s so it's not really I don't really want to say it's the fault of this camera, but it's just all cameras are in perfect in that regards. And in something like that, you could use auto focus to achieve focus. But just don't let it change to the continuous mode.
Ratings and Reviews
I had previously purchased the Fast Start for the earlier OM-D E-M5 model and found it invaluable. I was lucky to catch this E-M5 Mark II Fast Start when it was live and had my camera set up beautifully - until I updated the firmware recently and discovered how uncooperative the camera can be in the absence of the combination of settings recommended by John. So I bought the course, which enabled me to restore the camera to the optimal settings and gave me may "Aha" and light-bulb moments about things I'd forgotten or not understood the first time around. I am glad I now have this course so I can revisit it as needed. NOTE: There IS an option to save settings to the PC before updating firmware. I will be doing that in future!
Excellent course. John's ability to patiently and throughly cover all elements of this detailed camera is impressive. He converts the stress level of learning a new camera to a fun level.
I watched most of the live broadcast and just finished going through all of the modules with my camera. I learned so much!! My camera is customized to my preferences and I am now very comfortable shooting in M mode. My picture quality has already improved. John is an excellent instructor.
Student Work