Left SIde, Right Side, Bottom, and Front
John Greengo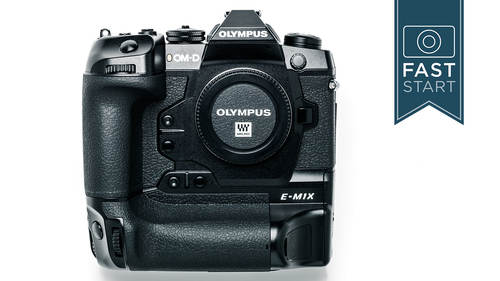 Left SIde, Right Side, Bottom, and Front
John Greengo
Lesson Info
7. Left SIde, Right Side, Bottom, and Front
Lesson Info
Left SIde, Right Side, Bottom, and Front
All right, we're moving around on the camera. We're over on the left side now looking at what we can see over here. The pro lenses will often have lens function buttons and these can be programmed in with the custom menu to perform various duties. It's kind of nice to put it as a either focusing stop or focusing start. I have found it very useful with that but there are many different other programs that you can assign to that particular button. We get a little better view of the diopter on the side of our viewfinder for controlling the focus of the viewfinder and then we have a lot of little panels that we can open up. The top of these is your standard mic socket. So, if you wanna plug in an external microphone, mount it up on the hot shoe, you can do that. We have headphones for monitoring sound if you are recording video. Standard 3.5 jacks on both of those. We have an HDMI plug in here, uses a 4:2:2 8-bit uncompressed out. So, if you are going to an external video recorder that's t...
he signal that's gonna be going out. If you are hooking in HDI cables there is a cable protector mount that comes with the camera cup, these little unusual brackets that can mount in and screw in and lock in so that the cables don't pull out too easily when you have the camera mounted and tethered in a tethered position and so that's what those little devices are for. And then we have a USB Type C which is the new current USB connection on cameras. And this allows in camera battery charging and you'll see those USB lights come on in the back. And I'm going off the top of my head here which is a little bit dangerous. I believe that you cannot power the camera and charge the batteries at the same time. I believe you kind of have to choose, turn the camera off to charge the batteries or turn the camera on to power the camera while it's being done. Next up we have our battery compartment and this is where it takes the standard BLH- which was used in the E-M1 Mark II camera, good powerful battery. Now, it is said to have a lifespan of 500 shots. I took it out on a long day of shooting and I was shooting a lot of rapid fire sport stuff. I had two batteries in the camera. I shot 3,500 shots and did not finish two batteries but I did finish one battery somewhere after about 2000 shots. And so the 500 is conservative depending on the types of shots that you are getting and so 500 to maybe 2,000 once again. Now, this is a two battery camera so you can use one or two batteries. It's okay, you can just use one in there you want. You can use it in either of position of the battery tray. It has a battery tray that holds two batteries in there and so the camera does come supplied with two batteries as well. And kind of funny it comes supplied with two battery chargers but I guess that makes sense since they have two batteries. In case you lose a charger, they have an extra charger in there. And then the little lights that you, the blinking yellow light will let you know that it's charging. Green light will let you know that it's fully charged at that time. Now, one of the things I don't like is the long cord that these come with. It gets kind of cumbersome especially for packing it along. And so one of the things that you can buy real cheap online is a right-angle power adapter. So, you can plug the charger straight into the wall like a wall charger. There's a a duck head adapter that's common on Apple products that'll also work on that. So, you don't need to use that long cable in there. And so I've gone online, purchased three or four of those cause there are only a few bucks apiece. Looking over to the right side of the camera we can see some of our vertical grip controls over here which are duplicated. We've already talked about in before. We're not gonna talk about them again but they're available and in very much the same position that they would be when holding the camera horizontal. There is one little door over here for additional plugins and this is the remote cable terminal. It's a standard 2.5 millimeter jack on this. You can use the Olympus RM-CB2. There are other remotes that will also fit in here and work and so it is kind of a generic simple remote that allows you to hook up a lot of different type of remote devices to the camera. The one other place that we can look in over here is the memory card door. There is a kind of very secure lock on this a little bit more secure then on most cameras and so once you get used to it, it's very fast in opening but it is very secure and doesn't accidentally open. I know in some cameras it just opens with a slide and when you move your hand on the grip it opens a little too easily. This one's a little bit more firm and grippy in that regard. Takes two of the SD memory cards. It's both UHS II compatible which is actually kind of unusual on the market. A lot of cameras have dual cards but they're not always accepting of the fastest cards available and this camera is cause speed is its middle name. And so with these memory cards be aware that there's a lock over on the left hand side. Sometimes that gets bumped and your camera says that it won't record or playback images from the card cause it's locked. That's the most common reason why. Different sizes will be with the SDHD and XC option. The bus speed is the lines of communication that it has on the card, the UHS II cards or the current cards probably best used with this camera. The speed class is a little bit more important for people shooting video. And so it's a little bit confusing and I'm not gonna get into the whole world of SD cards in the way they rate the speed settings on this but for those of you wanting to shoot 4K video, you're probably gonna wanna get a UHS II card that has a video speed class rating of V30 or higher. That's gonna make sure that the camera can keep up with the video data rate which can be quite large in the larger settings especially the 4K settings. Looking to the bottom of the camera, we don't have a lot to talk about here. We got a standard tripod socket, quarter 20 threads and your serial number for recording it for insurance purposes. Over to the front of the camera we have some double custom buttons here. This function button is one of those buttons that can be reprogrammed but currently it is a One-touch white balance. And so if you know that there is something white around you you can basically press that button, hold it in, press the shutter release and the camera will set white balance according to that situation. It's a quick easy way to get white balance but if you don't use that particular feature, once again you can program this button to do something else. The function button which is right below it is currently set up to be a depth of field preview button. Normally when you look through the viewfinder, the aperture in the lens, no matter where it is set is at its maximum opening. So, that you can see in the camera, so that you can see as easily as possible and the camera has as much light and information for focusing and performing all the other duties. And so when you close that button down you'll be able to see what the actual depth of field is going to be in a particular photograph. So, press and hold down on that button, you'll see your depth of field and then take your finger off and it will return to normal. Next up on the top of the camera over on the right-hand side is we have a standard PC terminal. So, for those of you hooking up to traditional flash units or strobe units in a studio, you can hook up a wired cable to this to sync with the strobes. There is a little light over on the top left hand side that is your self-timer warning and is also an AF illuminator. It's kind of a weak flashlight that can be a little disruptive in some cases and so if you wanna turn it off you can turn off the AF illuminator in the custom menu. On the bottom of the camera is a DC connection. If you wanna power this camera and have a constant stream of power going to it, you can do that. It might be for use in technical situations, scientific departments, in the studio, for doing time-lapse photography. You get a lot of life out of two batteries but it's not infinite. And so if you do wanna power the camera and have consistent power to it you can get the AC-5 adapter and plug it in right here. Talking about the lens and the attachment here there is the lens release button, there's the locking pin that you'll hear click into the lens when you mount it on. Look for the orange dot on the lenses cause that's what you wanna align with the appropriate mark on the lens mount for properly mounting the lens on the camera. This is as close as we get to the sensor. It's a 20.4 megapixel sensor. It's the Four Thirds format, very good sensor in this is, very similar to the one used in the E-M1 Mark II. CPU contacts communicate with the lens. Make sure these are not obstructed or broken or dirty or anything like that. Generally there's no problem with it but that's how it's communicating with the lens and if there's a problem and the lens isn't working right you might want to check and make sure that all those look like they're in order properly. Since we're talking about lenses let's talk a little bit more about lenses. So, Olympus has a lot of great lenses. The 12-100 here is one of their popular ones especially for a lot of zoom capability in there. Focus ring, we have a manual clutch focus ring on this which allows us to switch from auto focus to manual focus by just pulling back on that ring. So, it's a quick way to engage auto focus or manual focus. So, if it's not auto focusing check to see that that is not in the manual focus position. Zoom ring is very large on this. The hood mount is for mounting the specific hood for that particular lens. Each lens has its own specific lens. There's a lot of different filter mounts that you can use for either creative purposes or just a protective filter in there. The pro lenses will have a lens function button that can be programmed in the camera and only a few of the Olympus lenses have image stabilization and that is because the bodies for the most part from Olympus have always had image stabilization in them and they are gonna stabilize whatever lens you put on them. There is a few setups between body and lens where their lenses do have stabilization. This lens 300 millimeter f/4. where the camera can have a greater range of stabilization by having some stabilization done by the lens and some by the body and working it all together to get even greater stabilization. In fact, it's class-leading. It's the best available today from any manufacturer. Seven and a half stops of stabilization with the EM1X and this 12-100 lens. There's a lot of great lenses. We don't have time to get into all of them here but a few of the ones that you should know about with this camera is their pro series of lenses. Especially, their zooms. The 12-40, 12-100 constant apertures, for wide-angle the 7-14 and the telephoto 40-150. These are all really nice premium lenses. You'll notice a lot of letters and other numbers and names that go along with these lenses. Here is a key to understanding what some of that information means along with the pro zooms, our professional prime lenses as well. We have a fisheye, a number of wide-angle normal and short telephoto lenses with very fast apertures and so these are gonna be great for shooting portraits and so forth. A number of other great lenses from them are they're just standard primes and these are a little bit smaller in size, a little bit less in money. But they are very good optically and allow you to shoot with good shallow depth of field so, take a look at the Olympus lines lineup, they do have a lot of great lenses. If you are interested in the Olympus lenses, I actually do have an entire class on Olympus lenses. We go through some lens basics for those who are new to photography. We go into the technology that Olympus uses in their lenses so that we can get a greater appreciation and understanding of what's going on with all these different features in the particular lenses. And then we do a complete walkthrough of all the individual lenses that are available, what they have and what they're good for and what I recommend them for and then finally I talked about recommended systems for different types of photographers, what type of lenses to achieve different types of goals. So, if you are interested in that, you might wanna check out the Olympus lens class on its own.
Ratings and Reviews
This fast start marathon by John Greengo was fantastic. It revealed a great many interesting features that reviewers of the E M1X ignored when the camera came on the market and of which I was unaware. Plus it offered useful advice on how to determine in what circumstances the camera's many options and capabilities are useful and how to decide whether they should be turned on or off. I would say though because of the in-depth nature of this feature tour that unless the viewer has a vested interest in this subject, this class could quickly become an info overload experience. It's l-o-n-g! But for anyone interested, it's a super intro to the manual. Greengo draws attention to many items that an individual alone with the manual might overlook. Beyond that, it piqued my interest in the E-M1X! Olympus should make John Greengo's class available to new owners of the camera, or at least direct them to this class.
Just got the om-d e-m1 mark iii so came to Creative Live for a tutorial and although this is for the X the menu system is almost the same. Have followed John Greengo's A7iii guide on here as well and both courses have been a great help. I will be purchasing the course for the om-d e-m1 mark iii as soon as it's released. Highly recommend John's tutorials.
Student Work