Class Introduction
John Greengo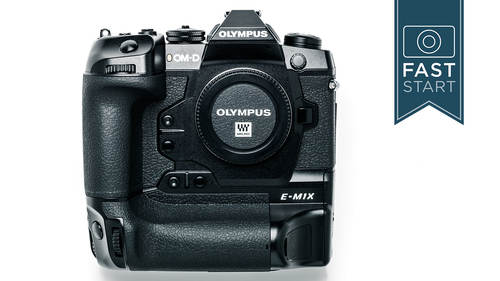 Class Introduction
John Greengo
Lesson Info
1. Class Introduction
Lesson Info
Class Introduction
Welcome everybody, my name is John Greengo, and in this class we're gonna be learning about the OM-D E-M1X, which, as many of you already know is Olympus' top of the line, everything camera. And this camera is one of the most sophisticated cameras out on the market, it's got one of the most in-depth menus, trust me, I've been through 'em all, and, uh, this one is quite in-depth. And so we're gonna be going through all the major functions and features of the camera, we're gonna be going through the menu sections, on this camera, and I'm gonna be giving you some recommendations about how to use certain features, and what sort of customizations might be good for different types of photography, and hopefully I will enable you to set your camera up to do exactly what you need it to do. So let's go ahead and get started with this class. Lemme tell you what we're gonna be doing in different parts of our class. First wanna start with just a little class overview, little history for those of yo...
u who might be new to Olympus. The main section of this class is gonna be the camera controls where we go around all the individual features, buttons and dials and soforth. Talking about what they are, and the other main half of the class is the menu functions, and, while it is a little bit on the long side, we are doing this for the people who really like to get in nitty-gritty and understand their cameras, and we're going to be going through the menu item line item by line items. And finally in camera operation, we'll be talking about some general setups that you wanna be thinking about, and some recommended settings for different types of photography. Now, to start with, this camera has a very large instruction manual, in fact, it's huge, um, just as a quick note to anyone who actually does want to read it, like I have, there are a lot of pages that are duplicated in different sections, as they are approaching a particular subject from different points of view, but they actually go through the same information, so there's a lot of duplicate information in there. Um, there is some valuable stuff in there that I will not be covering in this class, but, uh, I'm gonna try and cover everything that is primarily important to most different types of photographers, so, this roughly five hour class is gonna get you through probably 99% of the important material in the class, but, you might wanna reference that manual for a few of those other little tidbits. Now, once again, this is a camera class, this is a class on a particular camera, it's not a general photography class. If you would like to know more about photography, there are plenty of other good ways to learn, and a lot of those are through classes here at Creative Live, some of which I have made myself, and so, the photography starter kit for beginners is pretty good, but I'm guessing if you own an OM-D E-M1X, you're probably a more advanced user, you might be more interested in the fundamentals of photography, which is a more in-depth long tutorial on photography. So let's start with Olympus, Olympus is a fantastic photographic company, they actually do a lot of things beyond just photography, but that's what we're concentrated on here. They've been around for quite some time, and one of their ideas and principles as far as designing products, goes back to three simple words: "Reliability", "Compact", and "Lightweight" And, when I think of Olympus, I often think back to the OM-4 SLR camera because that was around when I was kinda getting started in photography, and it was always one of the best really small high quality cameras, and so for me, Olympus has always been about small and quality products. And they've kept that same tradition going forward into the modern cameras. When life got re-imagined in the world of digital, they started a whole new system, they left all of their old film system behind, they redesigned a whole new set of lenses and cameras designed around image sensors, which work a little bit differently than film, and so they came up with this four-thirds system in 2003, and this was based off of an SLR system, which was the most common and popular at the time, but this has advanced and morphed into a mirrorless system, which is now called the micro four-thirds system, which is what the EM1X is a part of. At the heart and soul of every camera is the sensor, and that is really one of the most important components in a camera, it determines the image quality and a lot of the other quality aspects of what the camera can do, and so, in this camera, as in the rest of the current line of OM-D and other mirrorless Olympus cameras, is a four-thirds sensor, which means it measures 17 millimeters by 13 millimeters. It has an aspect ratio of four on the long side and three on the short side, which is partly how it gets it's name, the four-thirds system. The other part of it comes from the actual physical size, it's a confusing story, I'm not gonna get all into right now, but it's based on TV tubes and the size they are and the actual projection you get out of 'em, uh, so, it has to do with the size, and the aspect ratio in it. Now, where four-thirds falls within the greater world of photography is, well, somewhere towards the middle. There's a lot of photographic devices, like phones, and compact cameras, and little point and shoots, that have smaller sensors, and there's other SLR mirrorless cameras and medium format cameras that have larger sensors. And one of the most common out there is what is known as a Full Frame sensor, and this is based off of 35 millimeter film. 35 millimeter film was really popular just cause it was the right size for getting enlargements and having relatively small cameras. And so you'll see a lot of talk about full frame cameras out there. Now, that has a diameter of 43 millimeters from corner to corner, which is kinda how we figure out what lenses are normal lenses, and so on a full frame camera, a 50 millimeter lens is considered a normal lens. With an Olympus four thirds camera, we measure diagonally across, it's 21 millimeters, which means it's a 25 millimeter is our normal lens on this camera, and that is why you will sometimes see people refer to a two times crop factor, in the four thirds system, and that's because, uh, it's gonna use a lens that's half the size, or you would multiply it by two to equal full frame. If you're just using Olympus, all of this information doesn't really matter, you just work with the lenses as you need 'em, 25 millimeters is your normal lens. One of the best things about Olympus is that they make pretty tough equipment. It's very well sealed in most cases, and the EM1X is probably the best they have made in their collection of mirrorless cameras, it is a weatherproof, splashproof, dustproof, freezeproof as they like to say, it's built with a magnesium alloy chassis, it's very strong construction, it's weathersealed, not just to a point of someone in marketing saying "Hey, this camera is weathersealed", it's actually been tested and adheres to standards in the industry for weathersealing, it's an IPX1 standard, which you can look that up on the internet, and it means that it handles at least ten minutes of water falling from above. Now, there's been a number of people who I've seen test it out there that go well beyond that, and the camera has survived it, so it can probably handle more, but that's what it's officially rated to handle. The shutter life on this is 400,000, if you're not sure how this compares, back in the days of film cameras, pretty good cameras were rated at 50,000, and then as cameras have developed and become a little bit better a lot of cameras are up at 100 or 200,000, but 400,000 strictly puts it up there with top of the line professional cameras in its durability. All right, let's make sure that your camera and my camera is ready for today's class. First thing you want to do is charge the battery and install it, you can have up to two batteries in here, we'll talk about that more when we get into the details of the class, but it'll take you about two hours to charge the battery, you need a lens on there of course, you want a memory card, there are two memory cards that you can put it in, uh, in the camera, you can use either slot, I tend to use slot 1 if there's only one card in there. Turn the camera on, which I will do right now. Uh, we're gonna start pretty simple, just put in to program mode, which is where I'm gonna dial mine right now, and then go ahead and press the shutter release, and take a picture, I'm gonna point it over at our little prop stand here, just to make sure that this is all working. Got the little focus chirp chirp, and take a picture, and it looks like this camera is all working as I hope yours is as well, cause, after this, it's time to get into the details of the class.
Ratings and Reviews
This fast start marathon by John Greengo was fantastic. It revealed a great many interesting features that reviewers of the E M1X ignored when the camera came on the market and of which I was unaware. Plus it offered useful advice on how to determine in what circumstances the camera's many options and capabilities are useful and how to decide whether they should be turned on or off. I would say though because of the in-depth nature of this feature tour that unless the viewer has a vested interest in this subject, this class could quickly become an info overload experience. It's l-o-n-g! But for anyone interested, it's a super intro to the manual. Greengo draws attention to many items that an individual alone with the manual might overlook. Beyond that, it piqued my interest in the E-M1X! Olympus should make John Greengo's class available to new owners of the camera, or at least direct them to this class.
Just got the om-d e-m1 mark iii so came to Creative Live for a tutorial and although this is for the X the menu system is almost the same. Have followed John Greengo's A7iii guide on here as well and both courses have been a great help. I will be purchasing the course for the om-d e-m1 mark iii as soon as it's released. Highly recommend John's tutorials.
Student Work