Modern Women's Portraiture
Sue Bryce, Lou Freeman, Lara Jade, Emily Soto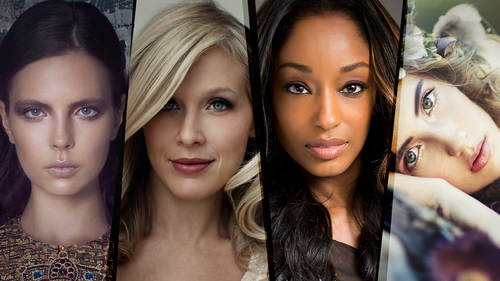 Modern Women's Portraiture
Sue Bryce, Lou Freeman, Lara Jade, Emily Soto
Class Description
Beauty is an ever-shifting, ephemeral, and crucial element to capture when taking a successful portrait. Learn the art and science of photographing beauty straight from four of the best fashion and glamour photographers working today — Sue Bryce, Lara Jade, Emily Soto, and Lou Freeman. Through dynamic instruction, each of these world-renowned photographers will reveal the many skills and techniques that create their unique, unparalleled styles.
During a live mentoring session, Sue Bryce will push audience members to define their true purpose and set an actionable roadmap to make it a reality. Sue will also cover how to craft authentic marketing campaigns that resonate with women of all generations. Lara Jade and Emily Soto will reveal the choices that define their distinctive, award-winning styles, covering everything from lighting to retouching. Glamour photographer Lou Freeman will teach what women want to see in their portraits and walk you through the right questions to ask your clients.
The four photographers will then reconvene for a grand finale: six hours of posing education. Sue will teach her signature beauty and glamour poses, Emily will delve deep into creative posing techniques, Lara will cover fashion posing, and Lou will walk you through timeless boudoir poses.
Class Materials
Photoshop: Victoria Action
Ratings and Reviews
Occasionally, things fall into place, and you end up with the kind of event that we just watched. It was marvelous to see these four amazing individuals contribute their own perspectives and content and to see them interact with one another. It was honest, brilliant and a must have to view many times over. One of the best courses on Creative Live and further evidence that Creative Live is going from strength, to strength and is worth every bit of our investment and time.
This was such a great 3 days! Each one of those women are so inspiring in a different way. Sue Bryce is my absolute role model and it was a great experience to get to watch and listen to her. She makes her lessons relatable and very easy to understand and remember. So many small tips and tricks that will make a big impact on how I shoot as well as how I market! Thank you Sue. I had never heard of Lara Jade and Emily Soto before this started and I can say thank you to creativeLive for the opportunity to be inspired by two other amazing women in the photography business. The unique style and confidence they displayed was great to watch. I don't shoot fashion, but I was able to take good bits and pieces from it all. I am stepping out of my box... starting today! Thanks again to each of the women and cL for putting this all together. Kristin Campbell Journey Images, Alberta, Canada
As a participant in the live audience, this is a fabulous course, from Sue Bryce's honesty in helping a person to look within themselves to find your own motivation, her wonderful real examples of posing women, to Lou Freeman's posing for boudoir this is a course that will help a person learn a craft and where they might want to go. I loved Lara Jade's vision of fashion and how she has arrived at such an early age. Emily Soto brings a different dimension to fashion photography that is inspiring, from her use of vintage cameras to her editing skills. This is a course for anyone wanting to learn about photographing women. I highly recommend. Thanks CreativeLive !!
Student Work