Mastering Masking with Lightroom Mobile
Lisa Carney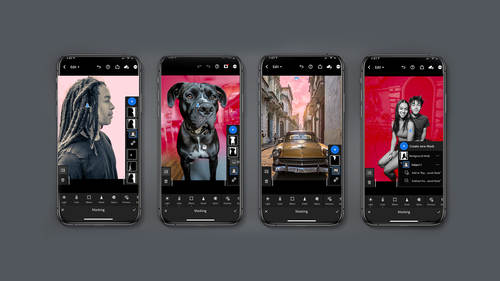 Mastering Masking with Lightroom Mobile
Lisa Carney
Class Description
AFTER THIS CLASS YOU'LL BE ABLE TO:
Easily add a mask or multiple masks.
Add/Subtract from mask to make complex selections.
Choose from Select Subject, Select Sky, Brush, Linear or Radial Gradient, Color Range, or Luminance Range.
Organize your mask by order, rename. Stay on top of your editing process.
Add logos to images directly from Lightroom Mobile for brilliant social media posts, all while being out on location.
ABOUT LISA'S CLASS:
Master the new Masking in Adobe Lightroom Mobile.
Yeah, I know. Prepare to have your mind blown. This is a game-changer!
Masking is now available on Lightroom mobile for desktop, iPad, and on your phone!
In this course, we will go over how to master the eight masking tools. In addition, discover how to add and subtract to get startling sophisticated selections to control your image.
Learn how to create startling edits that you once had to rely on Photoshop for. All while being untethered to your computer. Enjoy your newfound freedom of mobile photography.
WHO THIS CLASS IS FOR:
Intermediate to advanced Lightroom Mobile users
Photographers
Designers who need to manipulate photography
SOFTWARE & GEAR USED:
Lightroom Mobile Version 7.0
Class taught on iPhone (functions the same on Android)
ABOUT YOUR INSTRUCTOR:
Lisa Carney is a high-end retoucher who has spent over two decades working with the most dynamic players in the print, motion picture, and television industries.
Besides being a regular presenter at the Adobe MAX conference, her teaching roster runs the gamut from beginners to professional retouchers, and includes universities, design studios, movie studios, corporations, and private students.
Lisa has worked with all major movie studios and many television networks including Disney, Buena Vista, Paramount, 20th Century Fox, Fox Searchlight, Sony, Universal, Newline, Columbia, MGM, ABC Television, ESPN, TNT, CNN, CBS, CW, Warner Brothers, and Sony.
Advertising credits include Burger King, Baskin-Robbins, Lowes, Jordana Cosmetics, Strategic Perceptions, Mattel, Chrysler, Mercedes, Mazda, and Best Buy.
Ratings and Reviews
This was a great class! easy to follow and the teacher was excited about what she was teaching
Student Work