Planning A Shoot & Tips for Working with Talent
Andrew Kearns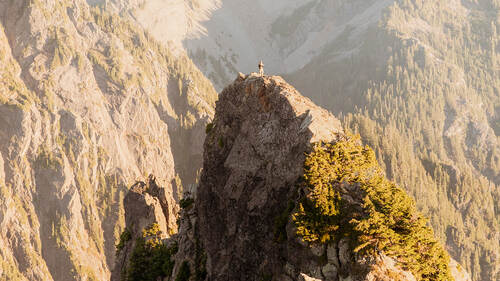 Planning A Shoot & Tips for Working with Talent
Andrew Kearns
Lesson Info
11. Planning A Shoot & Tips for Working with Talent
Before Andrew takes a single photo he starts with a plan, creating a solid foundation to ensure a successful shoot. Follow along as he discusses how to set up your shoot for success, including invaluable tips on working with talent to get the photos you set out to achieve.
Lesson Info
Planning A Shoot & Tips for Working with Talent
(gentle music) With pre-production, depending on the shoot, I will either put a ton of effort, and maybe it's weeks of planning, months of planning into it, or maybe it's just sitting on Pinterest for a night and creating a mood board. No matter what it is, it's so important to have a plan of some sort going into your shoot. The reason for pre-production is for you and your talent to be on the same page, 'cause if you're on the same page, the images from that shoot are just gonna turn out so much better. The first thing you want to figure out is who are you shooting with? What are they gonna be doing? What subjects will you have to work with, and what's the setting? Montana is very different from where I'm from. When I think of Montana, I think of big, open sky, open land, you can just see forever away, but then, there's also beautiful, huge prominent mountains because of that. And right now, it is very snowy here. So I knew that going in, and I wanted to capture something along thos...
e lines. Like I wanted to form my story, the look, the talent, the subject, all around that idea. The talent we were working with was a friend of Wildest's, Eli Clark. So as we're filming this, it's actually out of order. We did the shoot with Eli yesterday, but the plan worked out honestly perfectly, better than I expected, to be honest. I didn't know we were shooting at his property and he had exactly what I was hoping for, and it was very seamless and we only, we probably stayed within a quarter mile radius and got everything we wanted. So I'll show you what I planned for that, and then of course, you'll see the shoot and how it was executed as well. So my view on Montana is like the open sky, open country thing and I wanted to really bring a Huckberry aesthetic to the shoot and Eli fit the bill perfectly with his truck. It was snowy, he had a snow plow on it. It really captured just that aesthetic I was looking for. It's really important to be a person and not a robot when you are working with people. And what I mean by that is reach out to the subject that you're working with, introduce yourself, even if it's through a DM, a text message, whatever, just be like, Hey, I'm Andrew, I'm an actual person, and I'm excited to shoot with you. A few days before, I reached out and just introduced myself and did exactly that, and then from there, I saw his website was in his bio, so I clicked it and it turns out he's a really talented designer and I was mostly blown away by his illustrations part. And as we were sitting there looking at the Pinterest board, looking at some frames I drew out and just getting on the same page to before the shoot started, I was just talking to him about what he did and you know, since I looked at his website, I was able to be like, oh yeah, I saw your illustrations. They were really great. And you know, it's an honest interaction. And I think that shows, and if it's not an honest one, people will sniff it out. All I'm trying to say is just don't be a robot, be a genuine person, And really you have to enjoy meeting and getting to know people 'cause more than anything, that's gonna yield such much better results from your shoot if you're having a good time, if there's a good energy. And I've been on shoots where there wasn't a good energy and the photos really reflect that. Whereas the photos from yesterday, the energy was great, Eli was easygoing and we had things to talk about the whole time and the photos really reflected the energy of what was going on between our interactions. Like, I was really pleased with how it went. So I'll just say don't be a robot, be a human and just, yeah. Be their friend first and foremost and create good work with that good energy going on. With having a good interaction and just good comradery on the shoot, it's gonna build a trust and I think also what builds a good trust is just having confidence in your direction. One thing I've been conscious of, and I'm sure I did it yesterday in the shoot a little bit, is trying not to say the words of like, kind of and maybe. Like not using unsure words. Just instead of being like, oh, kind of move a little bit to your left, be like, oh, move to your left or come forward, not oh, kind of come forward a little bit. Be confident in your direction 'cause they will sniff that out if you're not confident. It'll help you build that trust with your subject. And even if you aren't a hundred percent sure on an idea, if you display that confidence and it doesn't work out, it's okay. Just try a different idea or maybe work on that idea a little bit. Just approach it with confidence and it'll build that trust. So we've planned the shoot out in our heads. We've gotten to know our subject and have a few talking points for when we meet them and we want to take what's in our head and our idea of this Huckberry aesthetic and put it into a mood board. I like to use Pinterest for that. And really, let's just jump into Pinterest and talk about the mood board I made for the shoot because what that will do is get you and your subject on the same page together. When I show up there, I have something to present to Eli and be like, here is what I'm looking for. Boom. So let's jump into Pinterest.
Class Materials
Sonora Edit - Before and After
Mountains Edit - Before and After
Edit 01 - Before and After
Edit 02 - Before and After
Edit 03 - Before and After
Wildist-Kearns-Edit_File-01.ARW
Wildist-Kearns-Edit_File-02.ARW
Wildist-Kearns-Edit_File-03.ARW
Ratings and Reviews
This class is really like a good investment. It's gonna help you step by step and you can come back to it multiple times when you need to. Been watching Andrew Kearns on YouTube since 2018. Massive fan of his editing style. I wanted this class as soon as I saw the discount rate. Being a student from a different country, I probably wouldn't have been able to afford it at it's original price. This workshop goes in real depth towards the "approach" of editing a photo. I learnt a tonne of cool stuff. So many new things. Subtle yet so powerful.
Incredibly Eye Opening This workshop truly opened up a whole new world of editing techniques that I didn't fully realize existed. I'd recommend this workshop for anyone who has a basic understanding of LR and PS already and are hoping to take it to new levels. I will keep coming back to it for a long time!
Student Work