Market, Launch, and Sell Your Next Big Thing
Tara McMullin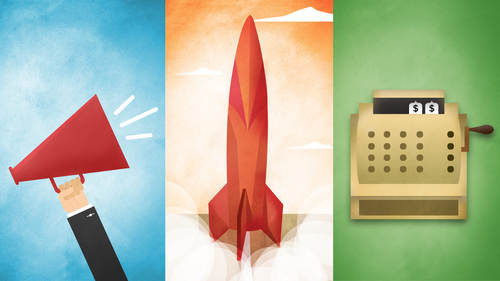 Market, Launch, and Sell Your Next Big Thing
Tara McMullin
Class Description
There are countless marketing and social networking tools available to you, but in the sea of options like Facebook®, Twitter®, and Pinterest® it can be difficult to connect with clients who are genuinely interested in what you have to offer.
Join online marketing expert Tara Gentile and learn how to use email and social media in a smart, strategic way that will grow a devoted audience of happy, buying customers.
In this course you'll learn about creating content that draws the right client to your brand before worrying about which marketing tool is appropriate. You'll also learn how to sell in a way that feels authentic to you and to your unique offering. You'll harness the power of direct email marketing to make and sustain connections with the clients who'll grow your brand.
If you're ready to use online marketing to support your work and grow a devoted audience of happy, buying customers, this course will get you there.
Class Materials
Free 30 Days Kickstart Labs
Sales Page KickStart Guide
Sales Page Quick Start Template
Your Next Big Thing Workbook
What's My Next Big Thing?
How Do I Avoid a Flopped Launch?
How Do I Turn Excitement Into Dollars?
Ratings and Reviews
The timing of this course was perfect. I am in the middle of a launch and able to immediately apply what I am learning to my sales page. I have confidence that I can use the tools to catapult my next big thing to even higher levels. I am grateful for Tara's bonus gift, free month in her Kick Start Labs. I am taking advantage of the knowledge and resources there as well. Tara is a role model of action, authenticity and clarity, that I aspire to be. Thanks! Linda Germain http://www.lindagermain.com http://makemonotypes.com
I'm so disappointed I didn't have this information years ago!! Just the sales page information alone is more than worth the price of this course. I finally have a structure and a sense of how it works and ties into a bigger picture. I have a clearer sense of how the pieces fit together. Writing sales pages has always felt like I'm flying by the seat of my pants. Now that I know what I know, I'm pleasantly surprised I've had the sales I've had and I'm so excited to now be able convey my message more clearly so I can help more people and generate more income. Thanks so much for shedding light on how this all works, Tara. Your clear and grounded approach are incredibly helpful. After having spent A LOT of money on various online marketing courses, and not gotten nearly as much from them as I have from this course, it was incredibly refreshing to take a hype-free, sleaze free course on marketing, sales and product development. Thank you! Lisa Gillispie
Took this course and followed along in order to get my new product launched. Wow was I surprised at the amount of sales I had right away. Doing the work is paramount. You have to want to create, edit, rehash and be persistent. (Guess that is called discipline!) Tara is well spoken, methodical and full of the business advice I was lacking. Got a product to get out into the world? Tara's course will be a great help in your success. Do it.
Student Work