Editing Lifestyle Newborn Workflow
Emily Lucarz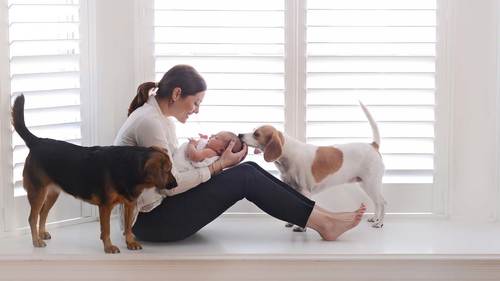 Editing Lifestyle Newborn Workflow
Emily Lucarz
Lesson Info
39. Editing Lifestyle Newborn Workflow
Lesson Info
Editing Lifestyle Newborn Workflow
So, we are going to, actually color edit, so I'm just gonna touch on this. I always edit in Lightroom now. I converted 100% to Lightroom, probably a year ago. Okay, I was always a Photoshop user. I was finding that I was batching anyways. Everything I was doing, I could do in Lightroom, I didn't need Photoshop. So what I do, is I edit in Lightroom and then I pull it into Photoshop if I have any, like, cloning to do. I know you can clone and do all that in Lightroom, I just don't, I can't do it as well. Have you guys noticed that the clone tool? You're all nodding. The clone tool in Lightroom, I'm just, I thought it was just me, I'm just not that great at the clone tool in Lightroom. And I think it's because I was raised a Photoshop girl, right? So, patch to, all this is faster for me in Photoshop. I would rather export everything into a folder and I'll show you how I do that. Stay true to real, okay? You're gonna notice, some of my images are not beautiful, but the skin tones are good,...
they're good. Film has different skin tones, think about film. Think about which film stock you're using, okay? Different film stocks will give different skin tone feels, you know, and you can allow that to happen within digital, the digital world as well, okay? Edit for mood, but stay consistent, okay? You want your galleries to have a consistent feel, okay? You will see, I will use one Lightroom set that I, I have all these Lightroom sets and I use different ones for different shoots. Not every set is gonna work well for every shoot, okay? I've created them for the happy, bright images and I've created them for the homes that are a little bit darker and I need some edge to them to make them look okay since they were dark, okay? Right, we've all been there. Black and white, I do it all in Lightroom. Make sure to be in black and white, okay? 'Cause it tells a different story. Erin asked, "I sometimes get asked by a family or client "if I will give them both the color version "and the black and white, what do you do in this scenario?" Or actually, if she is giving them a black and white, and they want a color version as well? This happens to me all the time and what I say is, I'm not sure this image looks really good in black and white and I'll convert it and I'll show them. See how I don't, it doesn't really look very good? If they really need convincing, or if there was a black and white image that I had to do black and white because the house is neon green, which has happened. Then I will say, remember that green wall? So, you're gonna like it better in black and white, I promise. (laughs) And I'll show them, you know? You need to just be honest with your clients. You know, I edit a lot in black and white. I probably edit 2/3rds of my images also in black and white. Because of the way that I edit, I have bright black and whites and I have dark black and whites. I don't find that I shoot in flat light very frequently. Within homes, you find shadows and shadows just kind of are there. The studio is a spot where, if I'm doing a clean and classic black and white, I have to make sure that I create enough shadow to have the tonal range, but I don't find in the homes that I have much flat lighting going on. Flat lighting meaning just flat like a garage, right? Shadows flat, nothing exciting. That lighting is great to learn how to use your camera in, but it's not great for real life photography, okay? Okay, my editing workflow. Now, I upload to Bridge. I'm about to throw it out the window at the moment, 'cause it crashes on me right now a lot and I think it's my computer. And you will all ask me, why do you not cull in Lightroom? It's because it's how I grew up. That there's no rhyme or reason, it's what I'm used to, okay? So, you can cull in Lightroom, you can cull in Bridge. I keep trying to cull in Lightroom and it's probably faster, I just, my brain needs to cull in Bridge. So I cull in Bridge and so what I do is I make it large and we did this in the last class, in the family photography lifestyle class, so I'm not gonna completely go into all of this right now, but what I do is I pull the image up in Bridge, large, and then I start space barring, okay, so it goes through. And if I see an image I wanna keep, I hit number five. What that does is it stars it. At the very end of this, I go to the top of Bridge and I hit organize by rating, okay? And I have all of my fives, and I take that and I drag it to a folder I've created that says to edit, okay? Underneath their name, okay? And then i notice I have 500 images in there and I'm like, oh great, they're gonna have 500.. So then i do it again, okay? So I select all of them, I get rid of the rating and then I try to get down to, you know, like 150. 500 is a lot, it doesn't typically happen, but there are some shoots that are just fun and amazing and I can't pick. I never edit 500 images, don't worry. But I will re-edit, I will re-cull, okay? 'Cause that happens quite frequently, I think to a lot of us, we'll get done and we're like, well I don't wanna edit 300 pictures. Do it again, okay, cull twice. Then what I do is I take that and I drag it down to my Lightroom icon. Let it load in that Lightroom and I'm just literally walking you through what I do. It loads and I hit import, okay? Then I go to Bridge and I close it, 'cause as we know, if we have Bridge and Lightroom open at the same time, what happens to your computer? It freaks out, yes. My laptop, it handles it okay because I don't have as many files on this computer, but if you have a lot of files, you need to keep one closed if you can. I edit everything in Lightroom, then I export it. One thing you need to do in Lightroom when you're exporting, make sure you convert it to JPEG and make sure you're exporting as a full res file, okay? For a long time, when I first started using Lightroom, I didn't realize the auto setting was like 75% and I was like, why are my images shrinking? And I was, and you know, face plant, you know? They were exporting too small, that was a user error. That was me teaching myself Lightroom, okay? So then what I'll do is I edit them back. So then I'll close Lightroom, I'll reopen Bridge and be like, okay, I remember that number five, six, seven and 10 needed some help with cloning or with spot tool or whatever. I'll do that in Photoshop, hit command save and I'm good to go. At that point, if I decide that I wanna do some in black and white, I'll just drag the folder back into Lightroom and do my black and white edits. It sounds like a process, but it goes quickly, okay? It takes me about, probably an hour to cull a session because I have a four-year-old on me all the time. And then after that's done, it takes me about an hour to an hour and a half to edit a full session of about 150 images. That's complete with color and black and white. And it's because I batch with the actions that are, or the presets that I've created, okay? Well, it just hops back quickly to black and white, Nicole Jones asked, "Do you ever shoot black and white "in camera, so you're actually seeing what it is. "Do you find that it makes a difference "and if you're shooting in RAW, you can sort of turn it "so that you're seeing black and white?" Yeah, so when you, yeah, no I don't. I don't, I don't shoot in black. I like to control, I'm a control freak. So I shoot for a vision and I need to make sure that I can, I don't want the camera to make any decisions for me.
Ratings and Reviews
Oh my goodness!!! This was such a wonderful class. Not only is Emily a very gifted pro, she is the personable mentor that makes learning simple and the fun big sis you want to be around. She is a wealth of information and a total open book about it all. Being in her studio audience was so much fun, and the time flew by way too fast. I highly recommend this class not only to newbies trying to find their style and refine their technique, but also to seasoned pros looking to tweak their art with a creatively authentic perspective. As a newborn photographer with an established studio business model, I cannot wait to infuse what I have learned into my style and incorporate her business genius into my session and pricing structure. Thank you Emily Lucarz for sharing your creativity, knowledge and uplifting energy with us both in the class and behind the scenes! You are awesome!
Buy this course! If you are at all interested offering lifestyle newborn sessions, whether you are a new photographer or you have been in business for years, buy it! It's 100% worth your time and money and you won't regret it. Emily is so fun and genuine which makes learning from her such a joy! Not only does this course go over troubleshooting different scenarios that are bound to happen during some sessions, but Emily also gives all sorts of other tips that you wouldn't even know you needed to know until she offers up the advice. It's fun to watch her interact with her clients to ensure that she is able to make beautiful pictures in such a natural setting. Thank you Emily and CreativeLive for coming together to make this course happen! I am beyond thrilled that I was able to watch these last two days and learn SO much!!
Emily is amazing! I love how detailed she is and tells you how it is. It is nice she shares her personal journey and what she does - which is great! Love it and would highly recommend this course! I don't have a studio, and normally travel to clients home to do photoshoots - so all the tips here are more than helpful! I am so excited to do my upcoming photo session this weekend - can't wait to put these tips to use!
Student Work