Learn to Draw: Interiors
Outro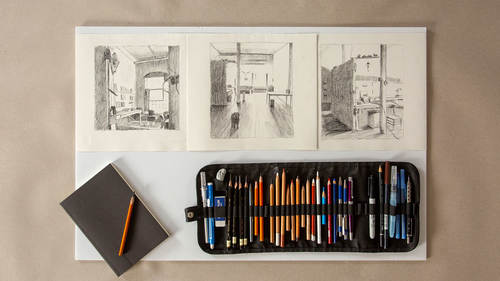 Learn to Draw: Interiors
Outro
Lesson Info
Outro
Now that you've taken this course about drawing interiors, it's your turn to practice. And I really encourage you to find a space to work with. Apply the concepts that we learned. We took it down, we broke it down into simple steps, the one-point perspective, maybe grab a piece of acetate or clear plastic. Do some tracings. Really build gradually. And over time with one-point and two-point perspective, it will allow to take those concepts and allow your interiors to really develop in a way that has incredible depth and where the perspective feels really believable. Perspective and drawing interiors can sometimes put people in sort of a tight state of mind, like it feels academic or too architectural. But I'd encourage you to approach it in more of a personal way and really be easy on yourself and do multiple drawings. And keep a small sketchbook with you. Keep it in your bag, take it wherever you go, and just practice. It's really practice and process that really will help you develop ...
these skills. So I'm so happy that you joined me here for this course and I really hope that you continue to practice and just keep on drawing.
Class Description
Join instructor and professional painter, Amy Wynne, as she teaches this introduction to drawing interiors. She'll show you how to use 1 and 2-point perspective to draw believable spaces.  She will cover creating interesting compositions as well as exploring a connection to place and building atmosphere with textural and tonal rendering.
In this class, Amy will cover:
Appreciating Interior Drawings
Basic 1PT Perspective: composing a strong image and applying concepts
Basic 2PT Perspective: composing a strong image and applying concepts
Creating depth and space
Understanding tonality and texture
Using natural vs artifical light
At the end of this course Amy will prompt you to try a drawing challenge! This series of drawings will help you motivate to draw every day and develop a creative habit - the best way to improve your drawings.
Amy has been teaching painting and drawing for over 20 years at colleges across New England including the Rhode Island School of Design.