Adding Effects to Your Videos
Cielo de la Paz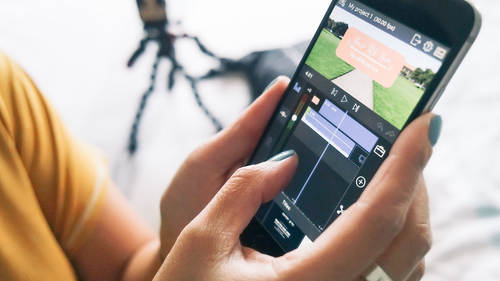 Adding Effects to Your Videos
Cielo de la Paz
Lesson Info
6. Adding Effects to Your Videos
Lesson Info
Adding Effects to Your Videos
I want to show you a project that's a little bit more complex so you can see how complicated and how far you can take this. So I'm going to actually open up another project. So the way you access projects is by tapping on this icon here. So I'm gonna tap on that and I'm gonna show you something I put together for a client. So here, and what I want to show you is multiple layers of video and multiple layers of audio. So the one we just created had one line of audio, one line of video. This one, this one's kind of a documentary piece. But you'll see here, I'm gonna pause right here. So I have three layers of audio happening there because I added in sound effects. So let's see. Let's play it Now it's been a total of almost 15 years in sales. Around that time. So there's that, and then I also wanna show you multiple layers of video. So, let's go here. So there's two layers. So he's talking the bottom layer of the blue video, but as he's talking I overlaid it with footage of him in the ...
forest. So this is when the layers matter cos you wanna see the forest as he's talking in the background. So I'll play that. It's calling, where there was so much frustration in college. Like, I didn't know what to do, like, what was my purpose on this Earth? Like, it really was peaking at that time. And it was so strong that I got to a point where I told myself if when I will ever figure it out, if I figure my life's purpose out, then I will support others in doing the same and reaching their highest potential. Okay I'm gonna pause it there. So you see, so this is kind of. This is the sound effect and this is the music and this is him talking. So you can get really creative with this and do all sorts of things and you can do it all on your phone, which is pretty cool. Alright, so, before I move onto exporting I want to see if anybody has any questions. Yes. Is there any sort of, like a coloring process accessible in here? Yes there is, and I can show you that. So there is a way to color things, so for example let's just play around with this footage here. You can double tap on any of the clips, so it can be a clip or photo. So let's double tap on that. And, see the last icon here, color and effects? Now you're asking an advanced question, but that's good, thanks for asking it. So here are different effects you can add to this. So let's say I want it to look like that. Think of it like filters, you know on Instagram you do that or if you wanna just tweak the video itself, so let's hit on the original up here. And see down here, you can control brightness, contrast, let's take the original, Brightness, contrast, saturation. So you can do quite a bit of tweaking of the colors and how your actual footage looks. The other thing, if you know what LUTs are, you can import LUTs by tapping on the cube there. I won't go into what LUTs are, it's basically just another way for you to color grade your footage. So I actually have different ones I've imported in. So, you know, here you can tap on it and it adds a different look to your video. So that's actually super cool. And then you can do all these other effects. Like I said, you have to play around with the app, you'll discover some really cool things. So here you can add a vignette, and then here you can add blurs, so make things blurry. So you can do a lot of things with this app, and add all kinds of effects.
Ratings and Reviews
really liked the instructor; super clear and went at a good pace that meant you could follow instructions but also not get bored! Have been trying to get my head around video editing for ages but its hard to find clear instruction and guidance; the discovery last month of 'Creative Live' and its classes has totally de mystified the whole process! Feeling excited to try this out myself now - when i feel i have it nailed will try to remember to post some work in here to show my efforts!
Excellent class but I wish it was longer. I learned so much! Cielo is a natural when it comes to the great work she creates, as well as teaching others. I couldn't recommend this class more!
Great instructor and great class. She really breaks it down so you can grasp the small steps that lead to the end result.
Student Work