Introduction to Outdoor Flash Photography
Mike Hagen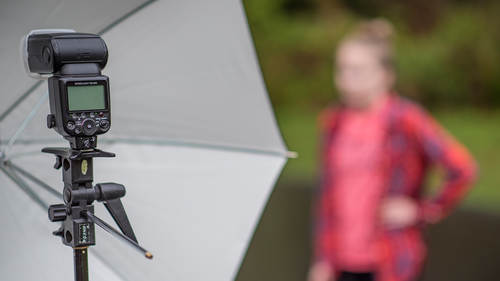 Introduction to Outdoor Flash Photography
Mike Hagen
Class Description
Relying on natural light may work for many scenarios, but how do you learn to control light more effectively with flash? A small flash can help make the most of your outdoor situations whether working in direct or dappled lighting. It gives you the ability to overpower sunlight and add warmth to overcast days.
Mike Hagen will walk through how to easily take control of your lighting and ultimately control of your photos. If you're new to using a flash, this course will teach you:
The essentials of your camera and flash settings

How to build and set ambient exposure

Using your flash on and off camera

How to freeze action and add motion blur

How to use modifiers and reflectors with off camera flash
No matter if you're shooting portraits, sports, or macro photography, Mike Hagen will show you all the ways to define your subject and enhance your images. This class is a perfect follow-up to Mike's How to Shoot with Your First Flash and will give you the confidence to use your flash in all situations.
Class Materials
Introduction to Outdoor Flash Keynote PDF
Ratings and Reviews
Mike Hagen has become one of favorite instructors. His instruction and question answers are clear and concise and he has a real world approach. He has a friendly and approachable personality. Best of all during this course he works by himself which makes you feel you too can accomplish the shoot on your own. Mike demonstrates a practical approach with affordable equipment as he is aware many photographers starting off do not have a huge budget. In his other course on using your first flash he also had several gear set suggestions based on budget which was so thoughtful and helpful. I hope Mike does some more advanced courses as well and I will keep watch for his name on the course schedule. A definite thumbs up for photographers starting off using flash.
This is the second class I've taken with Mike and it was amazing! So easy to understand even when you get into the "tech" side of how flashes work but especially when using them outside and how easy it is. I would totally recommend this class to anyone wanting to take amazing images outside with one flash. He even makes bare bulb flash look awesome. Such a great course!
I have watched a couple of Mike Hagen's classes, and hope Creative Live will bring him back to teach more. He is a fantastic, thorough, easy-to-understand instructor. He doesn't assume viewers already know certain things. He is humble and diligent and truly wants students to understand and learn the things he is teaching. He breaks things down and explains things better than most, and he doesn't hold back on details. Mike also provides helpful handouts/written materials to supplement his videos. I really like his classes and teaching style, and hope to be seeing more from him in the future.
Student Work