Interview Subject Placement
Abba Shapiro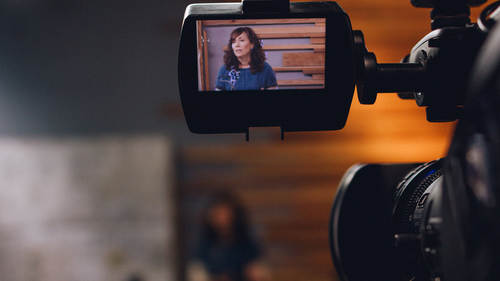 Interview Subject Placement
Abba Shapiro
Lesson Info
8. Interview Subject Placement
Lesson Info
Interview Subject Placement
Let's take a look at a variety of chairs that you may be presented with to record your interview. Some of these work really well and some can be a total nightmare. Let's start with this standard office chair. A lot of people have these chairs. They're not good for interviews and that's because of a couple of things. First of all, they can go back and forth and this can be distracting to the viewer. Also, because there's casters or wheels, they could roll around and this could be bad not only for the sound but also because now they're getting bigger and smaller in frame and maybe even going in and out of focus if you have a very shallow depth of field. So, let's move on to a more static chair. This is nice, it doesn't have the wheels. And you could use this but you have to be careful that the person could slump over. There's a natural tendency, sometimes, if you have arms on a chair, it's for the person to lean and that's not going to be aesthetically pleasing. So, here we have a chair ...
that doesn't have arms. Again, there are some downsides to it. It's a big chair, if they lean back, they're kind of slumped in this chair. It's designed for a more relaxed sitting, not really for an interview. If I had to use this chair, I'd ask the person to sit on the edge of it so they could kind of lean into the shot. This is an ideal kind of chair that I would like to use. There's no wheels, it's solid, it doesn't swivel, it's not too big so the person can sit comfortably on this chair and we're not distracted by movement or by the size of the chair. Now, there's a couple of unique situations here. Sometimes, you might have more of a bar stool or a higher stool. These can be really nice. The person's going to be perched right on the edge of the chair. It's a very casual feel, but the downside is if the person's not really tall, they could have the dangling legs and you have to be aware of that to position the person just right. And that's where these two come into play. They're a little bit lower, and I do like these because they're very low-profile. The person can be sitting on the chair and you don't have this big space of chair behind them. You can really focus on the person and that's something that's important to keep in mind. You never want to put a person in a really big chair because that makes them look small. So, there you have it, a variety of chairs. Keep in mind that all the little details matter and that includes where the person is sitting.
Class Materials
Rough Cut of Blair Stocker Interview
Ratings and Reviews
I found this course very helpful and I recommend it. I picked up a lot of tips, and frankly this course made me realize that putting more preparation into client interactions AND using a more sophisticated production pays off in higher quality video. I wish he had gone into more detail on microphones and camera gear but I can pick that up on review sites.
At first, I felt like the class was difficult to get into during the "live" instruction but quickly found after the first few classes that the information was extremely valuable. Maybe it was just me- maybe it just wasn't my style at first. I absolutely would recommend this class to anyone interested in learning interview or basic film skills. It's brilliant!
Abba was great at explaining why you would do a specific thing in an interview and also the editing as well. Well worth watching.
Student Work