Shoot: Senior Fair Skin, Male Model
Lindsay Adler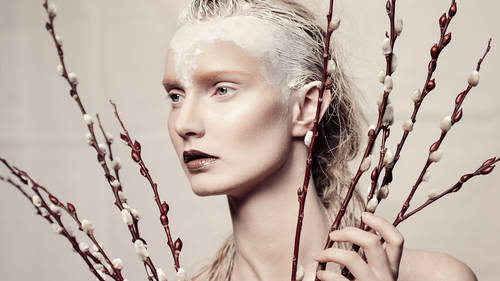 Shoot: Senior Fair Skin, Male Model
Lindsay Adler
Lesson Info
14. Shoot: Senior Fair Skin, Male Model
Lesson Info
Shoot: Senior Fair Skin, Male Model
Take a seat right there for me. I'm gonna face you this direction, just a bit, great. Perfect, now chin up a little bit that way. (camera clicks) Okay, so now, exact same everything on his skin, and you'll see look at those highlights now. 'Cause it's white, it's light skin, and so everything became even brighter, so I'm gonna compensate for that. Pull this down a little bit. And then also the direction of the light, feel the direction of the light, see this right here, between the eyebrows, because the light's raking across, it emphasizes it more, and then also because the light is coming from top down, it emphasizes texture more. I like it, and I think it looks nice on him and I think it looks structural, but let's say you have a subject who you've taken their portrait and the first thing they say when they see the picture is, Oh, I don't like my wrinkle. You know who I'm talkin' 'bout. So then, there's some changes you can make. So let me take one more with the correct exposure, can...
we turn one more time that way just a little bit? Good, and chin up just a little. (camera clicks) Okay, so first of all, I'd have to turn him more, 'cause right now his eyes are still in shadow. John can you lower it a little bit for me? But that's correctly exposed now. Alright, good. And can you turn a little bit more that way? Just a little, right there, beautiful, and chin up just a bit. Let me see. (camera clicks) Okay, so the reason why, my point is, so between the eyes, that gets emphasized, both by height, and both by raking across. So now let's say you have the person who complains, can I bring this around flat to the front, great, and bring it around even more. Perfect, you're great, you're perfect. I'll bring it, and then can I have the reflector in a second? Yeah. You're good, thank you. Alright, so let's test here. Great, that looks perfect. (camera clicks) Okay. So, when you flatten things out, there's less attention to texture, but it's boring. This is the balance I'm having. So I'm gonna put it at 3/4 so there's some shape, and then I'm gonna have John fill in the shadows a little bit so the shadows aren't quite as dark. So let me take one without, I'm sorry, you're good, you're perfect right there. (camera clicks) Can I rotate you to the right more? Great, and look back at me. Perfect. (camera clicks) Good, right there's great. (camera clicks) Alright John, I'm ready. So you'll see, I think this is much more interesting light to the side just a little bit, see? It's a little more sculpting, it's got the shadow on the right hand side of the face, but maybe you fill in beneath for textures a bit. So I'm ready, here we go. And can you do lower as well? Good, let's see. (camera clicks) Good, I can't see it too much, I'm gonna actually bring you even closer, sorry. I'm gonna go right up on you. Great. And then chin up a little, and this side just a little, great, look right at me. (camera clicks) Perfect. (camera clicks) Okay, now, I was taking these pictures of him, and so it fills it in much more softly because the light is not flat, 'cause flat light, it's gonna draw attention more to the highlights and have no sculpting, but I move the light around the side and it's gonna show a little bit more wrinkles and textures, but so that they're not so dark, you go with a soft light source and you can fill in with a reflector underneath so the shadows underneath the eyes aren't so heavy. So for example, just to take a look, so in this top one, I mean there's a lot more emphasis on texture and a lot more emphasis on shape. This would be a shot that maybe I would do in black and white, you know when I was going for texture, where this would be much more of a head shot for this individual, having the person laugh and connect with camera, but it also draws a lot less texture to wrinkles and blemishes and all of those things. Okay, so I'm gonna take one more shot of him, and I'm gonna do something real quick in post processing. John can you do the reflector one more time? Yeah. I want a jovial smile from him. Okay. Great. Okay, can I have a smile from you? Good, that's great. (camera clicks) And then you turn to the side for me? And look right back at me, give me a laugh. (camera clicks) And I gotta lower this light, it's just a little high. And the reason I'm saying that, there weren't catch lights in the eyes. Just because the way his eyes are shaped, they're a little deeper set, and the top of the skin, so it was just, for me there'd probably be catch lights, that's why you can't just set a light and forget it. You gotta adjust it for your subject. So, one more, perfect, oh that's perfect. (camera clicks) Great, and chin up just a little. Chin up just a bit. Little less. Good, and give me a laugh. (camera clicks) Perfect, great, thank you. Thank you so much. Thank you. Appreciate it.
Ratings and Reviews
The topic is too big to cover all the solutions in depth in such a short amount of time, but this seems like a great overview for beginners to understand the range of problems with making skin look good in photos. Lindsay does a great job of making her class topics easy to understand.
I just love Lindsay's work! It's so impressive; especially the sampling photos captured of the elderly gentleman. It brought all she taught throughout the video together seamlessly! I'm so going to watch this over and over again!
Great primer on skin tones, lighting, and considerations for different types of skin. One of the few teachers that discusses dark skin tones!
Student Work