Guerilla Filmmaking
Ryan Connolly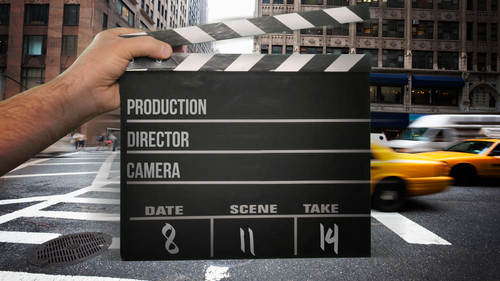 Guerilla Filmmaking
Ryan Connolly
Class Description

Is there an idea for an incredible film banging on the walls of your brain and begging to come out? If so, join Film Riot founder Ryan Connolly for an immersion into envisioning, shooting, and producing films – with any gear on any budget.
In this course, you'll explore the step-by-step process of making a film from start to finish. You'll learn how to script, storyboard, location scout, and cast films. Ryan will offer insights on how to best work with your crew to make your sets fun, collaborative, and professional places to be. Ryan will demonstrate the process of getting the light you want for the shots you'll need, whether you're working with DIY lighting structures, available light, or gels and diffusion. Since lighting and sound are equally essential to professional-level work, you'll also explore both production and post-production audio skills, including integrating music and sound effects. You'll build a post-production workflow for editing, adding visual effects, and more to ensure you're getting the pro look every time.
Whether you're a first time filmmaker or a working professional ready to sharpen up your skills, this course will give you the tools you need to create superior quality films that reflect your unique vision as an artist.
Class Materials
2.40 Aspect Wide Screen Template
Guerilla Filmmaking Outline
Ratings and Reviews
I bet this class will be awesome. the course is given by Ryan Connolly!! I have been watching this guy for more that 5 years. I just wasn't serous about film making then. but now since i love film making why not try to be one of them by learning form the best in the field like Rayn. he has been inspiration for a lot of film maker from his YouTube channel Film Riot. his way of teaching so funny and entertaining . I bought this course to learn Ryan Connolly's killer skill. Thanks creative live and Ryan Connolly!
Great class! It starts at a very simplistic level and covers the full spectrum of filmmaking. I would not necessarily buy this course for advanced film students, however it is an amazing review for beginner students to intermediate students. I would love to see a BTS of a short film from start to finish. I've seen all of Ryan's BTS shorts and I would greatly enjoy a much more intricate play by play of the short. THAT"S SOMETHING I WOULD PAY A LOT TO SEE. An 18 hour compilation of prepro - post of a short would be awesome.
Love Ryan and everyone at Film Riot. Excellent course of the excellent quality I've come to expect from them. I just wIsh he'd act more. So funny.
Student Work