Class Introduction
Ben Shirk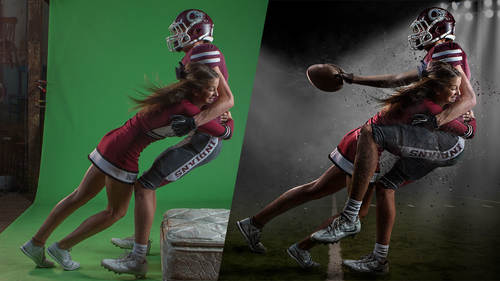 Class Introduction
Ben Shirk
Lesson Info
1. Class Introduction
Lesson Info
Class Introduction
Have you ever been a little bit frustrated with the background options or locations you could find near your studio? Have you ever wished that you had the perfect subject, and just the time of day or even the weather didn't cooperate for you? Have you ever wished you had perfectly voluminous hair like I wish I had? Well, compositing and green screen might be the solution for you. So today, I wanna go over a bunch of ins and outs about the compositing and green screen photography. Green screen photography started a great long time ago, in like the 1930's. Obviously there's been a lot of updates since then. If you maybe dabbled in green screen photography in the past, you might have run to issues with green spill and green cast on your subject. With today's technology and some proper lighting techniques, it's fairly easy to perfectly extract your subjects for compositing. So, with compositing we're gonna go over background options, lighting the background, lighting the subject, and extra...
cting but first off we're gonna start off why. Why I like compositing so much. So compositing and green screen photography is basically, there's so many different options that you can utilize with it. It's for any photographer or studio. From volume photography to fine art, you can utilize it. So, few examples here. This is a volume job I did for a bunch of little league athletes. So they all came into my studio, I photographed them on green screen, it was a big group of 'em, and quickly extracted them using an action and I placed 'em into a background. So it's very simple to extract them and drop 'em in and I'll be showing you those techniques. But it took basically no time at all to put 'em into this background. And the parents loved it, went wild, and the town, all the sponsors loved it, things like that. Here's an example of a fine art piece that I did. So this bride had come in to me for a session and she had been a model and had lots of beautiful portraits already so she didn't want the standard like, standing beside the window light portrait or something like that. She loved horses and wants some kind of art piece created for her. So instead, I spent a little bit of time creating this. So a beautiful fine art piece for my bride and ya know it's something a little bit, took a little bit of time and investment, but it's certainly possible with that green screen 'cause it was easy to extract all her hair and her veil and all that kinda stuff that typically would've taken a huge amount more of time. Here's a family option. So this family came in to me and wanted something really cool for their game room. They're big New York Yankees fans and so, with that I had 'em in my green screen, and photographed 'em. This was the first trial of the day. I was trying to time it all together to get everyone doing the same activity at once, but with these little guys it was kind of hard to get them to jump in the air and throw popcorn and smile at the same time. So instead I photographed them separately. So here's the kid on the right there, jumped a couple times, and third try I got a perfect jump from him. Great expression, good smile, so I could use that shot. And then I had the other little kid waving his hat and smiling, mom easily got him to smile. And then I had mom and dad together, taking that dad cheering, mom leaning in for a kiss. And this is the final art piece for that. So some very cool stuff I can do. One more example, this is actually my son. He's a big gamer and computer boy and wanted something cool of his gaming stuff and I just got done actually creating a scene for a senior that he really loved and so he wanted to be in it. So I took him and added him to this scene here. And this was actually one of my award winning images this year. It went on to the World Photographic Cup down in Australia, won second place in the commercial division in the world so, it was a very successful image and he loves it. Again, all kinds of different stuff that you can do with green screen photography. It's not just about like, maybe you've gotten used to it as like a volume usage or something like that. But you can use it, utilize it in just about any situation.
Class Materials
Discount Code for Extraction Action
Discount Code for Locker Room Photoshop Template
Ratings and Reviews
In this class I teach the first and most important thing when it comes to making good composites - lighting (both subject and green screen). This is not a photoshop class although I do give a quick demo at the end to illustrate my purpose of using green screen and the ease of adding a subject to a scene if they are lit correctly. The main purpose of using a green screen is because there are actions and plug-ins that make extracting super fast and easy. If you enjoy spending time manually extracting your subject then you can ignore the green screen part and shoot on any background as long as you remember the tips I give you for lighting your subject properly. Hope you enjoy!
Ben is an amazing photographer that is highly creative. Not sure this course fully reflects what his images convey to his clients. The course seemed rushed but did get to key basics for green screening. While typically I don't like when instructors promote their products, his extraction action is solid. Definitely worth the discount if you want to be able to systematically process volume. I think if you are beginning in composite photography that Joel Grimes and Ben Shirk can definitely give you the knowledge needed to be successful.
Ben Shirk is for me the best in his field, a source of inspiration for years besides for 2 years I come to the WPPI to see it A mentor for me and these techniques are just magical and bluffing! Many thanks to him and creatrivelive for this course I had already buy his action PS for a few years :) and fully satisfied, this course is perfect to understand and master the technique
Student Work