Quiz: Lighting
John Greengo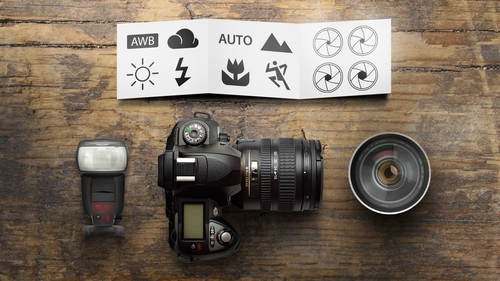 Quiz: Lighting
John Greengo
Lesson Info
71. Quiz: Lighting
Lesson Info
Quiz: Lighting
We're gonna take a look now and see how well our class has done at figuring out what type of light is this? It's really not that hard, it's can you recognize what type of light this is? This quiz is pretty simple and I want you to play along at home, as well. I'm gonna show you a photograph. I'm gonna give you some options as to what type of light it might be. And you tell me what you think it is. I believe we're starting with Team A. Everybody on Team A get in position to assist your captain. And here is your first shot. I think we actually saw one pretty similar to this in the future, so take a look. Your options are on the left, it is one of those choices. Okay, the consensus is Open Shade. Open Shade, give them a point for that! (cheers) Okay, so there is no sunlight in here. We would need some direct sunlight for that to be Mixed. The Twilight, we're not really getting the Twilight in there. It's a blue day, it's a blue sky day, it's before sunrise, and it's all in nice, even ...
light. It's illuminated by the sky, so you can complain to me after class. (class laughs) All right, so let's see. Who originally. It originally started over there. They stole the point, but it goes back to them. 'Cause it's their turn for the next photograph, that was originally your photograph to start with. So, Team A, what type of light do we have here? We're gonna go with Front Light. Front Light, that is correct in this case. Side Light is not terribly wrong, because if we look, there's just a tiny shadow. The sun isn't perfectly in front, but it is very much in front. If you look at his face, it is predominantly in sunlight there. So that is a Front Light situation. All right, we're going back to B (laughing) for this. Your next photograph is right here. This is ours? This is B, this is B. Be ready to steal, A, if they don't get this one right. We're gonna go with Twilight. Twilight, this one I think is a little bit easier. We can see that beautiful blue, that deep blue in the sky there. Some of these are easier, some of these are harder. Let's go to the Maasai Mara in Kenya. How is this scene illuminated? Let's go with, we're gonna go with Backlight. Backlight, Backlight is the correct answer! See, our lion here is all evenly in shade, here. I guess you could say that light is not perfectly behind; it's a little off to the side. But it's generally backlit. It's all in even shade. Look at this little rim lighting that we're getting up here. So that's what you're looking for. What type of light on this? (clears throat) (murmurs) We're gonna say Overcast. Overcast is correct. Cloudy day, nice, even lighting, there's no distinct shadows in there. There's nothing that. You could argue that some of these leaves are reflecting some of that light up there. But it's predominantly an Overcast situation. We're going back over to Team A. We're going with Reflected. Reflected light is spot on, that is right. You can tell by the really warm color. If you can look really closely into his eyes, you might be able to see that there's some strong lights there. But you can tell he's in a dark environment and that nice, warm color is kinda telling on that. All right, let's go back over to Team B. And we're heading back, in this case, where are we? We are in the Serengeti now. What is our light source? All right. We're gonna say Overhead. Overhead light is exactly right. Look at that tree and look at where that shadow is. That shadow is right below that tree, tell-tale sign that it's coming straight down on that subject. Back over to Team A. Take a little trip up to Montana in Glacier National Park. We're going with Mixed. Mixed light is correct. We've got some spotlight coming in. We've got some places in the shadows here, probably some light reflected around. There's nice, good mix in there. Very good job overall, I think. There was a couple of missed ones, but it's kinda hard to pinpoint some of these exactly into categories. Generally, I think you guys did a great job. I hope you were paying attention and following along at home, 'cause I think it just helps you think about subjects. And now you can continue to play that game on the rest of the photos that you look like. How was that illuminated?
Class Materials
Fundamentals of Photography Class Outline
Learning Projects Workbook
Photographic Vision Keynote PDF
Ratings and Reviews
Love love all John Greengo classes! Wish to have had him decades ago with this info, but no internet then!! John is the greatest photography teacher I have seen out there, and I watch a lot of Creative Live classes and folks on YouTube too. John is so detailed and there are a ton of ah ha moments for me and I know lots of others. I think I own 4 John Greengo classes so far and want to add this one and Travel Photography!! I just drop everything to watch John on Creative Live. I wish sometime soon he would teach a Lightroom class and his knowledge on photography post editing.!!! That would probably take a LOT OF TIME but I know John would explain it soooooo good, like he does all his Photography classes!! Thank you Creative Live for having such a wonderful instructor with John Greengo!! Make more classes John, for just love them and soak it up! There is soooo much to learn and sometimes just so overwhelming. Is there anyway you might do a Motivation class!!?? Like do this button for this day, and try this technique for a week, or post this subject for this week, etc. Motivation and inspiration, and playing around with what you teach, needed so much and would be so fun.!! Just saying??? Awaiting gadgets class now, while waiting for lunch break to be over. All the filters and gadgets, oh my. Thank you thank you for all you teach John, You are truly a wonderful wonderful instructor and I would highly recommend folks listening and buying your classes.
I don't think that adjectives like beautiful, fantastic or excellent can describe the course and classes with John Greengo well enough. I've just bought my first camera and I am a total amateur but I fell in love with photography while watching the classes with John. It is fun, clear, understandable, entertaining, informative and and and. He is not only a fabulous photographer but a great teacher as well. Easy to follow, clear explanations and fantastic visuals. The only disadvantage I can list here that he is sooooo good that keeps me from going out to shoot as I am just glued to the screen. :-) Don't miss it and well worth the money invested! Thank you John!
Dear John, thanks for this outstanding classes. You are not only a great photographer and instructor, but your classes are pleasant, they are not boring, with a good sense of humor, they go straight to the point and have a good time listening to you. Please, keep teaching what you like most, and I will continue to look for your classes. And thanks for using a plain English, that it's important for people who has another language as native language. Thanks again, Juan
Student Work