Quiz: Apertures
John Greengo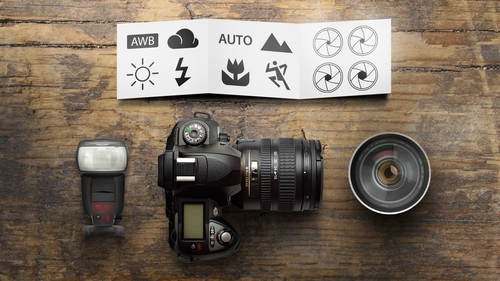 Quiz: Apertures
John Greengo
Lesson Info
28. Quiz: Apertures
Lesson Info
Quiz: Apertures
Alright, it is time to get into our official pop quiz, and we're going to be going back and forth with our teams, A and B on this. And the uh, let's see, how do we want to do this one? We're going to actually hand out a lot of points today. Where did we end up? Which team is- I know you guys got the bonus one. But I think that the last time, so we're going to go over to A for the first question over here. And, I want you to pick the best aperture, A scene with everything from near to far, in focus. Give me an aperture. So they're going to think about that for a moment. Alright. [Person From Team A] 22. 22 is the right answer, so team A gets a point, very good. Alright, so let's switch over to the next question, for team B, the sharpest setting on this lens here. And there's no stealing points here. Either they're right or wrong, you just get the next one. We're going to go with five six. 5.6, how did you figure it out? Tell us. [Person From Team B] The one in the middle. Th...
e one in the middle, that's the correct answer, and that's the way you figure it out. Now to be honest with you, in some lenses it's one off, in one or the other way but the one in the middle is close enough for us. Alright, back to team A, and I want to know, A subject, with the background way out of focus. [Person From Team A] 1.4. 1.4 is definitely going to give you a background that is out of focus if you have a lens that gets down there. Now unfortunately for you team B, my fourth question is a little bit harder. So this case, you're at 5.6, but need- oh wait no, this one's easy. I was thinking of another one. You're at 5.6 but need to close down three stops. Where does that put you. [Person From Team B] That puts us at f/16. That is correct, and so on that one, we're at five six, one, two, three, puts us at f/16. So we're going to be opening and closing our apertures in future sections by one stop or another. Okay, so we got all right answers, so we're just giving points away at this point now. Alright, so let's get into the photo part of this quiz. Alright, so I want you to pick what aperture you think this photograph was taken. We're going back to team A on this one. And so take a look at the photograph, confer, and tell us what you think I chose for the aperture. Now, here are some things I would be looking at. Look at the photo to determine what lens I used, and then try to figure out how close I was to the subjects. And that's going to help determine which aperture it was. Alright, and before you give your answer, I'm going to give you a hint. The hint is, this is with a 40 millimeter lens. See if that changes any of your thoughts there. And just so that you know, team B, I think we're just going to do either they're right or wrong and you get the next photo. There's no stealing points here. My photos have never been so closely analyzed. [Class Laughs] You don't know that, John. Alright, I think we're... [Person From Team A] They want 22. They want 22, it sounds like you didn't agree, but they went with the right choice there, so give them a point for team A, nice job. Team B, this is your shot, and I'm going to give you your hint right here, this is a 50 millimeter lens. What's the angle of view, how close are you to the subject? One four? One four is the correct answer, another point. Nice job, good team, good for working together on that one. Alright, so, here we are. We're in Tanzania, let's go on safari. And this was shot with a 300 millimeter lens. Now, can I give you just an extra little thing to think about here? You want to think about what 300 millimeter lenses are available, what exists in the universe versus what's not existing. 5.6. 5.6 on this one is incorrect, it is actually a 2.8. So a missed opportunity there. And so something else is try to learn what lenses John likes to shoot with. [Class Laughs] Alright, next up. This is going to be a tricky one, this is for team B. Let's give you a little hint here. This is a 400 millimeter lens. We're going to ring in at f/11. f/11, wow that is really good! Nailed that one, that was almost worth two points, not quite, but almost. Alright, let's see what we got here next. Okay, so where are we? I think we're in Croatia in this one. We're in the city where the Game of Thrones is filmed a lot. Old castle city, and your hint here is a 50 millimeter lens. We have some final debates going on here. [Person From Team A] Campaigning for their answer. Campaigning for their answer [Laughs]. Yes. They want five six. They want five six, and that is incorrect. We were actually at 1.4 and those gentlemen in the background, they're not that far back but they're pretty out of focus in that case. Alright, back over to team B here. Let's give you your hint for this one. Another 400 millimeter lens shot. Gotta like that mustache, right? [Laughs] Little dubious on that one, huh? I'm hearing five six, John. Five six on this one is correct. Another point, very good job there. Got ourselves a portrait situation, let's throw in the lens here. Now we're working on a 70 millimeter lens. Might also help to know what lenses are available at 70 millimeters in what aperture. [Person From Team A] I'm not being very helpful. They want 2. 2.8 and that is the correct one. Chiming in, that was like a three minute last minute buzzer right there that you just got on that one. Last second, good choice. Next one, going into a landscape shot here. Never mind the blurry water. And here's your hint, your hint is your 28 millimeter lens. You know even the wrong answers are pretty close, and so, people are learning from this I think. I think so. We're building consensus, and, we've come to 22. 22 is the consensus, and ringing true, nice job. Alright, so very good job, a lot of right answers in there, and you're all going in the right direction. And so, you might have missed it by one or something, but you're all going in the right direction and you should be able to look at photographs going forward and go, "you know, I can tell the lens they're using, I can tell the aperture they're doing." And, you don't need the actual metadata and ask the photographer you can just look at it and go, "yeah I think I know how they did this."
Class Materials
Fundamentals of Photography Class Outline
Learning Projects Workbook
Photographic Vision Keynote PDF
Ratings and Reviews
Love love all John Greengo classes! Wish to have had him decades ago with this info, but no internet then!! John is the greatest photography teacher I have seen out there, and I watch a lot of Creative Live classes and folks on YouTube too. John is so detailed and there are a ton of ah ha moments for me and I know lots of others. I think I own 4 John Greengo classes so far and want to add this one and Travel Photography!! I just drop everything to watch John on Creative Live. I wish sometime soon he would teach a Lightroom class and his knowledge on photography post editing.!!! That would probably take a LOT OF TIME but I know John would explain it soooooo good, like he does all his Photography classes!! Thank you Creative Live for having such a wonderful instructor with John Greengo!! Make more classes John, for just love them and soak it up! There is soooo much to learn and sometimes just so overwhelming. Is there anyway you might do a Motivation class!!?? Like do this button for this day, and try this technique for a week, or post this subject for this week, etc. Motivation and inspiration, and playing around with what you teach, needed so much and would be so fun.!! Just saying??? Awaiting gadgets class now, while waiting for lunch break to be over. All the filters and gadgets, oh my. Thank you thank you for all you teach John, You are truly a wonderful wonderful instructor and I would highly recommend folks listening and buying your classes.
I don't think that adjectives like beautiful, fantastic or excellent can describe the course and classes with John Greengo well enough. I've just bought my first camera and I am a total amateur but I fell in love with photography while watching the classes with John. It is fun, clear, understandable, entertaining, informative and and and. He is not only a fabulous photographer but a great teacher as well. Easy to follow, clear explanations and fantastic visuals. The only disadvantage I can list here that he is sooooo good that keeps me from going out to shoot as I am just glued to the screen. :-) Don't miss it and well worth the money invested! Thank you John!
Dear John, thanks for this outstanding classes. You are not only a great photographer and instructor, but your classes are pleasant, they are not boring, with a good sense of humor, they go straight to the point and have a good time listening to you. Please, keep teaching what you like most, and I will continue to look for your classes. And thanks for using a plain English, that it's important for people who has another language as native language. Thanks again, Juan
Student Work