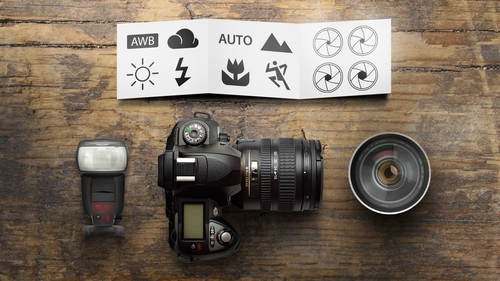 Lesson Info
Aperture
Alright, it's time to move on to the aperture within the lens. And so, in your lens is an aperture that is gonna be able to give us some control over the amount of light coming into the sensor. So this is the opening through which light travels. Now I have found that the word aperture gets used in some incorrect ways much of the time. People will ask you, what aperture is that lens you have? And that's actually incorrect. What they're trying to ask you is, what's the maximum aperture of that lens you have? Because the maximum aperture is listed there. It's that 1.4 formula in this particular case. When they ask about the aperture, that is really the mechanical device in the lens that opens and closes, alright? Diaphragm, iris, it has a lot of different names that it can go by. And so, with this, the focal stop, the ratio of the focal length to the lens to the entrance pupil. So this is the size of the opening that we're shooting. And so this is a good graphic for you to memorize. Alrig...
ht, that's why we have it up on the wall in here right now. It's a very important concept to remember, because these are fractions and it's kind of awkward because 1.4, which is a small number, is a big opening. And 22 is a small opening but it's a big number relatively speaking. So let's go ahead and take our aperture and start closing it down. So as we close our aperture down, with each one of these settings we're letting in half as much light. So these are very important increments. And as we open up our aperture, we are letting in twice as much light. So it's very much like shutter speeds in that we're gonna be trading these numbers back and forth. Well, maybe I should do this with the shutter speed and this with the aperture and everything will be equal, just kind of trading them one for the other. And so 1.4 wide open, 22 very small. So if we go from 5.6 to f/ we are opening up the aperture by a full stop. We're letting in twice as much light. If we go from 5.6 to f/8, we're stopping it down and letting in half as much light. And this is where things are a little bit different than they were with shutter speeds and ISOs. If you remember back to shutter speeds and ISOs, we were doubling the numbers and we were cutting them in half. Not so here. In this case, we're going from 5.6 to f/4. And we double the amount of light, and that's because with a circle, that kinda has unusual properties. You only have to make a circle a little bit bigger to double the surface area of that. So that's why we have this kind of odd set of numbers that you need to know about in photography, and these are kind of the prime aperture numbers that you will see listed for lenses and settings on your camera. Now, some people with these zoom lenses we were talking about, with variable apertures, get a little confused because they go, I got this 16-80 lens, it has a range of 2.8 to f/4, does that mean I only get to use two apertures, 2.8 and f/4? Because it kind of sounds like 2.8-f/4, that's the range that you have. No, what that means is it means that 16 millimeters, you are gonna be able to have a maximum aperture of 2.8. Alright, but you'll be able to stop your lens down probably to f/22 or maybe beyond. When you zoom it out to 80, your maximum aperture is f/ and you'll be able to stop it down to 22, 32, or maybe beyond. And so it's just listing what the maximum aperture is. It's not listing the range of the aperture. So when you see that listed on your lens, it's just one part of the equation. But it's the important part of the equation. Usually we're not checking to see how far down our lenses can stop, although that can be a factor for some people who do need lots of depth of field. But generally lenses are gonna stop down more than enough for what everybody needs. It's the other end that's the really important end. Alright, this might be the least favorite slide in my entire class. I want you to memorize all the aperture settings. Does anyone feel now like they could just rattle off all the aperture settings? Raise your hand if you think you can just rattle off all the aperture settings. Nobody? Like, if I had to write down on a piece of paper, okay? Well, let me give you some hints on how to do it. If you can remember two numbers, you can figure out the whole sequence. The first number is number one. And that's so easy that doesn't take any effort at all. So you only need to remember the next number in the sequence, which is 1.4. Now the way that you figure out the whole formula is you take a number and you double it for the following number. And so if you're at a certain number, you just look to the previous number, you double it and that becomes your next number. So every other number doubles. Alright, you see the sequence here? So if you can remember 1 and 1.4, you could figure it out as far as you need to go. So let's go ahead and take this out a little bit further here. Do the math right as you've seen it on screen. What's the next number gonna be? Now yes, every once in a while, we do round a number up just for simplicity sake. And you can keep taking this on into infinity. So remember 1 and 1.4. And what's special about 1.4? It is the square root of 2. Okay, that's as far as we'll go into that. Alright. But this is the series, remember, 1 and 1.4. Now let's see who can answer this tricky question in the class. So, if we, well, there's actually a story about this. You've all heard of the movie director Stanley Kubrick, right? Well, he produced a movie called Barry Lyndon, and in Barry Lyndon he was filming some really really low-light scenes. And he needed the fastest lenses he could find. Now the fastest lenses he could find were special Zeiss lenses that were made I believe for the NASA program. Alright? And so he got his hands on one or two of these lenses so he could film this really low-light scene. And the lens that he got was one stop faster than a 1.0 lens. My question to somebody in the audience here is, what was the aperture of that lens? It's a stop faster than a 1.0 lens. If you know, raise your hand and we'll pass up. Let's get the microphone up here. It's half of 1.4. Okay, so what's half of 1.4? .7. Thank you. .7, alright. So everybody, check your closets, check your basements, your attics, see if you have a Carl Zeiss Planar 50-millimeter f/0.7 lens, and it's gonna be worth a mint, alright. There's only like six of these things made. And so, yes, you can have lenses faster than 1.0. It just happens to be a relation of a 50.1.0 lens is a 50-millimeter lens with a 50-millimeter opening. With this, I'd have to run the math, but it's gonna be 60-some millimeters in its opening. And so it's a difficult, challenging lens to make. But it is possible, so you can go to really almost infinity in either direction on this, as far as you want. So just remember, 1 and 1. and you've got them all memorized. Now how many people in this audience can figure out all the apertures? Raise your hand. Okay, I was hoping to see everyone's hand. Good. (laughter) 'Cause it's really easy once you know the secret formula. Alright, so the apertures you're gonna be using in the real world of photography, for the most part, are gonna range from 1.4 to f/22. Now like shutter speeds and the ISOs, we're gonna be able to select third stops if we want. So if you wanna get very precise or you need just a little bit more depth of field or you're trying to balance some other part of the equation, feel free to set these thirds of stops. There's no problem with them. I'm just not gonna list them 'cause they clutter up my screen with too many numbers. We're gonna stick with the whole numbers. So, these apertures are gonna control the amount of light coming through the lens. But they do something else that is quite interesting and makes photography a lot of fun. And that is it controls the depth of field, and this is what we're gonna talk about in the next section.
Class Materials
Fundamentals of Photography Class Outline
Learning Projects Workbook
Photographic Vision Keynote PDF
Ratings and Reviews
Love love all John Greengo classes! Wish to have had him decades ago with this info, but no internet then!! John is the greatest photography teacher I have seen out there, and I watch a lot of Creative Live classes and folks on YouTube too. John is so detailed and there are a ton of ah ha moments for me and I know lots of others. I think I own 4 John Greengo classes so far and want to add this one and Travel Photography!! I just drop everything to watch John on Creative Live. I wish sometime soon he would teach a Lightroom class and his knowledge on photography post editing.!!! That would probably take a LOT OF TIME but I know John would explain it soooooo good, like he does all his Photography classes!! Thank you Creative Live for having such a wonderful instructor with John Greengo!! Make more classes John, for just love them and soak it up! There is soooo much to learn and sometimes just so overwhelming. Is there anyway you might do a Motivation class!!?? Like do this button for this day, and try this technique for a week, or post this subject for this week, etc. Motivation and inspiration, and playing around with what you teach, needed so much and would be so fun.!! Just saying??? Awaiting gadgets class now, while waiting for lunch break to be over. All the filters and gadgets, oh my. Thank you thank you for all you teach John, You are truly a wonderful wonderful instructor and I would highly recommend folks listening and buying your classes.
I don't think that adjectives like beautiful, fantastic or excellent can describe the course and classes with John Greengo well enough. I've just bought my first camera and I am a total amateur but I fell in love with photography while watching the classes with John. It is fun, clear, understandable, entertaining, informative and and and. He is not only a fabulous photographer but a great teacher as well. Easy to follow, clear explanations and fantastic visuals. The only disadvantage I can list here that he is sooooo good that keeps me from going out to shoot as I am just glued to the screen. :-) Don't miss it and well worth the money invested! Thank you John!
Dear John, thanks for this outstanding classes. You are not only a great photographer and instructor, but your classes are pleasant, they are not boring, with a good sense of humor, they go straight to the point and have a good time listening to you. Please, keep teaching what you like most, and I will continue to look for your classes. And thanks for using a plain English, that it's important for people who has another language as native language. Thanks again, Juan
Student Work