FAST CLASS: Newborn Posing
Kelly Brown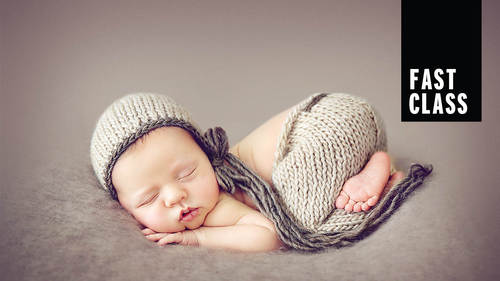 FAST CLASS: Newborn Posing
Kelly Brown
Class Description
FAST CLASS:
Try a Fast Class – now available to all CreativeLive subscribers! Fast Classes are shortened "highlight" versions of our most popular classes that let you consume 10+ hours in about 60 minutes. We've edited straight to the most popular moments, actionable techniques, and profound insights into bite-sized chunks– so you can easily find and focus on what matters most to you. (And of course, you can always go back to the full class for a deep dive into your favorite parts.)
Full-length class: Newborn Posing with Kelly Brown
SUBSCRIBE TO CREATIVELIVE and cue up this class and other FAST CLASS classes anytime.
AFTER THIS CLASS YOU'LL BE ABLE TO:
Set up a home studio, using the surrounding area to create a safe and inviting space.
Use props to support newborns in images.
Discover new posing techniques, including basic and more advanced poses used by professional photographers.
Perform flow posing for a newborn photography session—seamlessly and safely moving an infant from one pose into the next.
ABOUT KELLY'S CLASS:
Parents are eager to document their little girls' and boys' lives through photos, from the moment they're born until the day they leave the nest. But those first few months of infanthood are some of the most challenging times to get beautiful photos. Whether you're in NYC or San Francisco, posing those pliant little ones in ways that are both creative and secure is something even the most experienced photographer can find intimidating. Doesn't matter if you have a Nikon or Sony, you can always look into your baby's eyes and take a picture.
Kelly Brown has made newborn photography her specialty, consistently delivering stunning images of these precious subjects to overjoyed parents. Through many years of practice, experimentation and success, Kelly has gained the expertise to teach you how to become proficient in newborn and baby photography and build your own business around this lucrative niche.
This class will show you:
The essentials and little details of setting up your newborn photography business for a great start.
How to market your business and get new clients.
Tips for working with older siblings, parents, and whole families so that everyone feels happy and comfortable.
How to handle and pose newborns safely and basic photography safety tips.
In this course, Kelly will show you how to create a safe, comfortable, and happy space for families and newborns alike, so you can take pictures that will celebrate these special first months of life. She'll guide you step-by-step on how to pose newborns using a variety of props, what photography safety measures must be taken, how to build trust with parents and older siblings, and what equipment you'll need. From setting up lighting and taking close-ups to editing skin tones, she'll help improve your photo sessions. She'll also give you helpful advice on how to start, run and grow a newborn photography business, from using your surrounding area and setting up your studio to pricing your services to marketing and client outreach.
WHO THIS CLASS IS FOR:
Newborn photographers who are interested in adding another genre of photography to their business.
Those who want to feel confident in their ability to handle a baby safely during photography sessions.
Photographers who want to learn how to interact with parents to calm their fears and make them feel comfortable.
Class Materials
Tips For Putting Baby To Sleep
Ratings and Reviews
Student Work