FAST CLASS: Fundamentals of Photography
John Greengo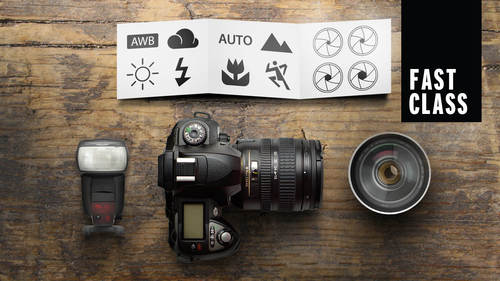 FAST CLASS: Fundamentals of Photography
John Greengo
Class Description
FAST CLASS:
Try a Fast Class – now available to all CreativeLive subscribers! Fast Classes are shortened "highlight" versions of our most popular classes that let you consume 10+ hours in about 60 minutes. We've edited straight to the most popular moments, actionable techniques, and profound insights into bite-sized chunks– so you can easily find and focus on what matters most to you. (And of course, you can always go back to the full class for a deep dive into your favorite parts.)
Full-length class: Fundamentals of Photography with John Greengo
SUBSCRIBE TO CREATIVELIVE and cue up this class and other FAST CLASS classes anytime.
As a photographer, you will need to master the technical basics of the camera and form an understanding of the kind of equipment you need. The Fundamentals of Digital Photography will also teach something even more important (and crucial for success) - how to bring your creative vision to fruition.
Taught by seasoned photographer John Greengo, the Fundamentals of Digital Photography places emphasis on quality visuals and experiential learning. In this course, you'll learn:
How to bring together the elements of manual mode to create an evocative image: shutter speed, aperture, and image composition.
How to choose the right gear, and develop efficient workflow.
How to recognize and take advantage of beautiful natural light.
John will teach you to step back from your images and think critically about your motivations, process, and ultimate goals for your photography project. You'll learn to analyze your vision and identify areas for growth. John will also explore the difference between the world seen by the human eye and the world seen by the camera sensor. By forming an awareness of the gap between the two, you will be able to use your equipment to its greatest potential. 
Ratings and Reviews
Student Work