FAST CLASS: Creative Calling
Chase Jarvis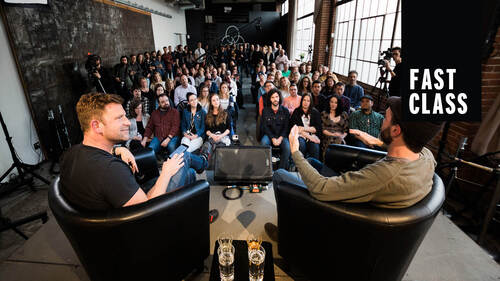 FAST CLASS: Creative Calling
Chase Jarvis
Class Description
FAST CLASS:
Try a Fast Class – now available to all CreativeLive subscribers! Fast Classes are shortened "highlight" versions of our most popular classes that let you consume 10+ hours in about 60 minutes. We've edited straight to the most popular moments, actionable techniques, and profound insights into bite-sized chunks– so you can easily find and focus on what matters most to you. (And of course, you can always go back to the full class for a deep dive into your favorite parts.)
Full-length class: Creative Calling with Chase Jarvis
SUBSCRIBE TO CREATIVELIVE and cue up this class and other FAST CLASS classes anytime.
Renowned artist, author, and CreativeLive founder, Chase Jarvis, teaches us how to unleash our creativity, transform our lives, and add value to everything we do.
Now imagine your big dream- whatever you want to create or become in this world.  Are you unsure of where to start? Do you have trouble finishing your projects? Are you struggling with finding a way to channel your creativity? Regardless of age, income, or stage in life, use Jarvis' unique IDEA framework to activate your life with the actionable tools necessary for becoming unstuck and creating a more meaningful life. This class will help you ask the right questions, eliminate old habits that are not working and test new approaches to create the life you truly want.
In this class, you will learn how to: 
Design a daily creative practice that supports your health and happiness

Tame distractions & spend time on the right things

Figure out & address what's blocking you

Bypass excuses and get to work

Find your supportive community

Examine your mindset and reprogram the ideas that aren't serving you
WHAT PEOPLE ARE SAYING:
You will enjoy life and be more successful if you focus on creating... and Creative Calling is an engaging guide to doing just that. – Richard Branson
Chase is the perfect guide as we learn how creativity has the power to change everything. – Brene Brown
It's a must read for any creator or entrepreneur. – Daymond John
Creative Calling will whole-heartedly change the way you think and it will provide you with the inspiration to make a bigger life than you ever thought possible. – Debbie Millman
You won't find a better resource to unlock your true potential. – Jimmy Chin
A NOTE FROM CHASE:
Friends! Life isn't about "finding" fulfillment and success – it's about creating it. Creativity is a force inside every person that, when unleashed, transforms our lives and delivers vitality to everything we do. Left unexpressed, it can be a poison in your life leading to unhappiness, unfulfillment, and that feeling there is something missing.
I've been there. The good news? We are all born creative. By creating regularly, we access a new source of vitality. Establishing a creative practice is therefore our most valuable and urgent task – as important to our well-being as exercise or nutrition. Every day is an opportunity to tune into your creative calling. You're never truly lost no matter how far you've wandered. It's all meaningful. The frustration, boredom, or resentment you might feel is your intuition's way of telling you that there's a turn up ahead. Will you be ready?
This is a book about creativity, but in a larger sense it's about life and how you live it. Whether your ambition is a creative career, completing a creative project, or simply cultivating a creative mindset, I wrote this book for you.
ABOUT YOUR INSTRUCTOR:
Artist, author, entrepreneur, mischief maker... Chase Jarvis is well known for many things. As a photographic master, he's regularly cited as one of the most influential in the past decade. Chase has won numerous awards including Prix de la Photographie de Paris, Cannes Lions, and The International Photography Awards. But Chase has always cherished community over competition.
Ratings and Reviews
Student Work