Tips For Photographing With Dogs
Vicki Taufer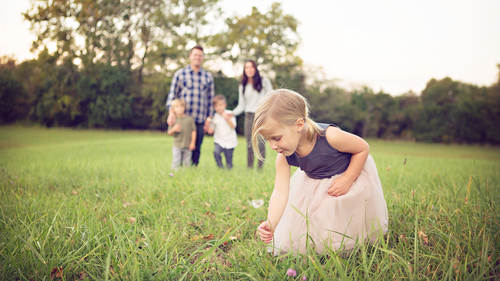 Tips For Photographing With Dogs
Vicki Taufer
Lesson Info
18. Tips For Photographing With Dogs
Lesson Info
Tips For Photographing With Dogs
That is going to bring us to adding pets to your portraits. We're gonna talk about a few slides and keynotes before we actually bring the family in, as well as talk about the studio lighting that I have set up. A couple quick tips I have for that, which I've been using some of those things today already, and I already talked to the owner of the dog like, "What does your dog respond to? "What should I not do?" So, they said their dog's pretty good with sitting, if you ask it to sit, doing squeakers, say if you want a treat. But there might be certain words actually that they're like, "Oh no, don't say this, the dog's gonna come running at you." I still love to use furniture. I do have certain furniture I will not use with dogs. So it's kind of like I have a couple couches I'm like, okay these are okay, they clean well, or you know, obviously I have the lint rollers to get the hair. I mean there's things you have to do if you're gonna have a lot of pets coming through your studio. But I ...
have certain furniture I use. I still do those same shots, some of the shots I use, which I'll try to do today, would be using the feet, the huggle. One of the shots I'm going to try to get is the littlest one and the dog are best buds. So I think it would be really fun if they could be snuggly in the foreground, and maybe the family's in the background. And I already mentioned I don't shoot with an assistant most of the time. With pet photography sometimes I do. If I'm doing pet mini-sessions and there's going to be a lot of dogs, absolutely I want an assistant. Or sometimes you just need that extra hand to get the dogs to look up. Because if you think about it, you guys saw the energy and what it took to do a family grouping. Adding the dog is one more element. Now is it not only, all the kids you hope are looking at the camera, but now you have this dog and what it's doing, it's another variable. And a lot of times if people are wavering on dogs in the photos or not, I don't include the dog in all the shots, if they're cool with that. So it's not every single shot's relying on is the dog doing the right things? I still do all those things I did and it might just be adding the dog in at the end. Or starting with the dog and then maybe it goes in a crate and we finish with the family posing. I had to put this shot in here. My first creative live experience five years ago I photographed, I don't even remember now, it was eight or nine puppies. So a fun challenging and exciting experience. Some of the same poses, because I really want to keep reiterating these same things, I just use it throughout. I think the same way with my clients as with my dogs, using that selective focus, the dog in the foreground. I have that same shot, but it's a kid. This time it's a dog on a couch outside. Same thing, the dog's in focus, and that's the same pose you guys keep seeing me do. "Okay, Mom and Dad, look at each other." and then do something, squeak a toy, do something to get the dog's ears to perk up and look right at the camera. There is that favorite couch pose I told you about. Leaning on the couch, now you've got the dogs, huggling in with the dogs. That works really well. A couple other shots, there's the couch straight on, chairs. The one on the right is on location in the client's home. And then the obvious straight on couch. I think with the size of this family with the dog, this is going to be a good pose to try with them. And also, it's not necessarily going to have to be the whole family the whole time. I think it would definitely be great, all the kids and the dog, then the whole family with the dog. They keep talking about the littlest one being best friends with the dog, so I'm thinking some shots, those two would be really special. Same thing, showing the feet. Dog in the foreground. These little guys. These are the dogs in the family I talked about, that they came as little kids with the dogs on the couch, and they just came back a month or two ago, with their adult kids, now adults, and their new dogs. But the same thing. The dog is running up, just like kids would do, right? And the dog's running at me, so I keep shooting, and get that dog in focus, everything else is a little bit out of focus behind. The huggle, same thing. People and their pets, kids and their dogs. This one, there are two dogs there, I don't know if you can see, we were cracking up that these dogs sat like that. But, yeah, the kids snuggled in on the couch with their dogs. And there's the yellow couch, and that's the original shot. Those are the people that came in, like, "Oh wait, that's my mother-in-law's couch." So then we photographed their dogs on the couch I had bought at their garage sale previously. Couple things I want to talk about is adding pets to your photography business. One of the ways I've done that, and I just want to talk just a couple minutes about it. We were talking at break with one of the students who's doing some mini-sessions and things, I've had the most luck and most success with actually creating a market that did not exist in our community by doing an event I called Dog Days of Summer. That strictly was more of a charity event. We raised dog food and money for the local shelter. And it was minimal cost to people, but I got them in our studio. That was my goal. Besides, we had this great donation, it was all of a sudden I had over 100 people come through the studio who hadn't experienced our experience as V Gallery, they got this quick little mini 10-minute experience with their dog. And then out of there, it's like, "Oh my goodness, I need to bring my family. "I need to bring my kids." You have to think of the bigger picture. We made money on that, but it was that bigger picture, and the amount of clients we got that still come back just with their dogs to be photographed, no people in it. So, we created that market in our community. It's a great way to build relationships with those other vendors I mentioned. And it's one of those things I feel like most places that may be something that could be unique, if you're excited about that, that a lot of people aren't doing.
Ratings and Reviews
All I have to say is - Vicki you are a saint. To handle four kids, dog and their parents too, not to mention a class of students watching...AND YOU'RE TAKING PHOTOS, GOOD ONES!! All I know is, I could not handle that as you have even though I was a teacher for 25 years (K-12, all of them) - and wonderful people like you are far and few between. May you stay healthy and happy and continue interacting with kids and parents - you really have a talent! (I had to turn the sound off on the vid because it was driving me crazy,, with kids, dog, etc etc!)
It was true to life and yes, a bit chaotic. But I enjoyed it, it shows the work that often does go into a session with all the multitasking. I got some great ideas for poses, and learned some new way to interact with younger children. Thank you for a honest session and not a perfect planned one.
Awesome class, really informative, and loved how you handled all the chaos. Great sales and promotional advice from your hubby too. Fantastic, well rounded :)
Student Work