Family of Three Shoot Recap
Vicki Taufer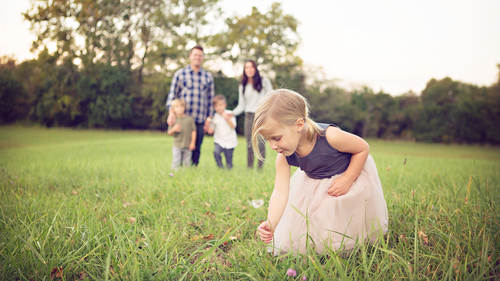 Family of Three Shoot Recap
Vicki Taufer
Lesson Info
8. Family of Three Shoot Recap
Lesson Info
Family of Three Shoot Recap
So some of the things that I was trying to achieve. (laughs) But this is reality and absolutely I have some sessions that you like, oh my gosh if every session was like that. That would be amazing and some sessions. If every session was like that, that would be really challenging, and I need to go take a nap. But these guys were super sweet and you guys obviously realized the scenario of in my studio and that's on purpose. That's me and them, so now we're in a scenario where you have a one-and-a-half-year-old seeing 20 faces and gear, and I'm sure. Do you guys all run into where the little ones wanna look at the back of your camera? They're all train now to do that right. You shoot, they wanna see it. So I caught her, I would say, wow, you have this huge screen and she's looking at pictures of herself. So I think some of those things, obviously become distractions that hopefully you wouldn't have in the camera room. And so I think the big piece I would take away from that is that I wou...
ld give them more space in that time than keep making them come out in the time constraints that were working with. Yeah so here's some more of what I think it's fun. This on the shoulder shoot that shoot a lot and I will try to do that again when the rest of the family comes out. But I went through with adding people so I already showed you images, what it looks like with two, three people. This is in the studio, in the client's home. Then how it changes like this would be similar, the kids wanting off the shoulders or having a little more interaction or fun. Mom looking over at the child rather than everybody just at the camera. Then how that changes even outdoors, how I would shoot in an outdoor setting full length with one on the shoulders then up to four people. Maybe so this one on the left is actually on a couch where the one child standing up. And then the one's on the shoulder verses this is similar to the right, but we just tried accomplishing in here where the daughter is actually standing but you have mom ... usually it is dad sitting on a stool and the child on Dad's shoulders and Mom leaning in, and then you just add in the other subjects. And then even with five people, how I would do that so again whether that's a little one on the hip is actually in both of those. Both of those shots, so a baby and then a child who's a little bit older. Eyes down so just some really sweet, emotional shots you can capture with that. An example of combining the panoramic with the eyes down. That could be cropped even more panoramic. Again Mom, Dad when looking at the kids. Brothers, twins looking down. Obviously I took shots where they're looking at the camera too. But that's just a great addition to have to this session. On the rug which will, we have this in here. So I could totally see us still trying to work with this today but yeah with a couple people. So that could be laying down looking up. I do use it a lot with my individual shots of kids but even with sibling playing on their tummies, looking at the camera. So we might try to mimic that when the other siblings come in. Sisters, twins so that's a quiet or softer huddle verses when we get into the more fun. Everybody has different reactions to that like these guys on the right. Or just those are real smiles. You're not gonna get that smile by saying say cheese or smile so that's why I call that the unposing. Setting the stage and making it happen. From above so this would be an example. A couple weeks ago maybe, on location at a client's home and so I have some more shots from that session throughout the programs. This is fun to see the different things I would shoot on location in their home, but that literally is just in their kitchen that opens up and just some fun, fun ways. We did all the traditional poses but to add in the shot from above. Some more even with a group that big, that's probably one of the larger groups I would say I've shot from above typically. And this one to the right is a little more at an angle. And then the in the air shots so that just can be anything. So again I'm going to try to mimic some of this again in the next segment, people raising the kids up, flipping them upside down. I actually think we got a couple cute shots with Kiomi. I think the other thing, it's sad to say this but sometimes those kind of shots. They might be screaming but like in the final shot it doesn't really look like that. They might be laughing and that's just true or sometimes you're doing the hand or the feet shots. There's different shots you can take that maybe everybody really like isn't happy, and it's not going great, but you can shoot it in a way that you're still getting the shots. Even in sessions if I have newborns, I'll do that a lot will be when I photograph those more details. The hands and the feet. A little bit more in the air shots since a lot of times like you said, I'm not even necessarily showing all of Mom or Dad. And in some of these shots how I do this on location. They're looking at each other so I feel like with this middle shot I tried to mimic. I feel like we've probably got something great. And again you're gonna get to see some of these with Jet in the last segment, so I feel we got something like that. Mom and Dad are slightly out of focus on purpose and then you've got the little one in the foreground. And even just parents looking but kids still looking at the camera. It doesn't always have to be everybody. This is an example of a reaction after the whisper in your wife's ear. Sometimes it's sweet and snugly. Sometimes it's laughing but I love those candid reactions. Look the selective focus again. I did actually get a few of those and that can be sometimes I do that on purpose when things aren't going quite exactly planned. The kids running off, and sometimes it's the kids in the foreground. Parents in the background and vice-versa. Sometimes it's the parent's in the background. The kids in the foreground. One thing I suggest when I do do that is I usually do not have the people who are out of focus looking at the camera. So I always think it usually looks a little bit better and I'll just tell the kids they look at each other, and they still might be laughing 'cause they think that feels silly. Sometimes one of the things, one of those words I use. I will tell people, okay everybody now fake laugh. I will be that like just do it and people will laugh because they think it's so ridiculous and you will get some real laughs and some real smiles. With the next kid, you're gonna see they're a little bit older. You can use that psychology of don't smile, don't smile at me and hopefully they'll smile at me. It usually work probably not with the littlest. Again that focus on location in their home. That's the same thing, that kid is all over the place. He's crawling at me rather than keep trying to put him back into that pose. Roll with it in that direction. Very common scenario, there's that family of five on the couch and that little one in the foreground. More examples, hands and feet. I think we got one where she looks really mad at me but it was actually cute so I'm anxious to see some of these myself. But this would be an example of how as she goes that was just a few weeks ago. But yes you do that same shot on those location and that's one I like I think that image is probably almost have it 17, 18 years old. So when I talk about that mix of keeping that similar style over the years. And sometimes it's just, it's not people. It's their animals but it still tells a story. I feel like that's a lot of times when I'm shooting those types of images. It's showing a relationship or story. They're turkey farmer so whatever it is. And just I loved all their shoes so of course that's one shot out of the whole session. And one thing maybe I'll mention as you might wanna know. Typically like how many images I am showing these clients. So I would say I'm probably shooting, maybe showing them a quarter to a third of what I've shot. So we'll edit those down. So a family session like this. I would say most family sessions of two, three, four people see between 40 and 50 images. A larger grouping might see more in that 60 range. Just in general with my shooting, who sees the most will be high school seniors. I know we're not talking about that today but with all this outfit changes and things. But I say between 40 and 60 maybe major big, generational family on location might be seeing 70 or so. Again, just the hands also with the pano. The vertical pano which I did capture some of these and we'll try to recreate that again. And honestly some of that is really just making sure you're getting that pose and camera, and then it's about the crop once you're in post. And I feel like we got a few of these for sure today, and that's why I kept shooting. Obviously that is also the reality. I might only show one or two outtakes that I might have today shot 20. But hopefully we were gonna evolved and get to maybe that one time she looked up. It was a pretty tight crop. I might switch lens. We'll see, I might switch lens. when we switch to the next group. Especially if I'm shooting from above that lens. I was getting a probably a tighter crop than what I would prefer. But even showing them one, one or two outtakes is always really fun, and it's always fun to see what clients do with it. This was a session, a just a couple weeks ago and literally this was supposed to be a family shot and the kids just kept running in circles. This is their life, these twin girls with all this energy. So I have actually a series of these where these girls are just running circles around their parents, so just fun.
Ratings and Reviews
All I have to say is - Vicki you are a saint. To handle four kids, dog and their parents too, not to mention a class of students watching...AND YOU'RE TAKING PHOTOS, GOOD ONES!! All I know is, I could not handle that as you have even though I was a teacher for 25 years (K-12, all of them) - and wonderful people like you are far and few between. May you stay healthy and happy and continue interacting with kids and parents - you really have a talent! (I had to turn the sound off on the vid because it was driving me crazy,, with kids, dog, etc etc!)
It was true to life and yes, a bit chaotic. But I enjoyed it, it shows the work that often does go into a session with all the multitasking. I got some great ideas for poses, and learned some new way to interact with younger children. Thank you for a honest session and not a perfect planned one.
Awesome class, really informative, and loved how you handled all the chaos. Great sales and promotional advice from your hubby too. Fantastic, well rounded :)
Student Work