Essential Storytelling Techniques with Producers from 'Snap Judgment'
Anna Sussman, Julia DeWitt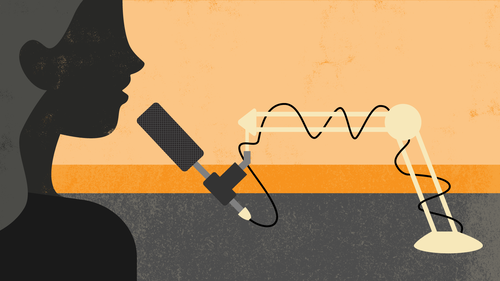 Essential Storytelling Techniques with Producers from 'Snap Judgment'
Anna Sussman, Julia DeWitt
Class Description
Storytelling is one of the most effective tools we have as a species – to connect, to persuade, and to entertain.
There are stories all around us. We watch stories on TV, read them online and share them with each other. They are the most important and powerful way we have to interpret our world. 
Essential Storytelling Techniques with Producers from Snap Judgment will be of particular interest to those drawn to crafting and sharing intimate stories about the human experience.
This class will cover storytelling techniques that will help you turn an idea for an audio, radio story or podcast into a real and concise narrative. 
Finding and pitching stories 

Constructing a focused, compelling story arc 

Conducting interviews to craft a complete, engaging story 

Building dramatic tension, narrative surprise, and higher meaning 

Whether you're a podcaster or simply curious about the mechanics of building a better story, you'll leave this class with the tools you need to connect and engage your audience through story.
Class Materials
Interview Success Checklist
Extremist Makeover Story Full Audio Clip
Find Your Story Checklist
Multiplicity Story Full Audio Clip
Ratings and Reviews
Loved this training---plenty of great takeaways from women who've done the hard work, done it successfully and well, and know how to share that with others. Especially enjoyed: 1. Their clear story checklist (Compelling lead, Unique angle, Who will listen?, Who will speak?) 2. Their hammering home of continuing to ask yourself throughout the process why YOU love your story, so that that passion helps to drive it 3. Their emphasis on the dynamism of storytelling and its taking shape between the producer and the audience Great stuff---thank you! PS Could commenters here please focus on content, rather than the presenters' voices? I liked both myself, but if you didn't, that's really not the point of this review section. Also, please see: http://www.thisamericanlife.org/radio-archives/episode/545/if-you-dont-have-anything-nice-to-say-say-it-in-all-caps?act=2#play.
Three hours and 10 1/2 pages of furious note-taking later, I'm feeling encouraged and excited to get back into some story projects I'd put on hold. Julia DeWitt and Anna Sussman brought to my memory some great concepts I've interacted with in my previous work and gave me fresh information to help me evolve and become a better storyteller. Thank you for sharing your wisdom and helpful resources.
My high hopes for this class were exceeded. Co-instructors Anna and Julia did an excellent job conveying what story collection is like in the field, offering pointers for capturing necessary tape, and explaining the building blocks of narrative that's strong enough to keep the attention of distractible listeners. I loved that they're seasoned producers who get the human elements of storytelling and understand that it's a messy, challenging process, but shared the paths they've mapped out that work. Also appreciated the pointers on pitching, which was one of the most useful part of the session to me. I second the comment of another reviewer that the moderator's interjections distracted a bit from the flow of the instruction, though understand why CreativeLive wants to do this.
Student Work