Live Premiere: Layers of Depth 1
Brooke Shaden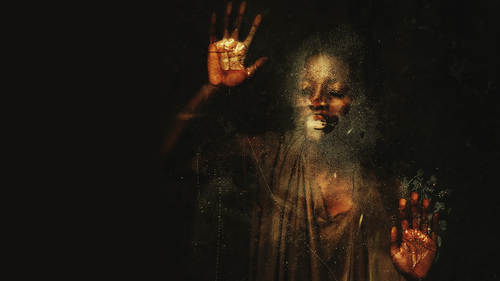 Live Premiere: Layers of Depth 1
Brooke Shaden
Lesson Info
67. Live Premiere: Layers of Depth 1
Lesson Info
Live Premiere: Layers of Depth 1
So I'm going to move on to this image. And I wanted to show you just a little breakdown of the editing of this because I start each image with with an image that doesn't necessarily work. It doesn't necessarily fit into the Siri's yet. It's just a raw image, right? So this is the probably the funniest behind the scenes photo ever. I Okay, so, listen, I was in my garage. I painted my face with red paint, which did not come off very easily at a pink face after that. And I had my husband just pour paint over my face. I had this black piece of fabric and I cut a hole in it and I just stuck my head through. And that's why I looked like a cone head here because I didn't really cut it as well as I could have. I think so. It just made my face of really weird shape. Oh, it's so funny. Okay, so that's what I did. And then you'll see these different images pop in because I shot different, um, faces and they were all red. You can see. Okay, so I've got, like, the basic structure of this image the ...
most unflattering image ever. But roll with it because the Siri's is meant to be grotesque. Okay? And eso I got it all structured, all lined up, and then I d saturated everything because I wanted to create this really natural sort of like the color of my skin dripping off of me, which is so disgusting. But I love it. And then I just allowed the center one to be read. And this image is all about death masks and the practice of making a mask of your face. Either after you die or before your diet, you're quite posh, so that is the inspiration for this image. And I'm just putting all the layers back on because, as you can see, it's becoming more and more yellow more and more in alignment with this color palette that you see here. And that's why I have this grid of images for every Siri's that I make. I always put every image into a grid so I can see the images next to each other so that every single one of them I can see how they flow, how they work. If the colors air right and then I adjust from there. So that's how I created this image moving on to this one. This wasn't much simpler edit, but I want to show you the nuances of how these things can work sometimes. So here we have the subject laying in a bunch of roses that I went out and got for this purpose and e d saturated and I opened her eyes even more because I thought I was going to go with open eyes for this picture. Well, spoiler, I didn't, so I closed them. I ended up adding different eyes on there, and I loved this image, but it obviously doesn't work yet. If you go back and look at this, it just doesn't fit. And the reason was that I had all this extra stuff that you could see so it wasn't dark. She's wearing her normal clothes. Didn't want that to be the case. So I started to put a bunch of different elements in Thio, essentially get rid of what I didn't want to see and then enhanced the colors and the darkness so that it was cohesive within the Siri's. I might have edited this image differently if it wasn't for the Siri's. So that's how it ended and people say all the time. How do you know how to edit something for the Siri's? Well, this is how I put it into this context. And I say, Is it different enough yet still fit within the context of the work? So Final One that I wanted to share here is I've got this really funny sort of before image where I'm just laying down nothing exciting happening. Close my mouth and then we're going to see again that darkening of the surroundings. I'm a fairly lazy shooter. I don't mind saying it so darkening in Photoshop. And then I took a picture of a bowl that I had in my house to create this, um, little round of my neck there, which is so bizarre, but it worked really well and then same thing on the other side just to create this open vase type of look here, and I loved making this image for the Siri's. The whole Siri's is about, um, death and grief, and this image is inspired by the idea of a reliquary. A reliquary is a vessel that holds a relic, so I wanted to show the reliquary being the human body and the relic being nothing, that the soul has already left the body.
Class Materials
Student Practice Images (large 1.9gb zip file)
Ratings and Reviews
Brooke never fails to deliver. I found this course superb from start to finish. From exercising your creative 'muscle', demystifying taking self portraits, and showing that they don't have to be perfect before you begin editing, to walking you through her editing process and how to price your work. Brooke's enthusiastic personality and excitement about the work shines through it all. Definitely recommended!
Thank for fantastic motivating an very inspiring. The story telling and selling module was very helpful - thanks from Denmark
Thank you! Thank you! Thank you! Brooke for this amazing class. Inspired and so full of practical knowledge, this is the best class I've ever watched. You have given me the confidence to pursue what I've always been afraid to do. Watch this space!
Student Work