Experimental Portraits
Sue Bryce, Lara Jade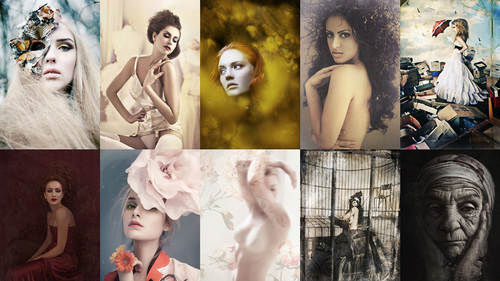 Experimental Portraits
Sue Bryce, Lara Jade
Class Description
Bring your most imaginative ideas to life with Lara Jade and Sue Bryce's dynamic workshop on illustrative portraiture. This course will stimulate your creative senses and show you how to produce magnificent conceptual fine art portraits.
Lara Jade started her own lucrative career as an international fashion photographer by doing experimental self portraits, fine art and book covers. Sue Bryce is a multi award-winning Illustrative portrait photographer who specializes in creating beautiful images that look straight out of a fashion editorial. 
Lara and Sue will break down every step of their process — everything from scouting for creative props and settings to styling and shooting your portrait. Finally, this dream team will bring all the elements together in Photoshop and show you how to polish your raw photos into pieces of art that reflect your own unique imagination.
Class Materials
Lara Jade Textures for PC
QA Felix Kunze Assisting and Lighting
Sue Bryce and Lara Jade Lighting Guide
Ratings and Reviews
This was my first Creative Live course and I thoroughly LOVED it! While contemplating purchasing the course, I was a bit weary because some of the reviewers commented on how they wished they could have seen Sue Bryce give more in depth information about one of her projects, but there is SO MUCH information that is packed into this class. I LOVE Lara Jade and her work is amazing. The enthusiasm that both instructors bring to the class, their eagerness to share their workflow and wonderful retouching methods are worth every penny and then some. Going into the class, I already was familiar with Lara's beautiful fashion photography and really wanted to know her trade secrets so for me this was everything I needed. For me, the bonus feature was getting an insight into Sue's wonderful mind and how she conceptualizes, photographs and retouches her amazing portraits! Wow, I learned so much and I HIGHLY recommend these ladies and this course. Creative Live just one more thing... please, more LARA JADE courses!!
Kristen Clapham Photography
SO glad I bought this one...!!! Check out Day 2 - "the gospel according to Sue Bryce" - it's absolutely awesome - if you feel like you've been in a creative rut then you've gotta own this and watch it repeatedly!!! Thanks Sue, thanks Lara, thanks Creative Live team... another GREAT workshop!!
fantastic to see Lara in this; she's so natural and inspirational, and so generous with her resources. I would love to see her do another course, maybe with Felix too as I love his lighting and creativity. More, please!
Student Work