Find Your 10 Percent
Beth Comstock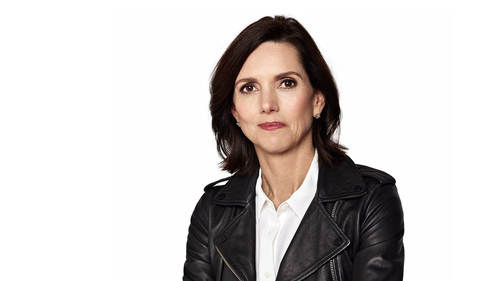 Find Your 10 Percent
Beth Comstock
Lesson Info
10. Find Your 10 Percent
Ideas and strategy take time: Beth shares how to find the balance between day to day optimization and what's new and next. She answers audience questions about how to filter through ideas and get team buy-in.
Lesson Info
Find Your 10 Percent
So finally, the last thought in this is, um I'm sure if you're hearing this, you're like, OK, this all sounds great, but does she know I have no time, So I I have no time. I don't watch anymore. But I have no time. If I had one, I'd be pointing to it here. I have no time. I know you're thinking that right? I have no time. I say, how do you not have time to get out in the world and discover and imagine what could be before it greet you at your front door and then you have much less option. And to me, it comes down to finding 10%. I guarantee you, you have 10% of your time. That's wasted. Or perhaps wasted his wrong word. Put in things that are less important. You're doing the same things you've always done. You're reading the same emails. Maybe you're going to the same news sources. If you if you oversee a team or work with a team, maybe you're micromanaging the checklist with them. I guarantee if you go back and look at your calendar, you will find 10% of your time on things that you r...
eally don't care as much about now here. I'm telling you this you also were things. Every time you do, you have to eat better. Be mindful exercise. We have to spend time with their family. I guarantee you, you gotta You gotta find a way. I I love. This is the way I live my life. I'm always out there finding at least 10% of my time wherever I go. Is there just some way? It's It's absurd. It's observation. It's taking the time you have and just expanding your aperture. So that's my challenge to as we wrap up this section, what's your 10%? I'm going to just take a minute and kind of challenge you to think about where you gonna find this opportunity to shift that aperture? Open it up. I called it getting outside the jar. You know when you like, imagine yourself inside a pickle jar. You have to read the label from the inside. You can't write. It's really horrible. It's It's like tinfoil or whatever. You don't know what flavor you are. You're just drowning and Brian, you don't know what you are. Get outside the jar and look at it from a different perspective, and I see how can you not? So that really is the is the challenge. What's your plan? How are you going to do this? So here's the summary of what we've talked about this idea of discovery of making room for discovery. If you want to learn about change, if you want toe, encourage change. If you don't want to be surprised for it, you got to get out there. You got to go see for yourself means you have to be willing to hang out with some weirdos. You might have to be willing to be a little bit weird yourself and be okay with it. You're a pattern seeking machine. That's what you are as a human. Use it. See those patterns be a spark. Find a spark. Ask yourself What if and what about that 10% time? To me, it comes down to this. You know you can look at at what isn't happening and imagine what could be happening. It's a mindset shift, its discovery. It's sort of interesting, because I feel like the first and second segment could sometimes work against one another. So how do you continue to be curious and ask yourself questions about when to stop granting yourself permission or stop trying to solve problems? And how, from an 80 20 perspective, spend time on what's gonna be the most impactful? Let's say, Yeah, I think that is in this, perhaps even an existential question of our time, Right? And to be honest, I'm here a bit because I'm I'm worried for all of us that were a bit optimizing ourselves to death, productivity, rising ourselves, efficiency, seeking. And so But I also realize we live in the world that's fast moving, and we have to squeeze more out of our day. So I think what I'm making a case for is a bit of you have to do both, so you'll find your right balance. And so I it's why, like 10%. I mean, really, I'm not asking a lot. Um, and so I feel like you're gonna figure out what your your realm of that is for me. 10% was reasonable for the teams I worked with for myself. I do. I make room much more time for discovery. Um, and so I'm going to get into the next step about sort of testing and learning and kind of experimenting. All that is what I think we're creating is almost like a second lane for ourselves. You're going to get your optimization core. I'm like, really good and I know how to do this. And then I'm kind of figuring out what's new and next in the second lane. So I think you have to do both and you'll have to figure out the right balance. So it's tension filled. That's for all of us. It's finding that making our way through that tension, I think if you just sent around being a discoverer, me, maybe that's your job. I've gotten to meet some great National Geographic explorers. That's what they do in the world. But they still have to find time to find grants and put proposals in and get their taxes paid and all, you know, so so I think all of us have to wrestle with that, and I worry in business, especially that we're not doing enough of this, and, um, and it starts with that permission granting to do it so anyway, but of a long awaited answer. But I think you know each of us has to find our what our balances on that, Jules, Um, I just want to say thank you. I feel like this second section of discovery was the answer to my first question. Okay. Yeah, really? And what in what way do you mind? You know, I feel really energized. I think it got I already think of myself on the work they do is very creative. I do take people on field trips. Good. But this was I really realized the connection between this space and what I've heard you say in some of your talks around cultivating really practices that, um that allow us to exercise our imagination. Yeah. Um, in really, I think you've given us really great bite sized pieces that we can bring practically in the workplace. And I wouldn't I doubt that you probably have a hundreds more, but I'm really appreciative of of giving me a little bit. Kind of the weight lifting the tools. Teoh exercise my own imagination. So thank you. And that's really all it's It's some. It's some of the points were talking about earlier me. None of this is we all know to do this we're just not doing it is like weight lifting. I mean, training, right. It's like a diet, right? I mean, if we all thought we knew how to die, we wouldn't need to buy another diet book. Right. Um, so it is just little prompts little bits to get ourselves out there. Simone, a couple of things. Um, one is if any of you ever heard of the Eisenhower box. President Eisenhower was extremely productive human being because he learned what was important versus what can wait till later. And I was wondering your thoughts on that one, too. I'm also a perfectionist, a bit of a control freak kind of person. And I will schedule days to be spontaneous. I know that sounds weird, but so what do you do? Someone and I looked at I will literally put it on the calendar like this day. I will schedule nothing on purpose so that anybody who calls or texts or some event that happens, I can allow myself to just spontaneity like, take over and just go do what I want to dio and I found that's like one way to allow that to happen, even though it's completely planned. It's a great example. Kelsey's issue, right? I mean, you've you've organized away to be spontaneous. That's a good one. Hi, I'm treating. I also thank you. This is fabulous. Um, I'm in a very different position in that my scenario is of retirement, and that has a very scary feel to the back. But a lot of what you've said here is really helpful in me thinking ahead in terms of what next and dreaming big. Yeah. It doesn't have to be sitting around watching TV all day, which won't be one of my biggest fears is anxiety about being bored because I've worked all my life and it's sort of a big change. And so I appreciate everything you've had to say. We'll turn. I can relate a little bit just to share a personal story. So I I left to you at the end of 2017. I left a job I loved. Or rather I should say, the job left May. It was a bit of an abrupt exit for leadership team shake up. I knew I'd be leaving at some point, but I didn't expect to leave when I left, so it's very unsettling and I put a book out. So that was quite quite chaotic last year. But I have given myself space to do this, and I sort of that I can do this. I can do this. Um, and I've had to go back and remind myself of some of these things, right? First, give myself permission. That one. I don't have to have the answer right now. I love the idea of the syringe, the spontaneity. I need more of that. My room. Right. My first couple of months into it, I was sitting at my little desk and my husband came by and he was looking at me during my to do lists. And he's like, Why do you need it to do less? I didn't really. I needed it to do less a do less list or not do list, right? And so you have to kind of, you know, so you got to give yourself permission to do these things differently. Get out. Discover I've aligned with Columbia University and doing some research, their own creativity. Just testing things out. Very non. You know that job? Um, so I do think that is something I'm trying to figure out for myself and trying to kind of just not take that structure of this. Is that always the way that this is what it was supposed to be, A or what everyone expected me to be doing, right. So I can really appreciate that, Trina, Thank you. My name's gauge. So I'm curious when these are some really good ways to kind of spark creativity. But let's say you're a creative team. You're a creative person, your creative business, and you have lots of ideas. And maybe you incorporate some of this to come up with even more ideas. But at what point do you put in some sort of decision matrix? How do you decide what not to pursue or which things to pursue? Because I feel like I stretched myself a little too thin and take on too many things because I get too excited. But do you have any tips, like maybe the Eisenhower box or something like that for determining what your priorities should be? Yeah, I'm gonna get to some of them this last bit because it really is the getting toe action. And I think it is about to Kelsey's point navigating that tension, you do have to take action. Decisions must be made. I mean, so, uh, the colleagues I had at one point my colleagues called me the dog from up if anyone seen that movie, the one who likes all the shiny because after the shiny things on DSo, like I drove my colleagues crazy Gene can tell you, I would be like, I like this like, Let's go chase that. Let's go see this. Let's go do that. Discover this. And, um, it was one they need to give me feedback, which we'll get to and I needed to be clear about. This is interesting, but we're not gonna do anything on it. And so back to that. Maybe even in the interesting nous like Is there kind of almost like a parking lot of things that are interesting, but we can't get with that yet, So capture it, but you can't act on everything. And so I think I had to learn to be very clear and then back to strategy and use your strategy. Is your filter like that's a great idea, But does it matter now and then we were I was I've always been really big, even as how I live my life and having kind of an experiment. Budget. So 10 to 15% of my time budget to test some of those things so that it's maybe don't in a different way with less intensity. So it's almost like you're funneling, like, interesting. And then you kind of have a strategic filter. At which point do you decide to test something and then, at which point you decided to scale it, and I think you need to do that very transparently. But my recommendation gauge with your team has also asked them to give you some feedback and just, you know, um, I clear that this is interesting versus, Like, don't do anything on this and maybe even have a time in your with your team where it's like, let's share some ideas the share we've learned. Let's share trendsetting. Is there any of these that we now want to take action on? And maybe you need a formal vetting process to do that. Um, and I have some ideas coming up, but that's what I think for most of us, Usually, ideas aren't the issue. It's building the confidence and what I'm trying to convey here for me. It wasn't about deaths. Idea wasn't like I'm a genius. Look at me. I have this great idea. Was sort of giving myself the permission to take wrestling things, owning the curiosity that helped me get over my lack of confidence. I'll share a little bit later, but I stand before you not a very confident person. I'm much more confident now. My late fifties and I was in my early twenties, but I still struggle with confidence and curiosity was my way of getting over some of that. You know, it was of saying, but the trends there I see it, it's really there. And so it became less of gauges idea, best idea versus best idea and more like the trends or there. We all see it together. And so in some ways those decisions start to become a little easier because you start to see the patterns emerging. So that's also a way I think, that that helps. So you don't want to discourage the curiosity, but you'd also I don't want a bunch of dreamers and dabblers on your team forever, right? You want some of that, but not on. And I think that's often the fears that we're not going to get anything done, G. Okay, I'm Jean. I think a big part of that also is the willingness to have the people around. You are going to be questioning you. You're powering the but at the same time, you have to have the strength to say I'm gonna bring someone in who is going to push me and who's going to question me. So I'm willing to hear and go from there. I think that's a really big part of this story. Yeah, it is. Have How have you? I mean, I'm gonna call on you, but since I know you, how have you found yourself doing that? I can't come up with specific B Is that something you've been aware of? It is going to challenge elects What drives? May I mean, you always have goals. I'm actually in the circumstance right now off of retirement. And as we were starting into the exercises, I was trying to look at that in terms of a perspective of having a team, how to plan things. And as we've been talking Mauritz no looking at myself and letting go, which is a big thing right now in terms of determining where are my next steps? They're gonna be Don't have to set the alarm. If I want to sit down and read a book, I can give myself permission to do that instead of my 10 to 12 hour work days of what I was doing to accomplish what I needed to dio But I always want to be around people who are going to be pushing me and questioning May. And I think actually, that's probably because of the time that I spend it, g because of the type of people that I was always working with because the questioning was always there. Yeah, and feeling empowered to do it. So we I think it's a great thing to add to our list. Those sparks question you provoke you. So for you and Trina, maybe one of the thoughts as you're you're embarking on what's next is your board of advisors. I mean, maybe there are people who have gone through this. Maybe you pick some very wise people who've been through this to advise you, and maybe you pick some people who haven't been through this at all and have them imagine what they would do if they were in your position as a way to kind of asked some of those tough questions. I reached out and got a transition coach, um, somebody to ask me those tough questions and hold me accountable. Not, you know, I mean, you know, maybe times you can't you know, you don't want to put your money to that or whatever, but there's probably someone in your life who can oh, are on online group of people who can maybe ask some of those kind of questions of you. So my great great seed that you plan it of this conversation is sparking a memory of, ah, talk on the CEO of Peppery and she, her company, I believe, is broken up into, like a growth mindset group and also a just running the business which you brought up. I'm curious what you think about that segmentation or if you should believe that should exist in one human or group altogether and that there's value in that. Yeah, I'm a big believer in that, and I'm gonna get to that in the last section. I do believe in two speeds of a company. Um, I don't think all of us, I think we're all we're all made differently. But I do think we have to push ourselves. I mean, I'm big on Carol Dweck research on growth mindset. That would be something to add to your change Discovery tool kit. Um, it's it's this idea. You know, you have a fixed mindset where you're less open to new and next in a growth mindset. But I think it's a spectrum of most of these things, and I would encourage you if you find yourself more on the fixed mindset to push yourself to do even more, do some of these things. So I do believe in running companies that kind of two lanes or two tracks, But I'm not gonna let the up the core operators or the people who are less open to change off the hook. And so how do we how do we orchestrate that? And there may be some people whose jobs is much more to discovery and opening up, but it doesn't mean that the people who are operating the day to day shouldn't also be exposed to that. That's why I think the sparks. The field trips are really helpful because it exposes people in a way they might think it's a waste of their time. So okay, go into Ah, hi, I'm Tony. I'm part of a team building video game studios out here in the range and area. So I have a question. I'm often finding new things and like, Oh, that would be great. Let's go do that. And the thing I'm trying to balance is with the team that we're building. You know, there's also a lot of things to do. So you know how to build a team, how to motivate them, often times to say, Hey, take your head away from the thing that you're working on And you know that this will be great for us in the long term, knowing that sometimes in the short term it's like, OK, that's eight more hours out of my week, and I may have to make that up somewhere else, right? I can appreciate that. I mean, I do think things like these organized field trips, um, I like just structuring things like time to think, Um, we're gonna we're going to take third Friday and we're gonna take the last four hours of the day or make it a Wednesday, and it's just time to think and know you're not allowed to do anything else. And they were going to share what we came up with, Um, bring in outside speakers, some of those kinds of things. I mean, I don't I think it can't be optional, but I also think you have to respect the need to get stuff done right. And so if you're doing this every day or like every you know, then I think people start to go. Well, wait a minute, Tony. You don't appreciate what we've got to dio. I would also ask some of those people to be in charge of it. So in that uh, control issue that it's always great when you're the one trying to make change, right? You think every idea is great, but let's be honest. Most of us don't like change that we don't have any influence over, and for most of us, that's weaken. Relate to that. So are there other people that you can delegate that to? Are there other people who can own that? And you? I'm assuming you're the team leader. Maybe not. But can you instigate it? Can Can you get someone else to join with you to instigate it? So it's not just Tony's thing so that it looks like they're more people than Tony who feel it's important. So that would be a few thoughts, a few thoughts of it I like. I mean, it depends on how you're running your team, But I think one of things that you know, we kind of adopted at G was sort of this notion of external thinking. And we actually evaluated for a period of time, evaluated our teams on external or professional team on external thinking. Um, some people, you know, showed the amount of time they put into things, But, you know, if you just start to see that we're gonna value that and ask people for their ideas and doing it. But I think you do it have fun to which I would be my recommendation, not make it onerous and like, you're going to get it ding on your bonus if you don't do it
Class Materials
Imagine It Forward Toolkit
Ratings and Reviews
Wow, this class was such a privilege to be a part of! There are so many gems in here, but what I loved most, is that she opened my thinking even bigger and offered me tricks and tips to facilitate that for myself and others long into the future. This is a tremendous gift as I'm already pretty outside of the box (i.e. I just took a client kayaking and then out in a seaplane yesterday for a visioning session) and creative in my work, so yes, what a gift! She also profoundly underscores the vital role the creative/imaginary mindset plays in the role of innovation and greeting our world's most wild challenges and opportunities. What a joy, have shared her work with many since this class took place. Thank you Beth for your courageous offering of imagination and championing it's vital role in our everyday work place and in our world's next steps into a more thriving, creative and innovative future!
I really enjoy this class. If you want a mind shift, having difficult seeing opportunities in front of you, especially living and working in a corporate job, this class is for you. Working for a fortune 500 job, I see how work is constantly changing, I didn't see the opportunities and how we can influence the change or be part of the change. This class helps you see and be part of the changing job revolution.
If you want a mind shift to create change for yourself or your organization, then this class is a no-brainer! As a middle school English Language Arts teacher, I thought about how I could apply the concepts Beth teaches to my students who I have the privilege of interacting with daily. As a writer, I thought about how much I'm holding myself back and how I need to give myself permission to try new things knowing I'm going to fail and it's okay to do so. I really appreciated this course and had several takeaways that I can't wait to implement.
Student Work