Putting It All Together
Ilise Benun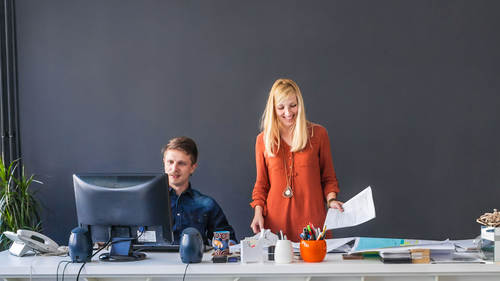 Putting It All Together
Ilise Benun
Lesson Info
44. Putting It All Together
Lesson Info
Putting It All Together
Lesson forty one now we're going to try to pull it all together this is the quiz don't feel any pressure you know the answers um and if you don't get them right I will correct you I promise okay so step number one is decide what you need who can tell me what types of things you have to decide justin are you okay what do you have to decide you have to decide what you need in order to function as a business so what you need in terms of money excellent sane you to decide what's your competitive advantage and who you want to focus on who are the ideal clients that you wantto work with I think that's key way said your unique gift and who you want to work with beautiful justin will you add anything just if you have what it takes really right teo to be you have to decide that you have what it takes but yes you have to decide of those twelve qualities where are you and what needs to be strengthened good job alright step to seek and you will find what kinds of things can you go out there and fi...
nd who are you looking for? I mean you're tried that you know the clients that you want to work with and and the people that you will be able to serve perfect the clones of your ideal client exactly they clones of your favorite clients yeah I think it's it's very important to ah define your ideal client put down their characteristics it really helps you with you with were you with your marketing your approach your message so putting down all the characteristics of your ideal client exactly that would be really helpful good and step three asking for what you need what kinds of things do you need that you have to ask for for the money that you need to survive money yes and then some and then some the terms and policies that you want to have in place exactly ask for people's challenges right so that you could tell her for their needs and help them solve those challenges at the end of the day if you could do that then you you're good beautiful all right so now I want to go over briefly for each of the sessions some of the things that you learned are you ready? This is not timed. So what is the mindset for success who can tell me the mindset for success? I'm putting them on this but uh curiosity is critical yes absolutely flexibility solving problem solving problems excellent there's no right answer here. What are the top five marketing tools? All right, there is a right answer here. What are the top five marketing till email marketing thank you. Very clear and concise compelling elevator pitch elevator pitch uh lengthen and your networks? Yes yes your network ah we also talked about prospecting right and uh what else did we talk about now I'm forgetting top five working tools your marketing smart web you're making smart website exactly all right. And what is your marketing plan too big of a question what are you going to do tomorrow what are you going to do tomorrow what are you going to do first with all of this information yeah just, uh figuring out again what what your strengths are and who is your ideal customer and then building a game plan on that one thing what are you going to do on monday? I'm sort of look closely to finding my nation I've actually done a little bit work on that already. Which party? Expanding it sort of um expanding my target market excellent. Justin what are you doing on monday? Well, I've been hemming and high and about actually buying that ticket to thing is kind of expensive but um I just need to do it. Yeah, I think that's I think that's the first step is actually just taking that action and stop thinking and him and I I feel that there's other strategies to attending conferences for free like you could for example if you want to attend a conifer and it's really expensive you can volunteer volunteer that's it that's what I've done in the past and it's and actually this technique about being a journalist and writing about it for your blogged sometimes you can get a press pass to an event if you position it that way just a little trick do we have people in the tack room and now there's no what they're going to do murli base is going to sign up with the lease on me saying I have a design I had to design a book cover tomorrow lady says I'm tomorrow I'm going toe create an outlined pdf ferengi spanish says I'm going to identify my ideal client on deborah says I'm going to re read my notes I see what I'm missing and I'm going to start a plan to implement immediately beautiful all right, so that was all from session one let's do a little recap of session too how do you repel nightmare clients? What flag watch out for red flags excellent, I think asked the right questions in like conditional like ask those right questions and figure out like what where your values are so that you can kind of decide you know absolutely jane what would you add? Yeah, I guess and initially just haven't assessment where you could see if it's the right fit for both of you guys excellent and how do you attract ideal clients? What have you learned about how to attract ideal clients? I think looking at the traits of the clients that you've enjoyed on that you worked well with soto clone those kinds of clients learn about your ideal clients pain points so that you can very specifically address those I think that's very paul absolutely especially on your website. Yeah, yeah building credibility for yourself by creating content on the web and really, you know, becoming a thought leader that specific niche that you're going to be focusing on and helping them find you exactly? Absolutely janet says she's gonna price too high for me on lee says he's gonna put his prices on his website from excellent. All right, how do you reach out to ideal clients? We talked about this with ed candia. How do you reach out to ideal clients with warm email process but on what makes a message warm, personalizing it and customizing it and including some commonality and then also offering some way to connect beautiful you got it and following up and following up here exactly for me it's been getting introductions to a mutual friends and offering value up front excellent and finally from session too how do you qualify your ideal clients? How do you once you've found them, make sure that they are right for you? We talked a little bit about a free consultation that's definitely one white, right? How else can you qualify in a conversation, find out about their timeline and their priority excellent daniel and add yeah I mean ideally work on projects that you want to see in the world and projects that you would want to use yourself and your that's within your interests but make sure exactly just asking about the buck yes don't forget that that's really one of the most important things all right and finally a review of what we've covered today in session three what elements are the science of pricing what elements? And we talk about making up the science of pricing sane yeah I mean we talked about tiered pricing and putting together packages and also value based pricing if you can really show a client their return on investment on the project that you're gonna be doing for them I think they shouldn't have any problems paying for it is that they have it yeah what else basing it sort of doing the math on your side and figuring out what your expenses are and how long it's going to take you basically what you have to put in figuring out your own hourly rate not not necessarily communicating that but just using that as a tool for yourself to kind of figure out the right price and the right floor right now so that you can know what their ceiling is also and find the price in between and I think it's just important to create some sort of structure like a pricing sheet or something so that that's a nice start to I love the idea of a price list for services why not just like four products hears the price is I have a copy running client who has a price list he sends it to people when they ask what his price is r it works all right, what is the art of pricing? What are the elements of the art of pricing? What did we talk about? I guess having a good presentation being able to communicate the pricing in person and uh really good focusing on their needs and tailoring your proposal around that ideally having a conversation about money before you put together a proposal so that you get a sense for what their sensitivity is and um what they're sealing their ceiling isn't here we talked also about the three tiered pricing so artistically if you will you can put together a package in three different tears that addresses their main needs plus the things that they don't even know they need right that way you can earn more money name one best practice for a winning proposal best practice a wedding proposal zane presenting the proposal and in person on really going over it together so that you could figure out if it's actually helping them and I don't have any clarifications that they need in person excellent anyone else I think being cautious of the stories you're telling yourself about their responses on just really um kind of be cautious of of that restrain yourself really from going off in your own head going into la la land we might say sorry good not making assumptions when you he don't hear back right away, continue the connection and and continue being in touch with them with valuable relevant information or links perfect uh, there's a happy argument ready for why you are the best fit and leah same course speak to the client's challenges exactly and finally, how do you close the deal name we had six steps. What is one of the steps of closing the deal? Justin, I'm just being, I guess honest about your scheduling and being protective of your time on dh communicating that like a constructive way valuing your time and I love that canoe communicating it in a constructive way, nothing them if they're ready to move forward while you're presenting exactly. Yeah, just having the right timing and making sure that you're working with the decision makers themselves beautiful. They learned really well, right? What else in the tack room close the deal give that sense of urgency exactly beautiful. You guys did beautifully on the quiz. I know you were on the spot you did beautifully, I used your use the word use the word beautiful that's fine. All right, so I have some parting words there are a few things I want you to remember I want you to think in terms of needs and not once all right it's so easy to think what I want what I feel like doing it's not about that it's about what you need that's the most important thing what makes the most sense and what do I need? I want you to practice your elevator pitch because remember that your elevator pitch is a bad habit you have to break the one you currently have is probably a bad habit you have to break and you need to constantly be improving it and experimenting with something new so that you improve it every single time you say it I want you to not forget to get a deposit I think we've said that many different times so anyone who goes forward and does not get a deposit they're gonna hear from me and don't forget to do something every single day to grow your business it may not necessarily be a marketing thing although it could be but just something where you're looking forward and you're saying this is where I'm going and this is what I want to do and this is going to get me there so again that idea of experimentation constantly they're these are four really important things if you take nothing else from this course I want you to take these four things and you'll be on your way now, just a reminder that everything I couldn't fit into the workbook is actually in the, uh bentley link the extra goodies bundle at that piddly lincoln's we've been talking about dash command fees and finally remember that this does not happen overnight none of this even those of you sitting here for three days, right consuming it, taking it in, letting it seep in, there will be things that you forget that's ok that's the nature of being human right? So don't expect that just because you've gone through this, even people online binge watching the whole thing for three days, it takes time to let it in that's why it's going to be helpful to have any time access? I want youto find an accountability partner right in the facebook group, there are already people helping each other with accountability. You people here in the room can find accountability partners even here with the room, you can use me as your accountability partner it's so important, especially when you're isolated when you're working independently, tohave someone who challenges you, who's honest with you. Who says this is what you should be doing very, very important someone to whom you can say I did it or I didn't do it in fact I have a client actually who has an accountability group, there are three of them and they meet once a month and when they don't achieve the goals that they had set the month before, one of them, whoever didn't do it has to dress up as if they're going to an office for the meeting that's their punishment so you can be sure that they do what they said they were going to dio remember, it takes practice and it takes repetition, especially if you're experimenting, taking risks and trying things every day. But you must go through the process. I really think that it requires effort. It requires time. It requires commitment. It's, not hard. It just requires commitment. And I want you to remember jill anderson, for example, who I think is a really good model because she has been working at it for three years and growing her business to the point where she's got these packages and she's booked months in advance with her website design. That is possible for everyone. You really I owe it to yourself to do this for yourself. I know you can do it again. Not because I say so because it's not that hard, all right, those are my thoughts for you.
Class Materials
Ilise Benun -- Command Your Fees Workbook.pdf
Ilise Benun - Chapter 1 - Creative Professionals Guide to Money.pdf
Ilise Benun - Do You Have What it Takes Quiz.pdf
Ilise Benun - Jill A Case-Study.pdf
Ratings and Reviews
I wasn't able to catch this during the day, but I stayed up literally all night for three nights watching the replays. AMAZING. This definitely goes up there with the best of the best and most useful Creativelive courses ever. Pricing isn't the most exciting topic in the world. However, Ilise was passionate about the subject and her enthusiasm made this not only interesting but fun. I loved how she infused it with her vast knowledge and real world examples. Her guests were just as interesting. This was all around GREAT!
Helping others help themselves. Ilise Benun is clear and well-organized. The methods she shares are easy to understand while honest and straightforward in approach, stating from the git-go that work on my part is required. Ilise draws on her own experience as well as the methods and experience of other professionals in this course. She welcomes us into a proven plan for successful growth embracing an attitude of progress rather than perfection and attraction rather than promotion. This is my kind of mentor!
Oh wow! My favorite course to date! Ilise's expertise was tremendously helpful. Thanks to Ilise, I'm not "stuck" any longer and I'm so excited to implement the wealth of knowledge I've gained from this master Marketing Mentor. This course is well worth the cost at any price!! Thank you so much Ilise!! Tammy@GammysHouse.com
Student Work