Canon 5D Mark III, Including Canon 5DS/5DSR Fast Start
John Greengo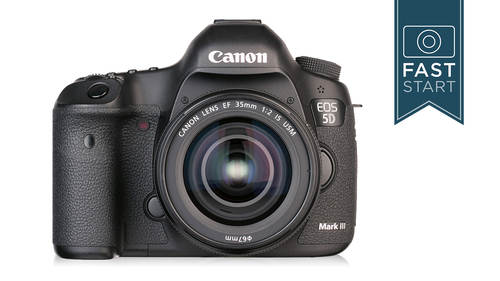 Canon 5D Mark III, Including Canon 5DS/5DSR Fast Start
John Greengo
Class Description
Take this 
Canon®
 5D Mark III tutorial with John Greengo, and you'll learn everything you need to know about the camera! In this photography tutorial, he provides a hands-on introduction to your 
Canon
 5D camera's operations, detailed instructions on how all the menus work, and instruction on how to shoot great photos with this specific 
Canon
 camera model.
In addition, John will discuss the latest features of the Canon 5DS/5DSR, which are off-shoot cameras from the 5DIII line. They are dedicated high-resolution cameras primarily used for wedding, landscape and studio work.

Class Materials
Fast Start - Canon® 5DMIII
Canon® 5DSR Menu Settings
Ratings and Reviews
I really enjoy any John Greengo class - beside being an incredible photographer, he has the true nature of a teacher. What a combo: a fantastic photographer with a great sense of humor who can really explain complex concepts and take the fear out of all of those buttons and dials! I LOVE his 'tests' and visual challenges: the immediate results help to cement the information. I have had my Canon Mark D III for almost a year now. The time I spent experimenting with it and reading most of the manual (ok, maybe I am a nerd!) was great preparation for this class as I knew exactly the things that were confusing me. And, as usual, Mr. Greengo delivered. So glad I purchased the course so I can review it many times. Only two disappointments: unless I missed it, it wasn't made clear how to switch from one card to the other. I was in Scotland and my screen kept flashing, "card is full" - and I couldn't figure out how to switch to the other one; and I did want to fill in the copyright/name information but can't figure out how to 'type' in anything. Class is a must for a new owner of this camera.
Wonderful, wonderful instruction! I wish every instructor could be as point-on as John Greengo. I had my money's worth about a quarter of the way through the class. At the end, I called it priceless. I have had my 5D Mark iii for almost 2 years, and John taught me some extremely useful things about the camera I did not know. Even if you are an advanced shooter with considerable 5DMiii experience, you are likely to get something valuable from this course - otherwise, you are CERTAIN to get really valuable knowledge about your camera. Strongly recommended for Canon 5D Mark iii owners.
LOVE, LOVE, LOVE John's classes. Bought the 70D class for my first camera, now the 5D Mark III class, so worth it. Awesome investment!
Student Work