Camera Buyer's Guide
John Greengo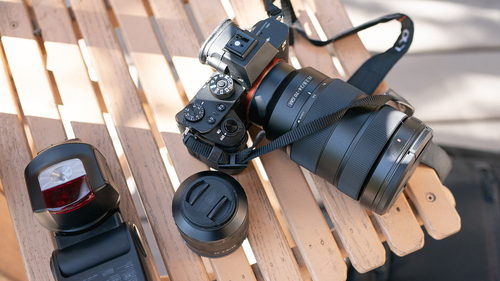 Camera Buyer's Guide
John Greengo
Class Description
Our Camera Buyer's guide will be your guide to figuring out the best digital camera for your needs.
Gear expert John Greengo dives into the major brands and lenses that are currently on the market.
John breaks down some of the more confusing aspects of mirrorless and DSLR's from focusing systems to sensor size; you'll get a better understanding of what the gear does so you can make an informed decision.
At the end of the class, John gives his recommendations for different types of photographers from the aspiring student to the filmmaker and everyone in between. If you're looking to purchase a camera or gift one to a budding photographer in your life- this free course will be your guide in making the best purchase.
Class Materials
Camera Buyer's Guide Download
Ratings and Reviews
Another outstanding class by John Greengo, my favorite Creative Live instructor. John's delivery is entertaining and his info clear and very easy to understand. If you need more explanation, well, don't worry - he's got a slide or PDF for that! I'm a working photographer and I learn something new with each of John's classes. Don't hesitate to buy any of his classes - you won't regret it.
Yes - there is such a thing as a free lunch - this class is it! I enjoy landscape, seascape, architecture, portrait and travel photography. I've been a Canon user for decades (film and then digital full frame with the 5D Mark II then 5D Mark IV). Recently I got a Fujifilm mirrorless medium format GFX 50R and discovered some Fujifilm features (e.g., film simulation, menu system) that resonate with me. I now have over-kill on full frame format and because I like the Fujifilm so much, I've been thinking about moving from my Canon 5D Mark IV to a Fujifilm X-T3 as my walk-around camera. This class helped me better understand the trade-offs and alleviated my concerns about a crop format sensor in the X-T3. On top of that, this is a great refresher course on camera fundamentals.
Sherry Throughmyeyes Prater
There a thousands of reviews/guides/ floating around the internet, but this one is by far the best by far. I usually watch a portion and then move on because I simply lose interest, but I watched every single lesson. John gives a very unbiased explanation of cameras, functions for every type of shooter. Not only would I recommend it, but I am going to recommend. I am a member of multiple photography groups on FB and one of the most asked questions is camera buying advice. This is excellent!
Student Work